Join the LI Spurgeon Fellowship as we expound on the rich biblical doctrines of grace recovered in the Reformation.
About this event
In recent times, the church has lost it's passion for learning biblical doctrine and traded it for emotional experiences.
As Christians we are called to teach sound doctrine and refute those that contradict it.
Please join us on Friday evening November 1st, and all day Saturday November 2nd as we expound upon and teach these doctrines central to the Christian faith.
It will be a time of learning, discussing, and defining what is and isn't biblical Christian doctrine. Schedule is below.
Friday Nov. 1st
God's Sovereignty 7pm
Total Depravity 8pm
Saturday Nov. 2nd
Unconditional Election 10am
Limited Atonement. 11am
LUNCH 12-1:30pm
Irresistible Grace 1:30pm
Perseverance of the Saints 2:30pm
Is Calvinism Biblical? 3:30pm
Question & Answers 4:30pm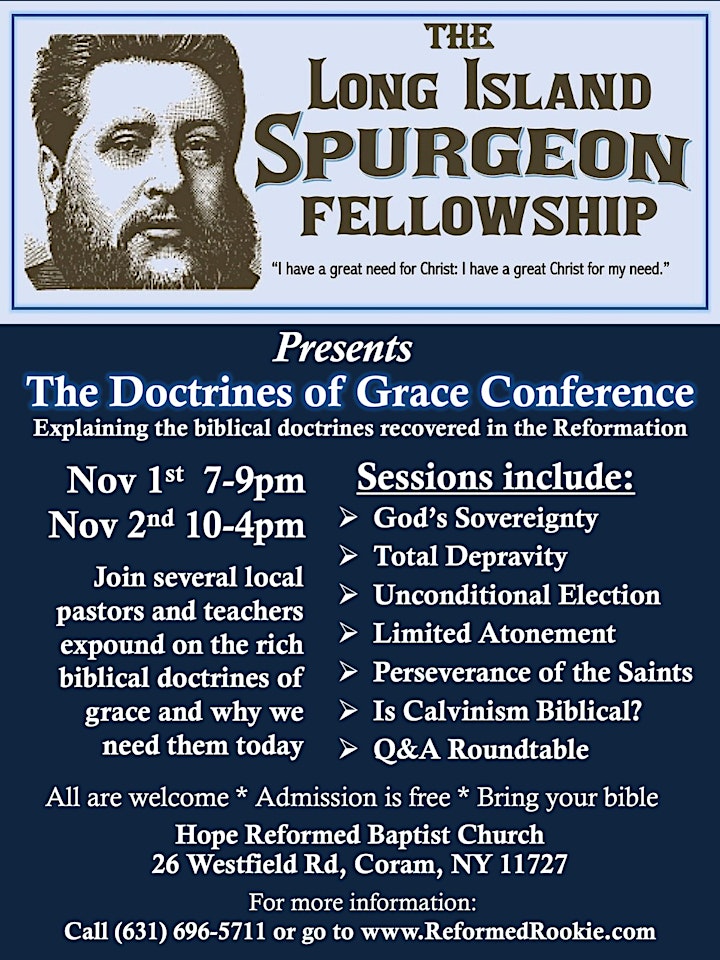 Organizer of LI Spurgeon Fellowship: Doctrines of Grace Conference
The Long Island Spurgeon Fellowship is comprised of a group of local pastors and teachers that hold to the rich biblical doctrines that were recovered during the Reformation.  They seek to teach and promote them in their local assemblies and communities.  These doctrines include the Doctrines of Grace and the Five Solas, as well as other doctrines that can be found here: www.ReformedRookie.com.