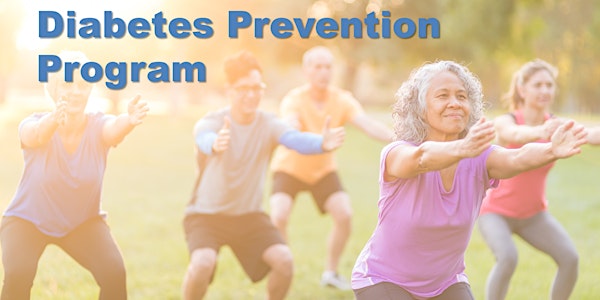 LH DCMC Doctors Diabetes Education Center's Diabetes Prevention Program
Having pre-diabetes means you still have time to make lifestyle changes to delay or prevent type 2 diabetes. Are you ready to get started?
About this event
More about the lifestyle change program
This 12-month program uses a research-based curriculum proven to make an impact. Ready to cut your diabetes risk in half? Trained coaches will guide you with evidence-based information on weight-loss, healthy eating, physical activity, and other important topics so you can achieve your health goals. Sessions are interactive allowing sharing, learning and a supportive atmosphere for making changes a reality.
What to expect
The program sessions are held weekly for the first 16-weeks, every-other-week for about 3 months, then monthly for the remaining 5 months. Make-up sessions will be made available when needed.
The program is an in-person program but during the COVID19 emergency we will only be offering this program virtually using Zoom. Zoom link and password will be provided after registration is complete.
Watch a short clip about what to expect at a Diabetes Prevention Program session, brought to you by the Centers for Disease Control and Prevention (CDC).
Who is the program for?
People diagnosed with pre-diabetes or who are at risk of diabetes (see our enrollment form to find out if you are at risk).
When and Where is it held?
During the COVID19 health emergency we will only be offering this program virtually using Zoom.
March 2022 Cohort: program not currently enrolling
Thursdays, from 12:30 pm to 1:30 pm beginning March 10, 2022 ending on Thursday February 9, 2023
May/June 2022 Cohort: enrolling now through June 13, 2022
Mondays, from 5:00 - 6:00 pm beginning June 6, 2022 ending on Monday May 8, 2023
August/September 2022 Cohorts:
Mondays, from 3:00 - 4:00 pm beginning September 26, 2022 ending Monday August 14, 2022
Wednesdays, from 5:00 - 6:00 pm beginning September 28, 2022 ending Wednesday
What is the Cost?
This program is FREE at this time.
How do I join?
Thanks for making a commitment to your health!
Once you register for the session you will be informed about how to enroll.
For more information contact Teymi Herring at 301-552-8661, or therring@luminishealth.org