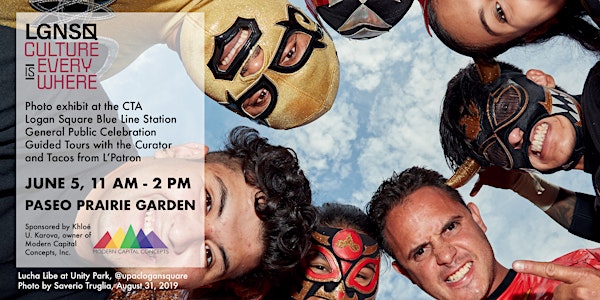 LGNSQ - Culture is Everywhere Exhibit at the CTA - June 5 Opening
LGNSQ: Culture is Everywhere - General Public Opening, Guided Tours & Family Friendly Celebration
When and where
Location
Paseo Prairie Garden 2600 N Kedzie Ave Chicago, IL 60647
Refund Policy
Contact the organizer to request a refund.
Eventbrite's fee is nonrefundable.
About this event
During the month of June, all the advertising in the CTA Logan Square Blue Line Station will be replaced with images of placemaking from the book LGNSQ - The Logan Square Book: Gentrification and Preservation in a Chicago Neighborhood.
Featuring the photography of:
Robin Marchant
Saverio Truglia
"I thought it would be cool to displace what riders normally see in the station, usually ads, with images relevant to the community. What if the Logan Square CTA Station could tell the story of Logan Square by being transformed into a massive photo exhibit?" Khloé Karova, curator, sponsor and Logan Square resident since 1997.
Curator-led small group tours of the exhibit take place at 11:30am, 12:30pm and 1:30pm. Meeting point is the Paseo Prairie Garden.
The L'Patron food truck will be parked nearby giving out tacos (tickets required). Taco tickets will be given at the start of each 30 minute tour. Vegan tacos and kids meals will be available. Tickets to enter the CTA will be provided to those who need them. A documentary film crew will be present to capture resident reactions to the exhibit.
The exhibit also highlights the CTA's role in Logan Square's architecture, immigrant communities, and Hip Hop culture.
"After the Great Chicago Fire of 1871, the area that would become Logan Square appealed to people looking for affordable frame houses outside of the city limits and strict fire codes. As annexation came to the neighborhood and the elevated train arrived, immigrants from Poland, Russia, Scandinavia, and Germany established a welcoming community on their own terms in Logan Square, constructing worker cottages, two-flats, and greystones, and filling courtyard apartments with their traditions. " Elizabeth Blasius, writing on vernacular architecture
The title of the show, "Culture is Everywhere," is inspired by Ines Bellina's interview with DJ Ethan Andrew who is profiled on page 249 of the book and whose photo is also included in the exhibit.
For Ethan, growing up in Logan Square influences his music choices. "Within this area and this community, we have a lot of our culture that people don't really know about unless you really seek it," says Ethan, who is Mexican-American.
LGNSQ Culture is Everywhere will be on display from May 31 to June 27.
Exhibit design is Jason Pickleman and the JNL Design Team.
Sponsored by Khloe Karova, owner of Modern Capital Concepts, a Logan Square-based financial advisory and investment management firm.
Purchase your copy of LGNSQ - The Logan Square Book at www.lgnsq.com.