LGG Achievement Week 2018: Annual Purple & Gold Ball / Birthday Bash

Friday, November 16, 2018 at 8:00 PM

-

Sunday, November 18, 2018 at 2:00 AM (EST)
Event Details
THE "CAPITAL REGION QUES" EXCLUSIVE ACHIEVEMENT WEEK ANNUAL EVENTS
Purple & Gold Ball November 16, 2018 @ 8pm
Hyatt Regency Crystal City in Arlington, Virginia plays host, yet again, as Omega Men and valued patrons from across the nation travel annually to celebrate another successful year of existence of The Omega Psi Phi Fraternity, Inc. with the Capital Region Ques.  Don't miss out on this signature annual scholarship fundraiser event.
Friday night, November 16th, kicks off our annual BLACK TIE AFFAIR at 8pm.  This event features dinner, awards ceremony, swearing in of new officers and keynote speaker (TBA).  Funds from this event go towards our scholarship fundraising efforts for deserving college students. 
FORMAL ATTIRE MANDATORY
SUITS/JACKETS REQUIRED FOR MEN
DRESSES/FORMAL ATTIRE FOR WOMEN

FOR QUESTIONS CONCERNING THE PURPLE & GOLD BALL, CONTACT BROTHER CHRIS METZ, DMANMETZ@AOL.COM 
Birthday Bash November 17, 2018 from 9pm - 2am   
SPECIAL GUEST DJ QUICKSILVA 93.9 WKYS 
AND DJ QUE
CASH BAR ALL NIGHT
HORS D' OEUVRES @ 10PM
FIRST 100 CAN PURCHASE EARLY BIRD DISCOUNT TICKETS @ $25
REGULAR PRICE TICKETS $35
DAY OF EVENT TICKETS $45 (NOVEMBER 17, 2018)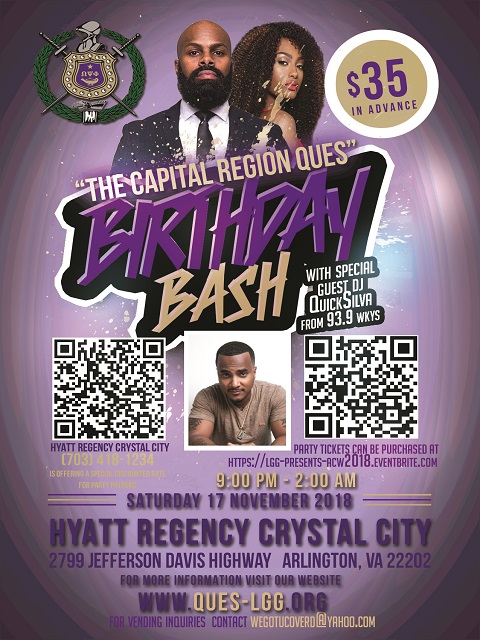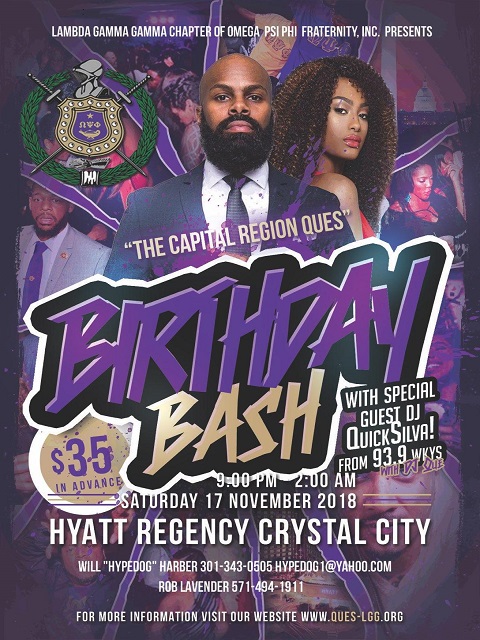 DRESS CODE STRICTLY ENFORECED!                                                                               
ABSOLUTELY NO ATHLETIC WEAR, BOOTS OR T-SHIRTS COME DRESSED TO IMPRESS IN GROWN & SEXY ATTIRE.  GET YOUR OUTFITS READY!!!!
******NO REFUND POLICY******

FOR QUESTIONS CONCERNING THE BIRTHDAY BASH, CONTACT BROTHER WILL "HYPEDOG" HARBER, 301.343.0505, HYPEDOG1@YAHOO.COM

A portion of the proceeds from this event will be used to support ALL of the chapter's community service and social action activities.  As always, we appreciate your support.
THANK YOU,
LAMBDA GAMMA GAMMA CHAPTER                                                                                   
OMEGA PSI PHI FRATERNITY, INC.
For all other questions, please feel free to contact Brother Will Harber, HYPEDOG1@YAHOO.COM

When & Where

Hyatt Regency Hotel at Crystal City
2799 Jefferson Davis Highway
Arlington, VA 22202


Friday, November 16, 2018 at 8:00 PM

-

Sunday, November 18, 2018 at 2:00 AM (EST)
Add to my calendar
Organizer
ABOUT
Lambda Gamma Gamma (LGG) Chapter of Omega Psi Phi Fraternity, Inc supports Maryland, Washington, D.C., and Virginia by sponsoring and supporting a wide range of educational and humanitarian activities.
A military based chapter has its share of unique challenges.  The constant turn-over of membership poses a particularly tough challenge and LGG has been somewhat vulnerable throughout the years.  In 1998 however, LGG was reinvigorated with a massive infusion of brothers determined to make LGG a powerful chapter within the National Capital Region.  The chapter's membership rose from 12 financial brothers to over one hundred in a period of  less than 12 months.
LGG incorporated a new strategy and the chapter shifted its membership focus from primarily military brothers to young and disenfranchised Omega men between the ages of 25 and 50.   The membership drive was spurred on by the newly elected slate of officers consisting of Basileus S. Earl Wilson, former National Executive Director, Vice Basileus James Mullen, Keeper of Records and Seals Lee Packnett, Keeper of Finance Angelo Riddick and a host of supportive brothers.  The new leadership encouraged the brothers to recruit from a ripe pool of unclaimed brothers in and around the DC area.
To manage the chapter, it was decided that the chapter be divided into three logical geographical areas to be governed by a designated Area Representative.  Each area was to conduct monthly meetings and provide support services for meetings to be strategically scheduled on a rotating basis.   Meetings were officially rotated from area to area to add variety and make travel reasonable for the brotherhood that stretched as far south as Stafford, Virginia to Baltimore, Maryland.
The geographical dispersion caused initial controversy but LGG worked with local chapters to establish amiable working relationships.  The chapter now boasts a membership of over 200 financial members who come from a wide variety of backgrounds.  
Since the reorganization the chapter has been recognized for outstanding achievements within the chapter and the district.  One of the most significant achievements is the chapter's reclamation program.  LGG has won the 2nd District's Reclamation Award for the past several years. In 2007, Brother James Hicks was elected 2nd District Keeper of Finance and Brother Phillip T. Edmonds was awarded the "Second District Superior Service Award."  In 2002, Brother Reggie Sullivan spearheaded the step team that won 3rd place at the National Convention in Charlotte, North Carolina. 
In 1998, the chapter adopted the nickname "The Capital Region Ques" and created one of the most dynamic websites in the history of Omega.  
To add to the rich history of Lambda Gamma Gamma, the chapter boasts a list of  famous brothers (see notables).  Brother S. Earl Wilson, former National Executive Secretary to Omega Psi Phi was also a former Basileus of the Chapter.  Brother Lieutenant General Kip Ward (U.S. Army) and Brother Major  General Abraham Turner have graced the ranks of the Capital Region Ques.  In addition, the chapter has the honor of having Brother Robert Rigsby on its roll.  Brother Rigsby is a Judge in Washington, DC and a United States Army Reservist who served a considerable amount of time on active duty.  LGG has the honor of also having in it's ranks Bro. Lonnie Liston Smith famous Jazz Muscian and Artist.  
 LGG continues to grow and serves the community in the name of Manhood, Scholarship, Perseverance, and Uplift.