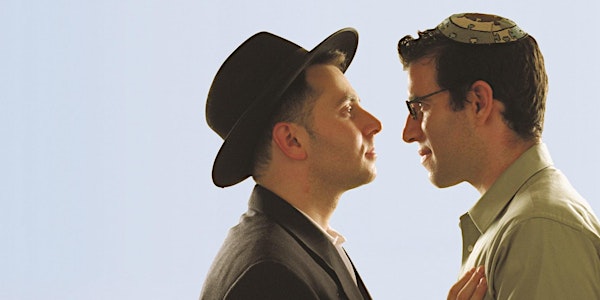 LGBTQIA+ Hanukkah Event – Free Virtual Screening of "Trembling Before G-d"
LGBTQIA+ Hanukkah Event – Free Virtual Screening of "Trembling Before G-d" and discussion with the film's Director Sandi DuBowski
Refund Policy
Contact the organizer to request a refund.
Eventbrite's fee is nonrefundable.
About this event
Join together with members of the LGBTQIA+ community for a virtual Hanukkah celebration on Tuesday, December 15th from 6:30 PM to 8:00 PM EST. The centerpiece of the evening is a discussion of the film, "Trembling Before G-d," with the film's director, Sandi DuBowski and people profiled in film. It has been close to 20 years since the film's release. We'll reflect on our past triumphs and explore the challenges ahead. The event will be moderated by Idit Klein, President and CEO of Keshet. Prepare your questions for the audience Q&A portion of the discussion.
We will kick-off the event with a festive holiday candle lighting and joyous singing of your favorite Hanukkah tunes. BYOM – Bring Your Own Menorah so you can join in! You'll then have the opportunity to mingle with old friends and make new friends during a virtual icebreaker.
The viewing window of the film is from Saturday, December 12th at 5:30 PM until Tuesday, December 15th at midnight EST.
Links for the film viewing and the virtual Hanukkah Event will be sent out on December 11th.
All are welcome!
This event is sponsored by Baltimore Hebrew Congregation, Bolton Street Synagogue, Eshel, Faith Communities of Baltimore with Pride, the Gordon Center at the JCC, JPride Baltimore, Har Sinai/Oheb Shalom Congregation, Keshet, and Repair the World.
Funding for the event is made possible by Neely Tal Snyder JPride Seed Grant.
About the Film
Trembling Before G-d is an unprecedented feature documentary that shatters assumptions about faith and sexuality. Built around intimately-told personal stories of Hasidic and Orthodox Jews who are gay or lesbian, the film portrays a group of people who face a profound dilemma - how to reconcile their passionate love of Judaism and the Divine with the drastic Biblical prohibitions that forbid homosexuality. As the film unfolds, we meet a range of complex individuals - some hidden, some out - from the world's first openly gay Orthodox rabbi to closeted, married Hasidic gays and lesbians to those abandoned by religious families to Orthodox lesbian high-school sweethearts.
Many have been tragically rejected and their pain is raw, yet with irony, humor, and resilience, they love, care, struggle, and debate with a thousands-year old tradition. Ultimately, they are forced to question how they can pursue truth and faith in their lives. Vividly shot with a courageous few over five years in Brooklyn, Jerusalem, Los Angeles, London, Miami, and San Francisco, Trembling Before G-d is an international project with global implications that strikes at the meaning of religious identity and tradition in a modern world. For the first time, this issue has become a live, public debate in Orthodox circles, and the film is both witness and catalyst to this historic moment. What emerges is a loving and fearless testament to faith and survival and the universal struggle to belong.
About the Director
Sandi DuBowski (he/his) turns movies into movements. He is the Director/Producer of Trembling Before G-d and Producer of A Jihad for Love. His award-winning work has screened at Sundance, Berlin, Tribeca and Toronto, theatrically released in over 150 cities, and in 2020 he was invited to be a member of the Documentary Branch of the Academy of Motion Picture Art and Sciences. DuBowski conducted over 800 live events with Trembling Before G-d and it has been seen by over 9 million people and changed the lives of countless individuals, their families, religious leaders, and communities around the world. He is in post-production on Rabbi, a 17-year film about Rabbi Amichai Lau-Lavie who founded Lab/Shul, an everybody-friendly, artist-driven, God-optional, pop-up spiritual community and who descends from 39 generations of rabbis – the work is supported by The Sundance Institute Documentary Program. DuBowski is Co-Founder of The Creative Resistance, a collective of media makers who create award-winning political ads and design to win progressive races in New York and nationally. He worked with over 125 documentaries as the Outreach Director of Good Pitch for seven years. Three generations of DuBowski's family made chocolate syrup in Deep Coastal Brooklyn.
Click here to learn more about DuBowski's filmmaking and to support post-production on his new film "Rabbi".