This virtual LGBTQIA+ workshop is designed to support and educate parents and caregivers of youth in the Burlington and CVSD school systems.
About this event
This virtual workshop will cover the following:
1. Let's quickly run through the acronyms - LGBTQIA+
2. Why do we talk about pronouns in schools and at Gender and Sexuality Alliance (GSA)meetings?
3. How can I support my child with their gender and sexuality expression?
4. What supports are available to me and to my child as we navigate this together?
5. Questions posed ahead of time.
We invite you to submit questions in advance using an anonymous form for added comfort: https://forms.gle/A6FwaQCDy6zRGjNQ9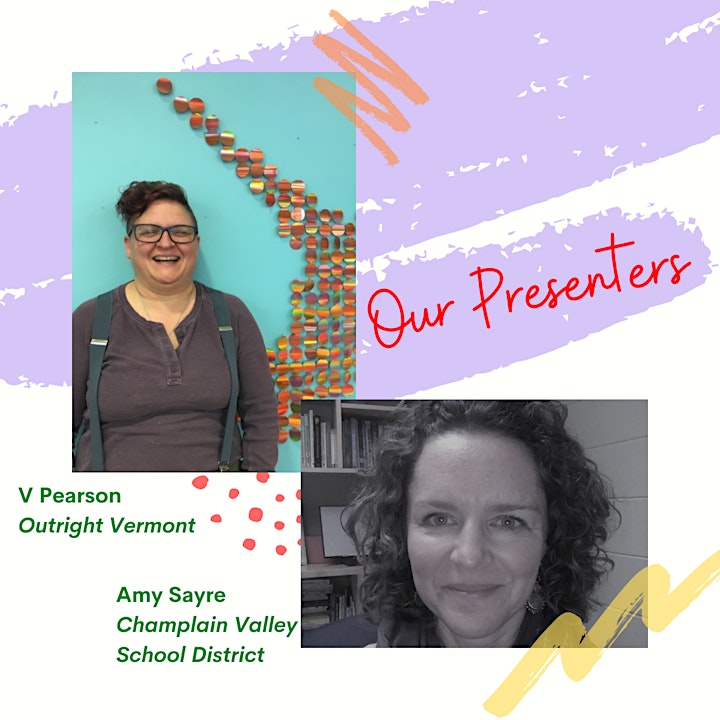 This workshop is presented and co-facilitated by trained professionals from Outright Vermont and the Champlain Valley School District as part of ParentIN, a program of the Burlington Partnership for a Healthy Community.
Get news, tips, tools, and support from ParentIN. Follow us on Instagram and Facebook for Champlain Valley School District or for Burlington School District.
PRESENTER BIOS:
V Pearson, Director of Youth Organizing, Outright Vermont:
I come to Outright as the Director of Youth Organizing with a passion for building community, skill, and power with all folks who are seeking to make the world a better place. My studies in Philosophy and Feminist Liberation Theologies inform that passion. Cornel West's words guide me: "Never forget that justice is what love looks like in public."
I have worked with youth on the farm, in youth groups, as a dorm parent, as an organizer and facilitator in high schools and colleges. I love spending time with people learning about what their heart needs to feel safe and powerful. I love ending the story that we are alone and our dreams are only that, dreams. Let's make our dreams for a better world into reality, shall we? Let's do this!
Amy Sayre, Student Assistance Professional & CVSD's ParentIN Coordinator:
I am on the school student support team and teach wellness classes at both Hinesburg Community School and Charlotte Central school. I am the GSA advisor for both schools and the ParentIN Coordinator for Champlain Valley School District.
Organizer of LGBTQIA+ 101: An Ed Night for Parents & Caregivers
Becoming a teenager can be tough. Parenting a preteen isn't exactly easy, either.
That's why we created ParentIN – to empower parents and caregivers of middle school students in Burlington with the support they need to help their children make healthy choices. Reported substance usage among Burlington students drastically increases each year from 6th to 12th grade. We want you, and your student, to be prepared for what's to come. ParentIN offers evidence-informed educational tips and resources, community engagement events, and facilitated meet-ups aimed at helping our kids live substance-free lives.
You know a lot about your child; we know a lot about preventing substance abuse. We are IN this together.