Description
PFLAG of Melbourne Space Coast is proud to present to our LGBTQ+ and ally youth (8th-12 grade) Masquerade Ball!
LGBTQ+ teens all over Brevard will come together on April 4th for a night of dancing and fun in a safe and inclusive social space! We would like to emphasize that our dance is free to attend, and dress attire is however you wish to express yourself whether it be casual, semi formal, or formal. We can't wait to see all the creative masks yet it is not mandatory to wear one. Maskes can be bought, made, painted, etc no limit to your creativity! This night will be filled with music by DJ Drift, a performance by the amazing Azhia, food, photography by Lisa Darmana, and raffles!

This is a free event all thanks to our generous sponsors:
PFLAG Melbourne Space Coast

Space Coast Pride

DJ Drift

Azhia K. Taylor

Lisa Darmana Photography
We are still accepting sponsors for this even and future ones (monetary, services, and raffle items)

We look forward to seeing you there!
Follow us on Instagram for updates and future events!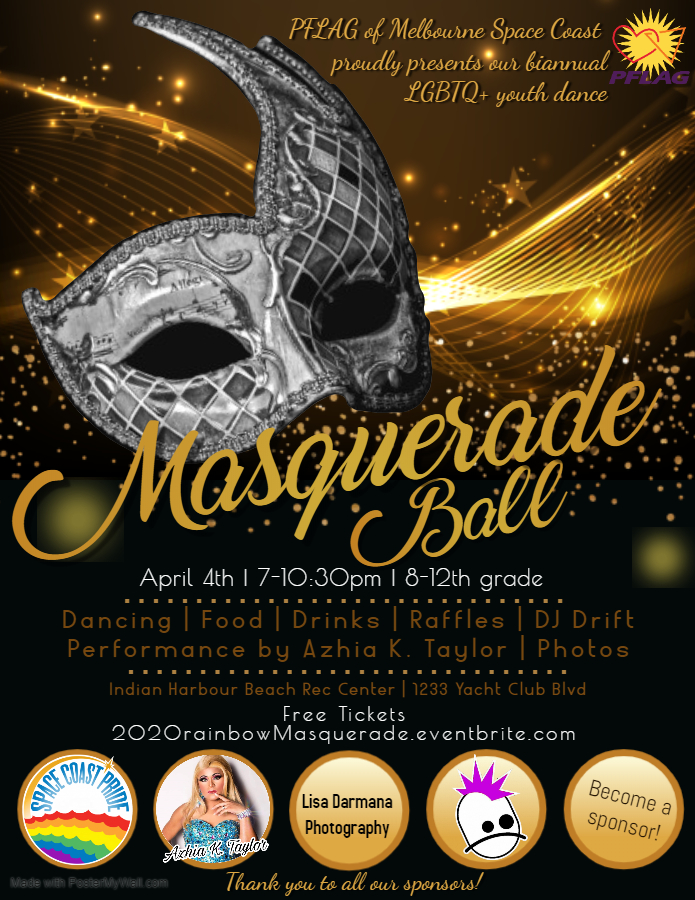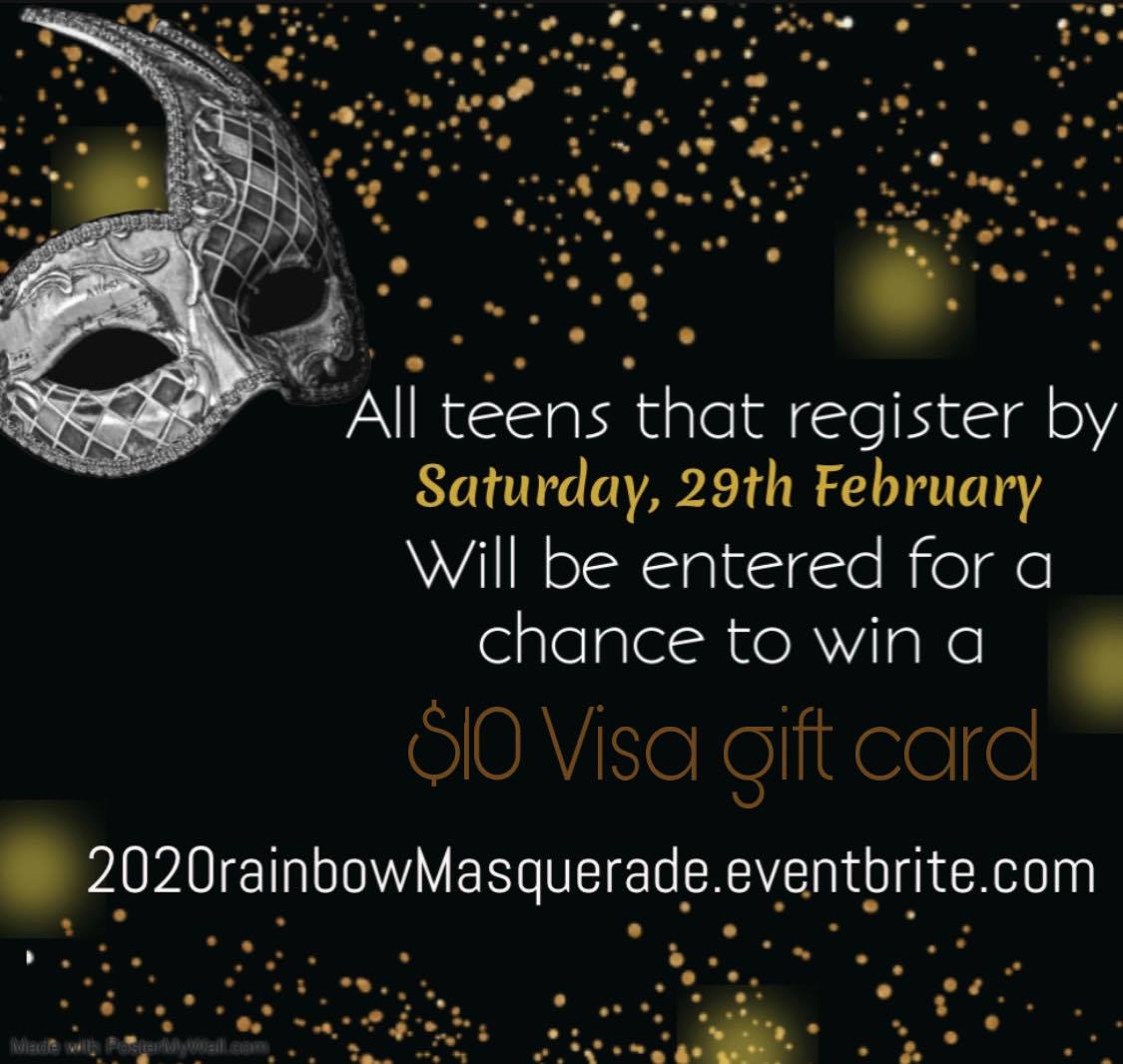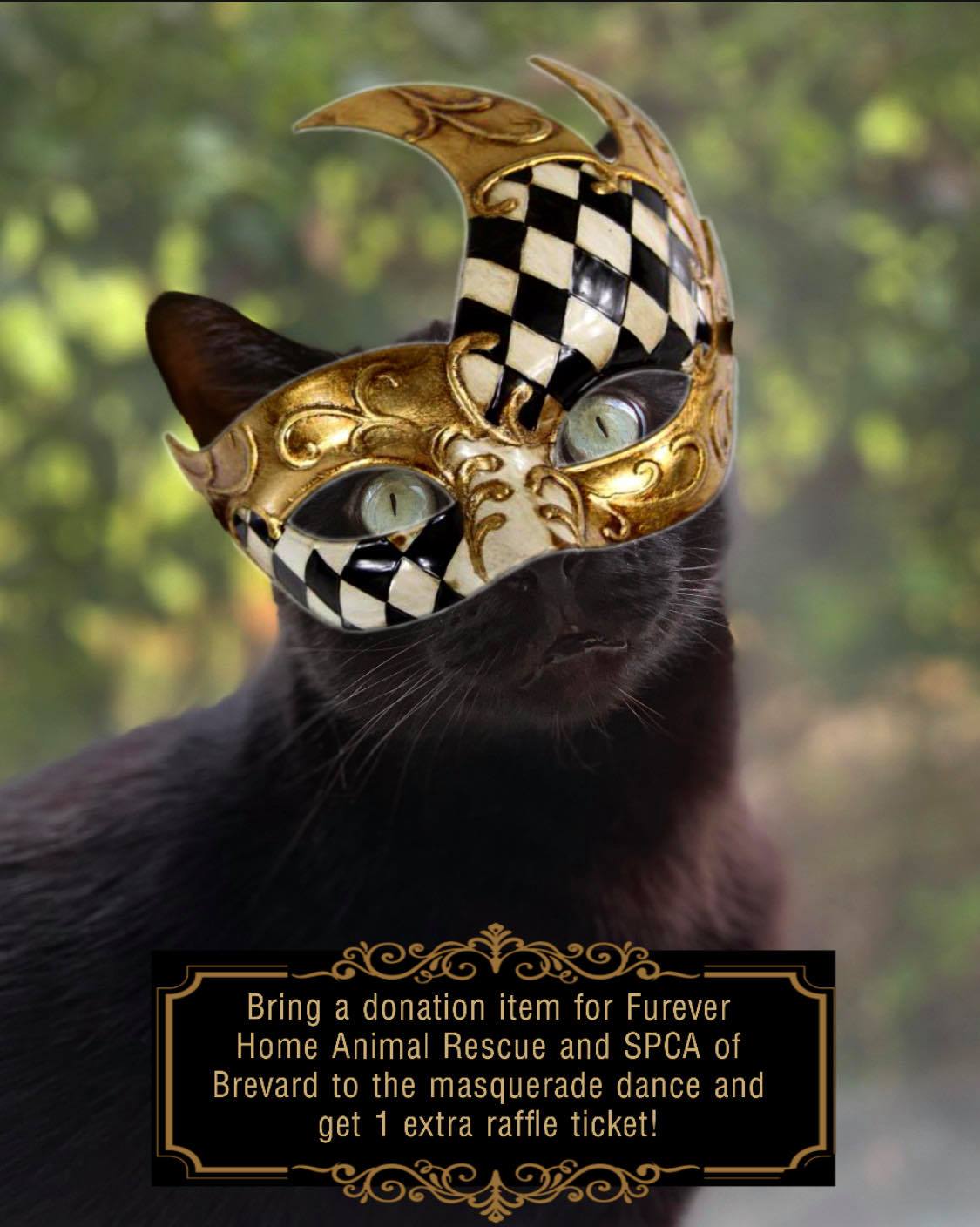 ---
*********************************FAQ*******************************


*When registering please type in the info for the teen(s) attending the dance, NOT the adult. Volunteers do not register here, their name will be listed is in the dance committee's FB page.
~Are there ID or minimum age requirements to enter the event?
We request for all guests to be in between 8-12th grade.


~How do I check-in at the dance?
For check-in you will either need to scan your ticket that was sent to the email address you signed up with, scan your ticket from your Eventbrite app, or print out your ticket with the QR code to be scanned.

~Can I get in at the door?
Our venue holds 100 attendees after our adult volunteers, so as long as we see we still have spots open then yes you can get in at the door. We will still need your name and emergency contact info that you can give to the volunteers at the check-in table. We do recommend to sign up using Eventbrite though as this keeps our headcount up to date and make sure the dance is not full when you come to the door.


~What are my transportation or parking options for the event?
We recommend drop off by an adult, friend, or guardian. There is a parking lot by the rec center that is available. If transportation is an issue, please contact the organizers and we will search for a solution to get you to the dance.


~What can I bring into the event?
Bring your friends, positive vibes, and electric energy! No outside food, drink, will be permitted. Small bags are allowed but will be searched. No book bags or messenger bags. This is to help provide safety for all attendees. If you have a special situation where a bag or outside food is needed, please reach out to us before the event.


~How can I contact the organizer with any questions?
Use the link connected to this event or you can always contact us through PFLAG of Melbourne Space Coast Facebook, Instargram, or website.


~Is my ticket transferrable?
If you are no longer able to attend you are able to cancel your ticket spot so another teen is able to attend. If you are not able to attend, the event tickets are all sold, and you know a friend wanting to attend you are able to go into your ticket and edit the information. Please make sure all information is edited such as name, emergency contact info, etc.


~What is the dress code?
We highly value everyone being their trueself in their expression whether that is casual, semi formal, or formal! Masks are fun but we know not everyone finds them comfortable to wear or hold and so it is not mandatory to wear one. We just ask to make sure what is covered at the beach is covered at the dance.


~Can my parents, guardians, or supportive adult attend?
No,the dance space is not open to parents or adults that are not registered volunteers of the event. Sorry parents, but this dance space is for teens only! If your parent is interested in volunteering they are welcome to contact us for future events. Parents can walk their teen in to check in but can not stay in the rec center or go past the check in desk.


~Will there be food and drinks?
Yes, a variety of snack foods and drinks will be provided. The food is free, but will only be available while it lasts. No drugs or alcohol will be permitted.


~What is the security for this event?
There will be registered volunteers outside/inside the doors to the venue and inside and around the dance to monitor safety. All registered volunteers will check in upon arrival and receive a special lanyard to wear at all times during the dance showing their have been approved to be at the dance. If an adult is not on the list or have a lanyard then they will not be able to get past the check in table. We also have a bag check in place as well.

~Do I have to bring my printed ticket to the event?
A printed or digital ticket will be required in order to enter into the dance.

~Who can see my registration information? And why is my email and grade needed?
Only the "host" will be able to see this information. Emails are needed in case there is an issue about the dance that we need to contact you about, you signed up for multiple tickets for you and a friend and didn't add each person's name to a ticket and include emergency contact for each individual, etc. Grade level is asked to help remind those registering that may of oversaw the "8-12th grade" part, that this is for 8-12 grades and not younger kids or adults. None of this information is shared or kept after this dance.
~Am I allowed to leave the dance facility?
For safety we require all teens to stay in the dance facility until they are done with the dance. No multiple entries are allowed.

~Location
The dance is being held at the Indian Harbous Rec Center That is right by Gleason Park. When you enter the side street for the park you will see the rec center on your left. You will find a large parking lot right before the rec center that is the closest parking lot to the facility, there is a drive through drop off area at the front of the center.