LGBTQ Scholars of Color 3rd Biennial Meeting
Description

LGBTQ Scholars of Color National Network Third Biennial Conference
April 13-14th, 2019, San Francisco, CA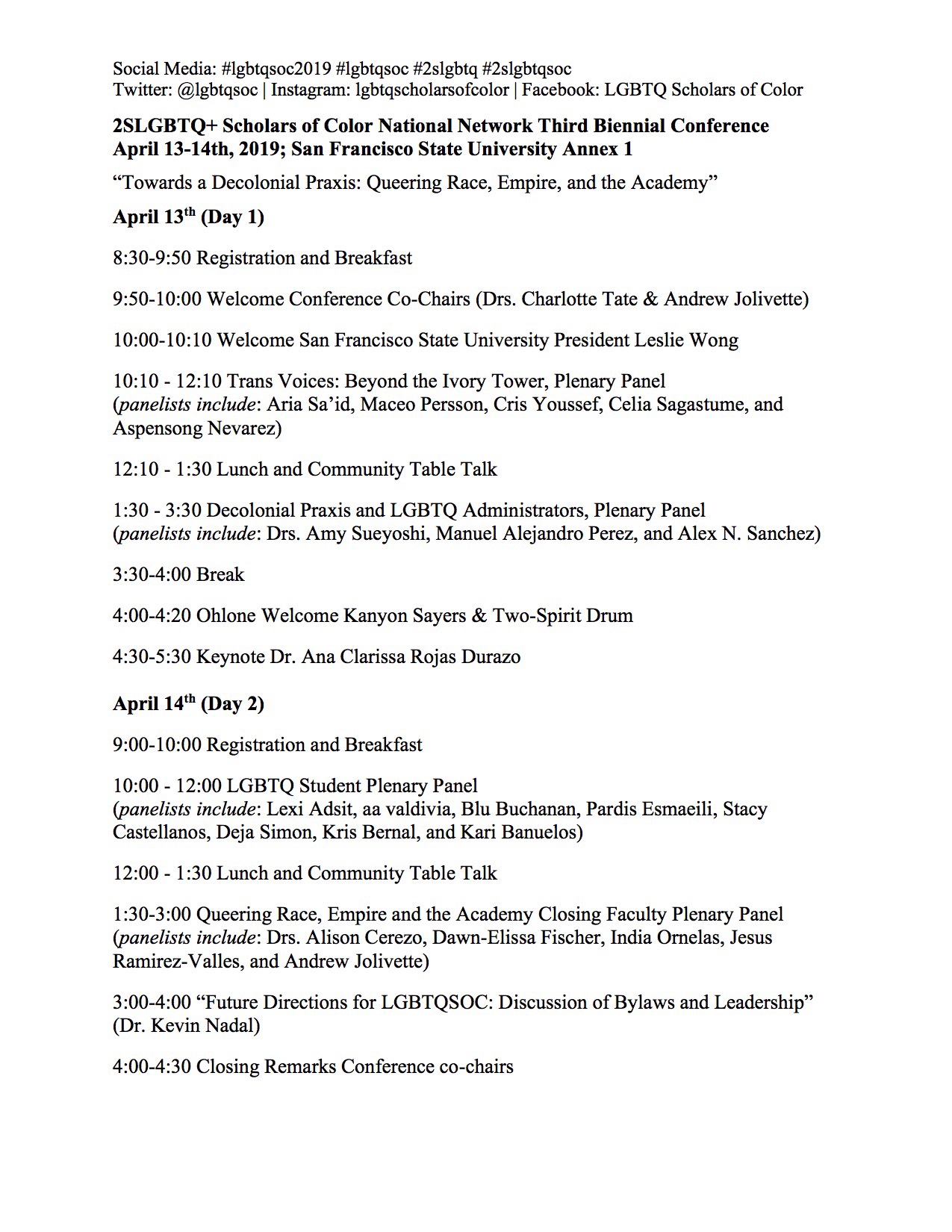 Theme: "Towards a Decolonial Praxis: Queering Race, Empire, and the Academy"

Location: Happening on the historic San Francisco State University campus (situated on Ohlone land), sponsored by the College of Ethnic Studies
Programming Highlights:
Trans Voices: Beyond the Ivory Tower, Plenary Panel
Decolonial Praxis and

LGBTQ

Administrators, Plenary Panel
Queering Race, Empire, and the Academy, Faculty Plenary Panel
Accessible Building and Panel Formats
Keynote by Dr. Ana Clarissa Rojas Durazo
Registration rates are based on scholarship level. Registration covers the cost of meals, space and equipment rental, accessibility services, and Eventbrite surcharge:
Post-docs/Faculty/Senior Scholars: $74.04
Students (graduates/undergraduates) and Junior Scholars: $37.82
The conference is a networking meeting, not a traditional conference format. Accordingly, there are no paper or poster submissions. Instead, the conference will provide time and space to meet, network, and otherwise build community. There is substantial time planned for networking and community building across all scholarship levels: student, faculty, and administrator.
For more information, contact one of the Conference Co-Chairs, Dr. Andrew Jolivette (ajoli@sfsu.edu) or Dr. Charlotte Tate (ctate2@sfsu.edu)