LGBTQ+ Issues in Higher Education Summit

Tuesday, April 3, 2018 from 1:30 PM to 5:00 PM (CDT)
Event Details
PLEASE NOTE THIS EVENT IS POSTPONED DUE TO THE WINTER STORM WARNING.

You are invited to the Wisconsin LGBT Chamber's first LGBTQ+ Issues in Higher Education Summit. This event will be held on Tuesday, April 3 from 1:30 p.m. to 5:00 p.m. hosted by Lawrence University, one of our Chamber members.

Our opening plenary session is called "We're Here, We're Queer, We're Multiplying." Our speaker is Matthew Antonio Bosch.

LGBTQIA people are multiplying. Coming out younger and younger, LGBTQIA youth and teenagers span K-12, college campuses, and YouTube, alongside queer role models in entertainment, athletics, and the corporate realm. Universities now dedicate resources towards LGBTQIA education, diversity centers, employee groups, alumni networks, and recruiting.

How can colleges and universities prepare for this influx of LGBTQIA students? How can institutions hold ourselves accountable to LGBTQIA alumni who are yearning for change?

This session will explore the state of LGBTQIA people in higher education, including Best Practices for multiplying our visibility and impact. No longer the work of a sole student organization or office, LGBTQIA inclusion is the work of us all.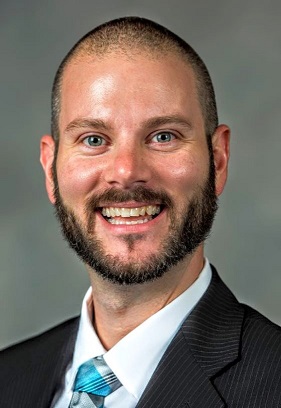 Matthew Antonio Bosch (he/him) brings humor, authenticity, and intersectional identities across race, class, gender, and sexuality to discussions of inclusion and leadership on college campuses. A first-generation graduate of Harvard University and Cornell University, he is currently pursuing his Ed.D. in Higher Education Management from the University of Pennsylvania.

Currently, Bosch serves as Director of the Gender & LGBTQIA Center at Elon University, catapulting from #370 on CampusPride's Index for LGBTQIA Inclusion to Top 25 in the U.S. and #1 in the South for the last three years.

Bosch's position reports to both Academic Affairs and Student Life, serving as a voice of inclusion across institutional change committees such as the Presidential LGBTQIA Task Force, LGBTQIA Employee Resource Group, Provost's Inclusive Community Team, Vice President's Council, and Women's, Gender, and Sexualities Studies Advisory Council.

Bosch's professional background spans community colleges, 4-year public, and 4-year private universities, plus 15 years of nonprofit board experience. During his decade in Minnesota, he served as Chief Diversity Officer for North Hennepin Community College where the MN Hispanic Chamber of Commerce named him "Top 25 Latino Leaders in Minnesota."

Recently, Bosch published a book chapter in Trans People in Higher Education. After serving as co-founder for his countywide LGBTQIA organization, Alamance Pride, he was selected to serve as Practitioner-in-Residence by the American College Personnel Association, leading national webinars on LGBTQIA best practices in higher education.
----------
This event is an opportunity for professionals in higher education to turn the focus on what should done to support and encourage the next generation of LGBTQ+ entrepreneurs and professionals in Wisconsin. This event is targeted towards staff in career services, LGBTQ resource centers, alumni engagement, student affairs, human resources, and similar departments.
The event is free for employees of Wisconsin LGBT Chamber members and $25.00 for non-members. Space is limited so please register today. If you have any questions, please do not hesitate to contact us at info@wislgbtchamber.com.
When & Where

Lawrence University
Warch Campus Center
711 E Boldt Way
Appleton, WI 54911


Tuesday, April 3, 2018 from 1:30 PM to 5:00 PM (CDT)
Add to my calendar