Description
Capital Factory welcomes you to our inaugural LGBTQ+ in Tech Forum on June 25th, 2019. Capital Factory is dedicated to increasing diversity in the tech community and making our coworking space an inclusive and welcoming environment for people of all backgrounds and identities.
The LGBTQ+ in Tech Forum is a day to bring the community together in our space and create connections that will encourage even more gatherings in the future. Let's start important conversations that will inspire, engage and elevate LGBTQ+ entrepreneurs, tech professionals and allies.
WHO IS THE EVENT FOR?
LGBTQ+ leaders, entrepreneurs and allies who are either working in tech or are looking to enter the startup community.

AGENDA
The LGBTQ+ Forum is a half day event that will include a networking lunch, distinguished Keynote speaker, fireside chat + Q&A, roundtable discussions and a happy hour.
12:00 PM - 1:00 PM: Check-In & Networking Lunch

1:00 PM - 2:00 PM: Opening Remarks with Joshua Baer (Capital Factory) & Keynote Address with Joel K. Fontenot (Reditus Ventures)

2:00 PM - 3:00 PM: "Out at Work: A Journey to Success" - A Fireside Chat + Q&A with Minh Vu (Capital Factory) & Stacey Stevenson (Lez Talk)

3:00 PM - 4:00 PM: Roundtable Discussions led by Christine Wyatt (Upswing), Charlie Lass (MIT) & Rachel Barber Wolf (Eastfield College)
"Management Essentials" with Christine Wyatt
"Generational Identity & Workplace Communication" with Rachel Barber Wolf
"Entrepreneurship & Innovation" with Charlie Lass


4:00 PM - 5:00 PM: Happy Hour & Networking
PARKING
Please go here for more information about parking at Capital Factory + The DEC.
SPEAKERS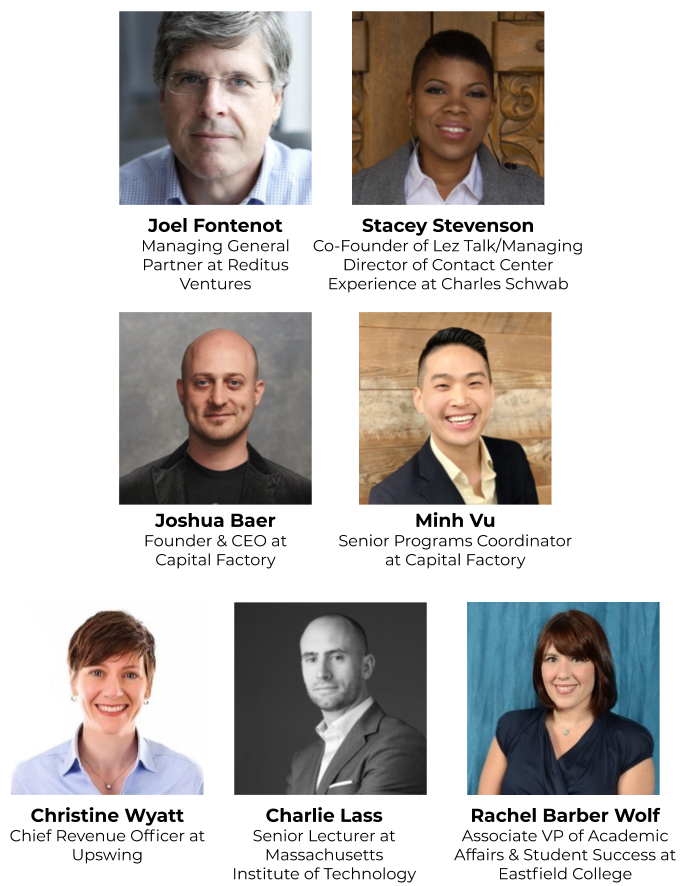 PARTICIPATING ORGANIZATIONS





IN-KIND SPONSORS