Description
This two-day event will bring together LGBTQ community leaders from across California who are dedicated to improving the health and wellness of their communities. Participants will have a chance to strengthen relationships with other LGBTQ leaders and build skills related to health and human services program development, policy engagement, and advocacy strategies that they can bring back to their local communities.


Sliding Scale Cost
$200 Full Convening
Under Resourced Non-Profit Discount 25% (Code: NonProfitRate)
Primarily Volunteer Based Organization Discount 50% (Code: LocalNonProfit)
18-25 Transitional Age Youth Discount 75% (Code: 18to25Youth)
College Student Discount 75% (Code: Student)
Full Scholarship - Must apply via the Scholarship Application
Rainbow Connection
Tuesday, May 28th
6:00 pm – 9:00 pm
- Fiesta open to everyone who supports the health and wellness of LGBTQ Communities
- An opportunity for local LGBTQ leaders from across California, policy makers, and foundation representatives to learn more about each other's work, resources, and goals.

Plenary, Workshops, and Panels
Wednesday, May 29th
8:30 am – 6:00 pm
- Specifically, for LGBTQIA folks who want to learn how to build capacity in their local communities
- Workshops, presenters, and mentors sharing skills with other queer and trans community builders for the purpose of learning about program and policy models to bring back and implement in their own communities.
Panels
County Mental Health Funded Queer and Trans Programs - Panelists with experience navigating the process for developing a program and obtaining County Mental Health Funds
LCFF/LCAP School District Advocacy and Resources for LGBTQ Youth - Panelist with experience navigating school district Local Control and Accountability Plans, developing eligible programs, and obtaining Local Control Funding Formula monies
Creating Sustainable Movements in Small LGBTQ Communities - Panelists with experience sustaining an LGBTQ movement with a small population, rural distance barriers, and/or conservative pushback.
Workshops
Building Networks
Alexandra Magallon (She/Her/Hers), Transgender Service Provider Network, Los Angeles
Learn how to create a T.S.P.N in your area. Connect T/NB/GNC/I providers and community stakeholders in local and regional network hubs to effectively cover the most territory within advocacy, health services, economic development, and community organizing.
Creating A Healthy School Climate for Latinx LGBTQ Youth

Eddie Martinez (

He/Him/His), Latino Equality Alliance

Angel Ayon (

They/Them/Theirs), Latino Equality Alliance
This presentation will share strategies for empowering LGBTQ youth, their families and allies to change school policies that create welcoming, inclusive, and supportive environments for all students. Learn to advocate at a district level, create action plans at schools that include developing a culture of respect, equity and support of all LGBTQ youth.
Delivering Staff Training on Caring for Lesbian and Bisexual Women

Julie Friedman (She/Her/Hers), Iris Cantor-UCLA Women's Health Education & Research Center
Bobbie Emetu (She/Her/Hers), California State University, Northridge
Learn how to organize, coordinate, and provide staff training on the delivery of inclusive care to lesbian and bisexual (LB) women and collaborative care.
Economic Development Fellowships for Trans Immigrants
Pau Crego (He/Him/His), Office of Transgender Initiatives, City & County of San Francisco

Learn about the core components that make the San Francisco's fellowship model effective, the strategies used to pilot it and secure ongoing funding, and potential opportunities for adaptation and/or replication in other places.
Innovative Solutions to LGBTQ Smoking
Mike Ai (He/Him/His), Equality California
Dannie Cesena (He/Him/His), California LGBTQ Health and Human Services Network

This workshop will address how the tobacco industry has historically targeted the LGBTQ community and why LGBTQ Centers and mental health providers should discuss tobacco usage with their LGBTQ clientele. This workshop will also highlight how LGBTQ Centers and mental health providers can implement strategies to assist their communities to quit tobacco products.
Just As They Are/Tal Como Son: Helping Latinx Families Support Their LGBTQ Children
Maritza Martinez (She/Her/Ella), Somos Familia

Rejection of LGBTQ youth and family acceptance is not solely a family matter, it has a direct impact on public health issues. Learn how organizations and families can shield from family rejection and move toward creating better outcomes for Latinx LGBTQ children and healthier communities.
Kinky Queer Community
Michelle Call (She/Her/Hers), GALA

How to develop programming/support for folks who identify as queer and kinky, legal implications, advocacy around BDSM and mental health, and information about the National Coalition for Sexual Freedom
OUR fight for equality

Michaé Pulido (

They/them/theirs, she/her/hers), TransLatin@ Coalition

The TransLatin@ Coalition has just released the #TransPolicyAgenda, which outlines policy solutions to the immediate issues facing the transgender, gender non-conforming (GNC), and intersex community in California and beyond. This session provides an overview of the #TransPolicyAgenda and aims to build partnerships in each of six key sections outlined.
Pathways to Permanency: Dismantling Systems of Care Pipelines

Ariel Bustamante (

She/Her/Hers/Ella), Los Angeles LGBT Center

Blending community organizing, grass-tops advocacy, and social work disciplines, participants will gain knowledge and tools needed to disrupt the intricate pipelines of rejection and negative outcomes for LGBTQ+ youth in systems of care at their local level
Trans Justice through Medical-Legal Partnerships

Ben Hudson (

Him/Him/His), Gender Health Center
Liza Thantranon

(

She/Her/Hers),

Legal Services of Northern California
Come learn how you and/or your organization could partner with your local legal aid organization to create a medical-legal partnership to impact systems change and increase access to transition-related care and legal resources for transgender and nonbinary people.
Youth Workers Unite!

Jessie Hankins (

She/Her/Hers), LGBTQ Connection
Isomar Alamilla (He/Him/His), LGBTQ Connection
Jessica Carroll (She/Her/Hers), Positive Images
Maxwell Anderson (He/Him/His), Positive Images
Dive into two unique approaches to community developed youth mental health programming. Learn from youth leaders and adult staff: skills for crafting peer-run support groups, innovative models for youth leadership development, and youth outreach and engagement.
More information can be found on the LGBTQ Health and Human Services Convening Event Page as it becomes available.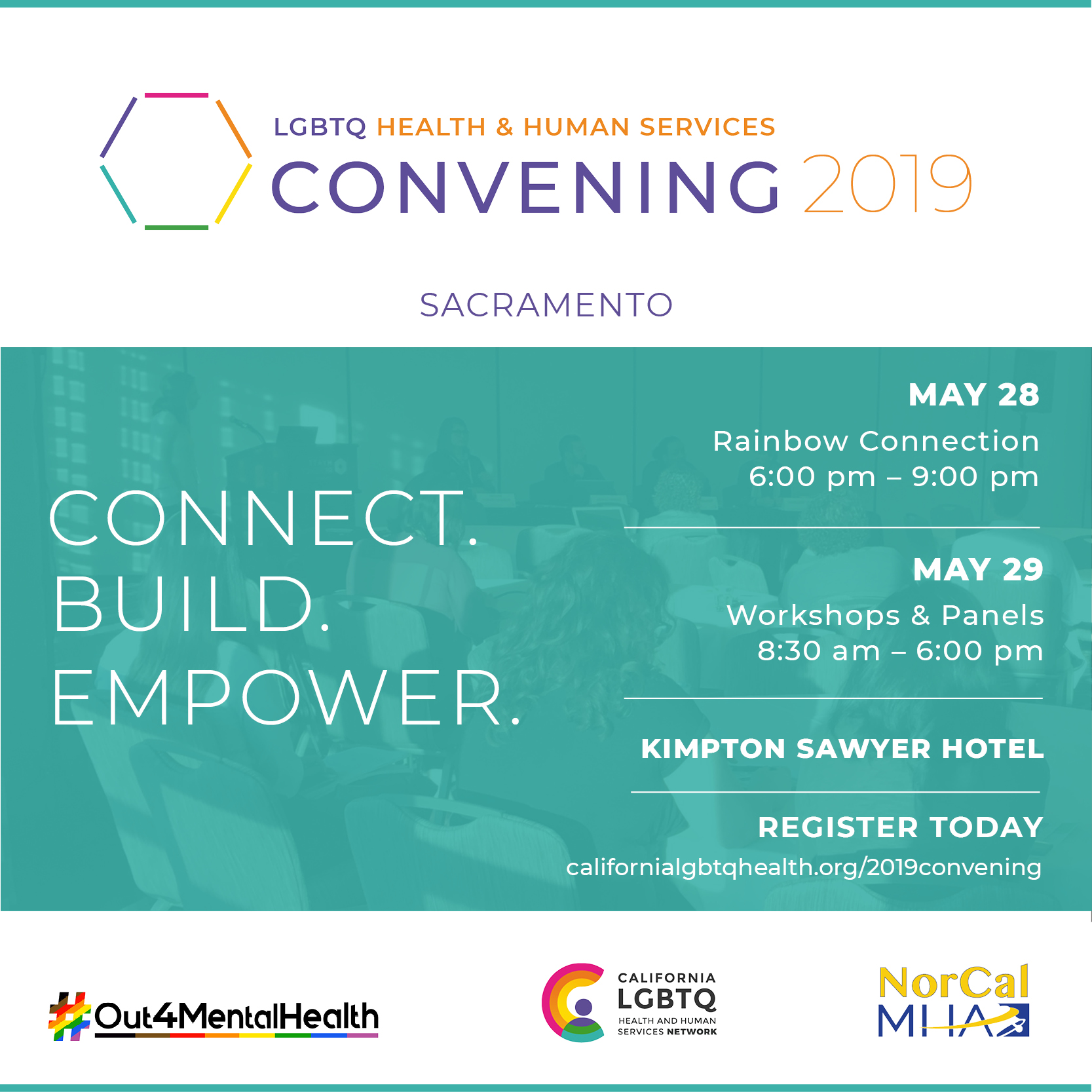 The LGBTQ Health and Human Services Convening is presented by the California LGBTQ Health and Human Services Network, #Out4MentalHealth, and NorCal MHA.
FAQs
What are the goals of this event?
Attendees will build skills related to health and human services program development, policy engagement, and advocacy strategies with the goal of implementing these skills in their communities. The event will support network building, statewide coalition relationships, and mentoring opportunities. Participants will learn skills to improve the health, mental health, and well-being of LGBTQ people in their communities.
Who should attend this convening?
LGBTQ leaders currently working to support health and wellness in our communities; Staff and volunteers from LGBTQ community-based organizations and groups; Anyone with the capacity and desire to learn skills to bring back to their community for implementation. Varying levels of experience and education are welcome.
What does registration include?
Registration includes the Tuesday evening reception and Wednesday's full-day program at The Sawyer Hotel in Sacramento. Light refreshments will be provided at the reception and the full-day program includes breakfast, lunch and an afternoon snack.
What does registration NOT include?
Registration does not include lodging, transportation, or dinner either night.
Are scholarships available?
Yes! We do not want finances to prevent you from attending. You can find our Scholarship Application online. Please email Mandy Taylor at mtaylor@health-access.org for more information about Scholarships.
Is travel support available?
Our organization is not able to provide travel support at this time. We also know that our communities are amazing at collective action to support and empower each other! If you are looking for (or offering carpools), lodging, or connection with others before the convening, please join the Connections Group.
How do I book a room?
You can book directly with the event venue, The Sawyer, using their rate for catered events (generally their lowest available rate). There is also the nearby HI Sacramento Hostel as a more budget friendly option. Both accommodations are known locally as queer and trans community supporters.
How do I get to Sacramento?
The Kimpton Sawyer's address is 500 J Street, Sacramento 95814.
There is one primary airport in Sacramento, Sacramento International Airport (SMF). The airport is 11 miles from venue. To get to The Sawyer from the airport, take I-5 South and exit J Street towards downtown.
Sacramento is also accessible by Amtrak Trains and multiple bus lines.
The Amtrak Sacramento Valley Station (401 I Street, Sacramento 95814) is a couple of blocks from the hotel or hostel.
The Greyhound Sacramento Station (420 Richards Blvd, Sacramento 95811) is 1.5 miles away from the venue. To get to The Sawyer you can go by car via I-5 South and exit J Street towards downtown. Sacramento Regional Transit Bus 11 Southbound picks up at the Greyhound Station and stops at 7th and H St, a short walk to the hotel or hostel.
What kind of parking is available?
The Sawyer offers onsite valet parking for $35 a night ($42 for oversized vehicles). There is other public and private parking but it is similarly priced.
Regional Transit Options include: Light Rail Gold Train 8th & K Station (4 blocks from the venue) and #30 Bus 5th & J Stop (venue crossstreets).
Will you have accessible bathrooms?
Yes! There will be physically accessible and gender inclusive bathrooms available.
Will there be interpreters?
Yes! We can provide interpretation services in ASL and Spanish as needed. Please feel free to contact us if you have specific language needs.
Will there be alcohol at the convening?
There may be alcohol present during the Tuesday evening reception.
There will not be alcohol present during the full day Wednesday program.
There are multiple bars and lounges onsite and event organizers cannot guarantee a sober environment. The Sacramento LGBTQ Community Center has an AA Meeting (upstairs) and a NA Meeting (downstairs) on Tuesdays at 7 pm.
Is smoking permitted?
The Sawyer does not allow smoking on any floors or in the public area. The nearest smoking is outside of the hotel property. The HI Sacramento Hostel has a designated outdoors smoking area.
Can I bring my pet?
The Sawyer welcomes pets with no restrictions. However, pets are not allowed into the event in order to minimize distractions for other participants. Service animals are always welcome!
Are there ID or minimum age requirements to enter the event?
You must be 18 to attend this event. There are no ID requirements.
Is my registration fee or ticket transferrable?
Yes. If you are unable to attend, please email Mandy Taylor at mtaylor@health-access.org to transfer your ticket to someone else.
I work for a public entity, can you send an invoice?
Yes. If you work for a school district, county, or the state and need an invoice please email Mandy at mtaylor@health-access.org. She will need the attendee's full name, name of the agency, and the billing address.