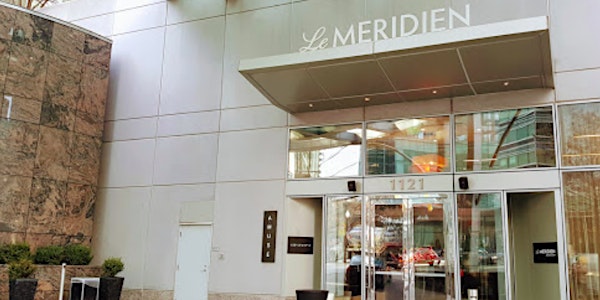 LGBTQ+ Happy Hour @ Amuse
This event is ideal for making new friends, professional networking, idea-sharing, and community building. It's free to attend.
When and where
Location
Amuse at Le Meridien - Arlington 1121 19th Street North Arlington, VA 22209
About this event
Ready to take a break from your holiday celebrations and connect with the queer community in DC? Join us for a first of its kind happy hour event at a swanky bar in Rosslyn with luxurious views of DC from 7 to 9 pm on Black Friday!
Amuse at Le Méridien is a restaurant and bar located on the fourth floor of an upscale hotel along the Potomac River with views of Georgetown and the National Cathedral sitting atop Mount St. Alban. Amuse has graciously provided a special menu exclusively for our community, including happy hour pricing on certain beverages including cocktails. This is our first time visiting Le Méridien for the views and good company. The bar/lounge area is chic with a gas fireplace, comfortable modern seating, and friendly staff working a full bar.This LGBTQ and Allies community-wide social provides everyone a chance to mingle, socialize and share community spirit in a splendid setting.
This free social is officially hosted by Go Gay DC - Metro DC's LGBTQ+ Community Hub. Go Gay DC is Washington DC's inclusive LGBTQ+ community hub focused on friendship, leadership, and service. Visit https://www.meetup.com/GoGayDC
All your friends are welcome. Fabulous people from all over the world are expected. Name tags will be provided. It's FREE to attend. Casual attire is fine; this will be a relaxing and fun time. Simply pay for drinks using your own credit card or cash; there is no group tab.
Invite all your friends on Facebook!
DIRECTIONS / PARKINGParking: There are multiple garages in Rosslyn. Le Méridien has a self-park garage at $8 per hour. The Potomac Tower garage just east on 19th Street is $8 for the first hour, $12 for 2 hours, and $15 for the daily max. There is also street parking scattered around Rosslyn.
For Convenient Public Transport: Rosslyn Metro Station is a 3-minute walk from Le Méridien. When you emerge from the Metro on N Moore St., proceed north (toward Georgetown) and take a right onto 19th St. Walk down the hill (East). Just past the next intersection (Lynn St.) Le Méridien is on your left. There are two entrances. The glass elevator on the street level takes you up 4 floors to the mezzanine level where the bar ("Amuse") is located along the terrace to your right. You'll know you're there when you reach a set of double doors on your right. You can also enter through the main entrance of the hotel and take the elevator indoors up to the restaurant level. The restaurant is to your right through the lounge as you exit the elevators. We will be gathered in the bar area with name tags. Mingle with fabulous LGBTQ+ folk and allies. TJ Flavell will be there to greet you. Bring your friends and meet new people from all over the world.
Casual attire is fine.
If you haven't been fully vaccinated, have a cough, runny or stuffy nose, fatigue, sore throat, or headache, please just stay home. You can find a COVID-19 vaccine near you by searching on Vaccines.gov . Social distancing is possible in this spacious, well ventilated lounge.
We hope you can make it! You may arrive at any time that's convenient for you.
For more exciting events like this, stay tuned to Go Gay DC at
https://www.meetup.com/GoGayDC/
This event is a safe, inclusive space for everyone under the rainbow.