Learn about LGBTQ History and to explore records for clues on our ancestor's sexuality.
About this event
LGBTQ Genealogy
ONLINE
Saturday, 26 Jun 2021 1:00pm-3:00pm PDT
Presented by Stewart Blandón Traiman
The event is presented online via Zoom
Lesbian, Gay, Bisexual, Trans and Queer folk have always been a part of our history and family stories. We all have LGBTQ members of our family trees. The confirmed bachelor or spinster aunt in our trees may not have been single. Perhaps they did have partners but there is no legal documentation or family acknowledgement. This class will explore census, newspapers, obituaries, military records, photographs, phone books and archives for clues on our ancestor's sexuality. We will also explore LGBTQ History and many individual stories giving context to the available records. Discovering our LGBTQ ancestor's stories will enrich our entire family history.
The event will take place via Zoom. If you join, please sign in early to make sure you are able to see the program.  We will send you instructions the night before, and a reminder shortly before the event, which will give you access. When registering, use an email address you will be checking. Please note all times are Pacific Daylight Time. 
You do not have to have a Zoom account to attend a Zoom meeting. You will be prompted to download the software, once you have clicked on the link that you have been provided. You may also wish to create an account, but that is not required to participate in a Zoom meeting.
This event is presented live. Some events may be recorded for internal use only.
See you online!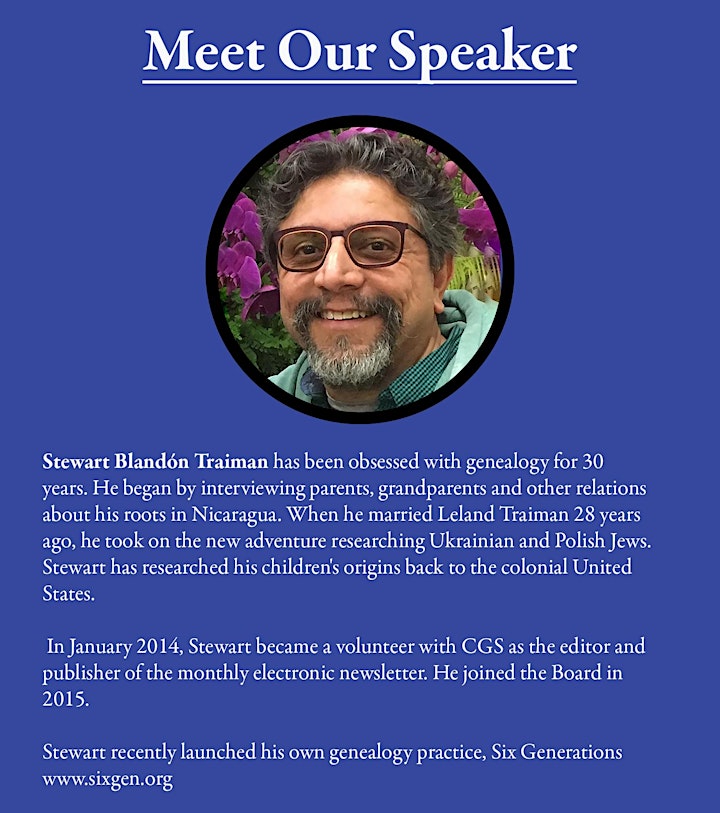 REGISTRATION INFORMATION:
Pre-registration is required. Class size is limited so register early to confirm your spot.
CGS members enjoy reduced admission of $10.00*.
Non-member admission fee is $30.00*.
You can purchase a $45 one-year CGS Basic membership when you check out. To sign up for other membership options go to our web page: CGS Membership application
PAYMENT OPTIONS:
Credit card payments will be processed by Eventbrite.