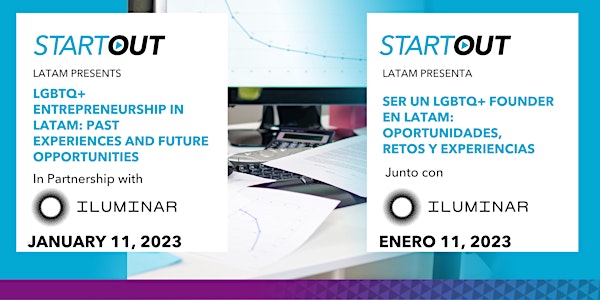 LGBTQ+ Entrepreneurship in LatAm: Past Experiences and Future Opportunities
Join us for a panel covering the experiences, challenges, and opportunities from four outstanding LGBTQ+ entrepreneurs in LatAm.
Refund Policy
Refunds up to 1 day before event
About this event
Un panel donde se abordarán las experiencias personal de cuatro extraordinarios LGBTQ+ founders en LatAm, compartirán su retos, oportunidades y vivencias que se han enfrentado durante su camino como emprendedores en el ecosistema de emprendimiento de LatAm
About this event
Join StartOut and the Iluminar Ventures team on our first LatAm-focused event! The event will feature four outstanding startup community members who will share their personal and professional experiences as LGBTQ+ builders and funders from different markets in the Latin American region.
Additionally, StartOut board member Patrick Driscoll will provide an overview on how StartOut supports LGBTQ+ founders in the US and abroad, with an opportunity to share your feedback and preferences for future LatAm focused events.
Attitudes toward leaders from the LGBTQ+ communities of LatAm have seen many shifts in recent years. While great strides have been made in certain countries for LGBTQ+ equality, LatAm as a whole still has work to do to move toward greater inclusion and stronger representation of LGBTQ+ folks in business and broader society. This panel seeks to bring together LGBTQ+ entrepreneurs, investors, and startup community members who continue to push forward with building big things in LatAm openly and proudly, and discuss what doing so has meant for them as they have lived their entrepreneurial journeys.
Join us to virtually connect with other LGBTQ+ startup founders, VCs, and aspiring entrepreneurs from LatAm! Allies are encouraged to join!
Speakers:
Gerry Giacoman - Founder and CEO of Clara
Ana Lucia Pereyra- co- founder and COO of Morgana
Daniela Muñoz- Founder and CEO of ioio.com
Moderator: Cristian Raygoza - Partner of Iluminar Ventures
Sobre el evento
¡Acompaña a StartOut y al equipo de Iluminar Ventures en nuestro primer evento de StartOut LatAm! El evento contará con cuatro destacados miembros de la comunidad de startups que compartirán sus experiencias personales y profesionales como founders LGBTQ+ de diferentes mercados en la región de América Latina.
Además, Patrick Driscoll, miembro de la junta directiva de StartOut, brindará una introducción a StartOut y cómo ellos están apoyando a otros fundadores LGBTQ+ en los EE. UU y obtener tus comentarios sobre futuros eventos enfocados en LatAm.
Las circunstancias hacia los líderes de las comunidades LGBTQ+ de LatAm han experimentado muchos cambios en los últimos años. Si bien se han logrado grandes avances en ciertos países para la igualdad LGBTQ+, Latinoamérica en su conjunto todavía tiene trabajo por hacer para avanzar hacia una mayor inclusión y una representación más sólida de las personas LGBTQ+ en los negocios y en la sociedad en general. Este panel busca reunir a emprendedores LGBTQ+, inversionistas y miembros de la comunidad de startups que continúan impulsando la construcción de grandes cosas en LatAm de manera abierta y orgullosa, y así discutir lo que ha significado para ellos al vivir sus viajes empresariales.
¡Conéctate virtualmente con otros fundadores LGBTQ+, V.C.s y aspirantes a emprendedores de LatAm! ¡ Aliados también están invitados! ¡Próximamente eventos presenciales!
¡Únase a nosotros para conectarse virtualmente con otros fundadores de startups, capitalistas de riesgo y aspirantes a emprendedores LGBTQ+ de LatAm! ¡Se anima a los aliados a unirse!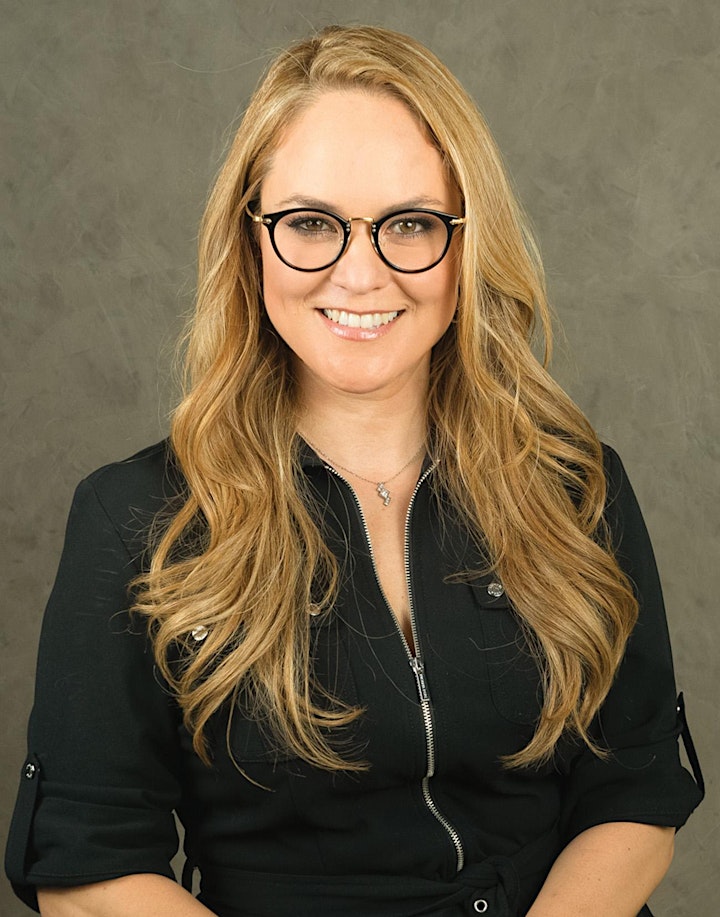 Ana Lucia Pereyra
Ana Lucía Pereyra (Hermosillo, Sonora). Cofundadora y COO de morgana, el bróker hipotecario digital más potente y rápido del mercado en México, es una de las mujeres más reconocidas en el ecosistema hipotecario en México.
Previo a fundar morgana se desempeñó como Directora de procesos de crédito hipotecario y auto en Scotiabank, logrando construir y ejecutar el proceso hipotecario más rápido del mercado. Llevando a Scotiabank a ser el segundo colocador de hipotecas en tan solo 3 años.
Ana cuenta con una maestría ejecutiva en administración de negocios del IPADE, se graduó como ingeniera industrial y de sistemas del Instituto Tecnológico de Estudios Superiores de Monterrey, es Blackbelt en la metodología Six Sigma, y fue becada en la Arizona State University por su alto desempeño como tenista.
Ha formado parte de varios Comités de Diversidad e Inclusión, además del Comité LGBT+ en Scotiabank, y participó en la generación de campañas internas dirigidas a la comunidad LGBT+ para la concientización de miembros y aliados.
Fun Fact: Ana es amante de la música y le gusta mucho cantar, consiguiendo el 1er lugar en la categoría de solista música ranchera en los Juegos Bancarios en el 2017.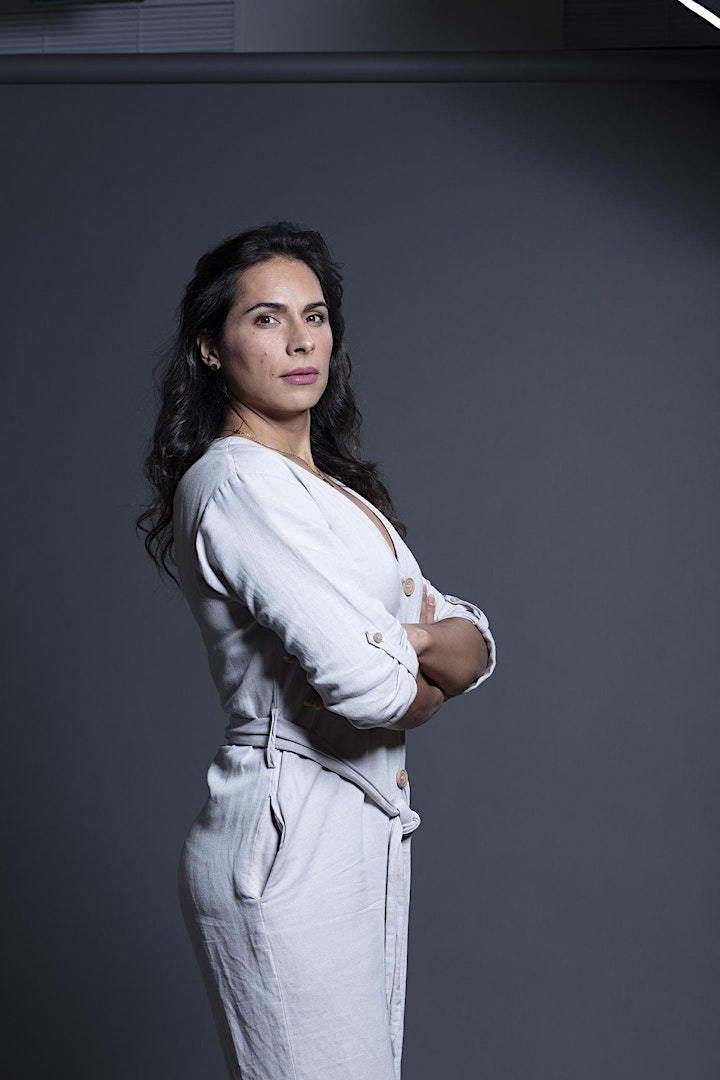 Daniela Muñoz Jiménez
Daniela Muñoz Jiménez es Emprendedora, Médica Cirujana egresada de la Facultad Mexicana de Medicina de la Universidad La Salle, investigadora en Filosofía de la Economía política, Filosofía del Género y Neurofilosofía.
Actualmente es CEO y Fundadora de la Primera Clínica Nacional para la Salud Trans "TRANSSALUD".
Autora de cursos sobre el Tratamiento Hormonal de Afirmación de Género "THAG". Impartidos a diversas asociaciones dedicadas a la atención médica, psicológica, psiquiátrica y legal de la Comunidad Trans. (AMSSAC, IMPULSO TRANS, etc).
Al día de hoy, cuenta con la experiencia de más de 800 pacientes en THAG. Además ha sido invitada a presentar sus investigaciones en Congresos internacionales sobre Filosofía de Género y Tratamiento Hormonal.
También, imparte cursos y talleres de sensibilización, inclusión y diversidad a Asociaciones e instituciones como la Asociación Mexicana para la Salud Sexual, Impulso Trans, Proud Clinic, Universidad La Salle, entre otras.
Fue Titular docente en la Facultad Mexicana de Medicina del seminario de Filosofía y Ciencia por 3 años, y docente del CIVE por 5 años. Actualmente es Docente del Posgrado de Sexualidad en AMSSAC. Autora de tres libros de Filosofía social, filosofía de la ciencia y filosofía de la economía. Directora y fundadora de CIFRO "Centro de Investigación Frontera y Filosofía". Organizadora del "Simposio de Neurofilosofía". Actualmente es Miembra de la WPATH (Asociación Mundial de Profesionales para la Salud Trans).
Apasionada por la comprensión de los misterios de la mente, ha presentado trabajos en congresos nacionales e internacionales sobre la neuro-percepción del dolor, filosofía de la cognición y de la experiencia consciente. Maestra en Filosofía Social, por la Universidad La Salle. Por otro lado, Daniela es música y compositora autodidacta.
Los últimos años se ha desarrollado como activista en defensa de los derechos de la Mujer y la Diversidad Sexual.
Fun fact: Soy pianista y compositora. Soy turbofan de Pepe Mujica el expresidente de Uruguay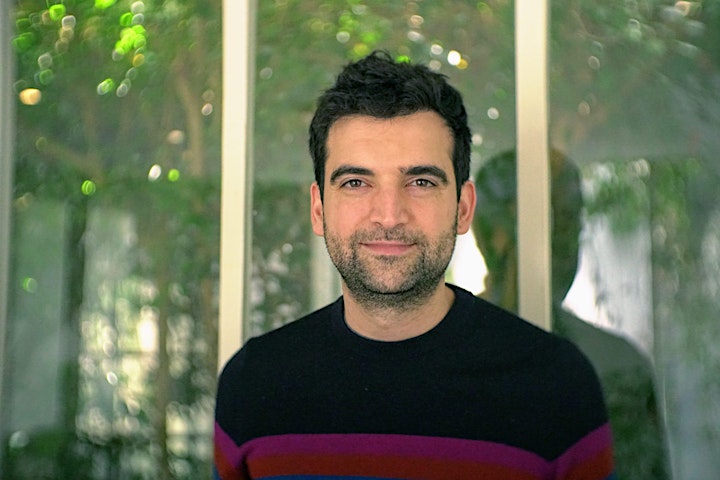 Gerry Giocoman
Gerry grew up in Monterrey, Mexico, and has lived a cross-border experience. He first moved to the US to attend Yale University to pursue his Ethics, Politics & Economics. Gerry considered going into public service before discovering the potential of technology-driven companies to have a positive impact on society on a large scale. After working in consulting at Bain & Company and starting and selling a previous company, he went on to attend Stanford GSB before working for a few years in San Francisco as an executive at technology companies.
Gerry moved back to Latin America to found a mobility startup and served as Chief Growth Officer and VP of Revenue at Grin Scooters/Grow Mobility. With a group of colleagues from that previous company, in 2020 Gerry founded Clara, an end-to-end corporate spend management solution for growing businesses in Latin America which itself has become one of the fastest-growing unicorns in the region.