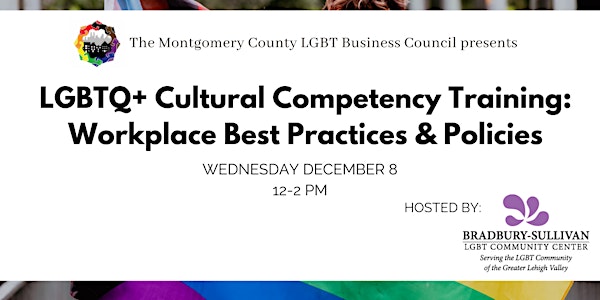 LGBTQ+ Cultural Competency Training: Workplace Best Practices & Policies
Event Information
Refund policy
Contact the organizer to request a refund.
Eventbrite's fee is nonrefundable.
Working Effectively with and for LGBTQ+ Clients and Customers — A training tailored for the Montgomery County LGBT Business Council
About this event
Training tailored for the Montgomery County LGBT Business Council
members presented by Liz Bradbury, Director of the Training Institute
of the Bradbury-Sullivan LGBT Community Center.
Learn what businesses and companies need to know to attract, support,
and retain LGBTQ Staff, Clients, and Customers by avoiding creating
barriers to communication because of inadvertent misuse of language or
a lack of information about cultural context.
Our trainers are nationally recognized experts on LGBTQ+ issues. In
the last 5 years we have provided specifically tailored trainings to
over 200 organizations, businesses, and corporations (more than 12,000
people).
This virtual live training which was written particularly for
businesses in Montgomery County, PA uses a dynamic and interactive
slide presentation that will include current definitions and
explanations of essential language that describe and engage the LGBTQ
population. It details key information that will help service
providers and retail staff demonstrate significant understanding of
the needs of LGBTQ+ people. It focuses on current federal, state, and
municipal laws, policies, requirements, and best practices that have
an impact on LGBTQ people. It outlines proven strategies that mitigate
risk, discrimination, and self harm. It explains that professionalism
may require understanding that past disparities require additional
efforts to create equity. And the training will explain why "treating
everyone the same" may not meet the needs of the LGBTQ community your
organization or company serves.
How can we effectively reach out to the LGBTQ community? How big is
the LGBTQ population? How do I ask Transgender people about what
pronouns they use without offending them? May I talk about religion to
LGBTQ people? Why should we have gender neutral restrooms? How do I
prevent an employee from discriminating against an LGBTQ client or
other staff member? What do SOGI, Ace, or Cisgender mean? If a Gay
person uses the word Queer, may I do so as well? Should I call a
same-gender couple partners, spouses, or is it OK to use the words
husbands or wives? Can an employee refuse to work with a Gay coworker
by stating their religion prohibits it? How does marriage equality
profoundly affect LGBTQ people? What resources for the LGBTQ community
are available in Montgomery County and Pennsylvania? What's the first
thing you should say if someone tells you they are Gay or Transgender?
This training answers these questions, and many more. The training
gives attendees the tools to more effectively work with the LGBTQ
population in everyday situations, and it helps attendees understand
best practices that reduce unequal treatment and demonstrate a
commitment to equality.
Each attendee will receive contact information from Liz Bradbury and
will be able to contact her any time in the future after the training,
with additional questions and concerns.
———————————-
Liz Bradbury (she, her) Bio
Liz Bradbury (she/her,) Director of the Training Institute of the
Bradbury-Sullivan LGBT Community Center, has more than 40 years
experience working as a professional advocate for the LGBTQ community
and is recognized as a national expert on LGBTQ issues. In the last 5
years Bradbury has presented more than 200 uniquely tailored trainings
to vastly diverse businesses and organizations, training over 12
thousand people on LGBTQ issues. She has led three key LGBTQ civil
rights organizations, she produced an LGBTQ newspaper for 18 years,
and she has written over 400 published articles and columns on LGBTQ
issues. She helped to craft and pass key LGBT civil rights legislative
bills in 10 Pennsylvania municipalities and state-wide. Bradbury led
the passage of the first municipal non-discrimination legislation in
Pennsylvania to include "gender identity" as a protected class. She
served for 15 years on the Human Relations Commission of the City of
Allentown (including three years as Chair) where she wrote the
guidelines for discrimination investigations and trained
investigators. In 2018 she was appointed by Governor Wolf to the
Pennsylvania Alzheimer's State Plan Task Force. She serves on the
Pennsylvania State Juvenile Justice SOGI Committee which advises the
Governor on LGBT Youth Juvenile Justice Issues. Bradbury presented an
international webinar on LGBTQ health issues with Pennsylvania
Secretary of Health, Dr. Rachel Levine. Bradbury wrote the chapter
'Caregiving Concerns for Older LGBTQ Adults' in the groundbreaking and
critically acclaimed LGBT healthcare anthology "Bodies and Barriers -
Queer Activists on Health." which was released in January, 2020.
Date and time
Location
Refund policy
Contact the organizer to request a refund.
Eventbrite's fee is nonrefundable.
Organizer of LGBTQ+ Cultural Competency Training: Workplace Best Practices & Policies