Description
Fifth Annual LGBTIQA Intergenerational Gathering and Dinner: An Evening with Robyn Ochs
This event is presented by Rainbow Elders of LifePath, Generation Q and TREE (Trans Rights, Education, Education, and Empowerment) of Community Action, Pride Alliance of Greenfield Community College, and Rainbow Supper Club of Western Massachusetts Elder Care.
Enjoy a delicious dinner with friends new and old for a gathering of LGBTIQA* folks and friends of all ages! This year's intergenerational event will feature a special guest speaker.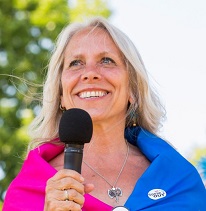 Robyn Ochs is an educator, speaker, award-winning activist, and editor of the Bi Women Quarterly, the 42-country anthology, Getting Bi: Voices of Bisexuals Around the World and the new anthology RECOGNIZE: The Voices of Bisexual Men. Her writings have been published in numerous bi, women's studies, multicultural, and LGBT anthologies.
An advocate for the rights of people of ALL orientations and genders to live safely, openly and with full access and opportunity, Robyn's work focuses on increasing awareness and understanding of complex identities, and mobilizing people to be powerful allies to one another within and across identities and social movements.
There is no charge for this event, but donations are welcome and will be used to cover expenses for this and future Rainbow Elders events.
*LGBTIQA : L=Lesbian, G=Gay, B=Bisexual, T=Transgender, I=Intersex, Q=Questioning & Queer, and A=Asexual, Aromantic, & Allies
Thank you to our generous sponsors!
Czelusniak Funeral Home of Northampton
Victory Home Healthcare
Lathrop Communities