Description
Proud 2 Play inc presents the 2017 SOUTH AUSTRALIAN LGBTI+ INCLUSION IN SPORT AND EDUCATION FORUM: 'Starting the conversation'.

Hosted by 2017 Australia Community Leader of the year James Lolicato this forum will seek to educate, promote and guide sporting, community and education organisations, as well as the general public in LGBTI+ inclusion.
LGBTI+ Sport:
Sport in Australia is a truly unique phenomenon. We worship our sporting heroes, and because of how deeply sport is engrained in our culture it has been a tool to combat many social issues, and promote mental and physical health.
However, the LGBTIQ+ community is missing out on the benefits sport can bring because the feel excluded, unwanted and having a warranted fear of getting involved in any form of sport.
In 2015 the research piece entitled 'Out in the fields' found that:
- 80% of Participants had experienced or witnessed homophobia in sport
- 75% of Participants believed an openly gay person would not be accepted as a spectator at a sporting event
- 70 % of Youth believed that youth team sport is not safe for gay people
- 87% of gay men and 75% of gay women are either partially or completely 'in the closet' in team sports.
Education:
These statitistics also carry into early education and P.E in paticular with LGBTI+ youth feeling disengaged from the current schooling systems, and teachers/educators left scratching their head on forming policies and procedures to help make them feel included and safe within their classrooms.
This Forum will seek to offer the guidance needed to help education professionals as well as sporting organisations and the general public in being more inclusive of the LGBTI+ community specifically in early education and sports/physical education.
Speakers include:


Karyn Walker - Parents of Gender Diverse Children (Early Education and parenting of Gender Diverse youth)

Karen Walker is one of the founders of Parents of Gender Diverse Children, a group that exists to provide peer support for those who are parenting trans and gender diverse children of any age. PGDC is the largest organisation in Australia dedicated to supporting families with trans and gender diverse children providing parents the support to allow their children to live authentically.

James Lolicato AILW - 2017 Australian Community leader of the year (P.E and sport inclusion of gender diverse and LGB youth)

James Lolicato is the CEO and Co-Founder of Proud 2 Play inc and has spent the last decade facilitating and convening local LGBTI youth groups throughout Victoria. One of James' drive to create Proud 2 Play was due to personal experiences, particularly in PE. In 2017 James was awarded as Victorian Community leader of the year as well as the Australian Community of the Leader.

Ryan Storr - Lecturer at Western Sydney University (Research behind PE and Sport inclusion in Australia)

Ryan Storr is one of the Co-Founders of Proud 2 Play and is currently completing his PhD at Victoria University. Ryan's PhD is exploring how volunteers within community sports clubs experience and manage diversity.


Hannah Mouncey - AFL Footballer & Owner of Transform speaking and coaching

Hannah Mouncey is an Australian rules footballer and most notably international handball player, having represented Australia 22 times to date including at the 2013 World Championships. Hannah narrowly missed out on qualification for the 2016 Olympic Games with the men's national team, immediately after which she began the transition from male to female.
In October 2017 Hannah's nomination for the AFLW draft was rejected on the grounds of her transgender status just one day before the event took place, despite being tipped by football insiders to go as high as one of the top 5 picks in the draft.
Hannah is Australia's most well known transgender athlete and one of the most well known transgender athletes in the world, whose expertise in diversity issues sees her in high demand in both the policy development area and as a corporate and motivational speaker.


This forum will also include a cooperative workshop of idea design and future development specifically in South Australia.
This workshop will be a way for all of the stakeholders in the audience to have a mind mapping session to show were the biggest gaps are in LGBTI inclusion in Adelaide.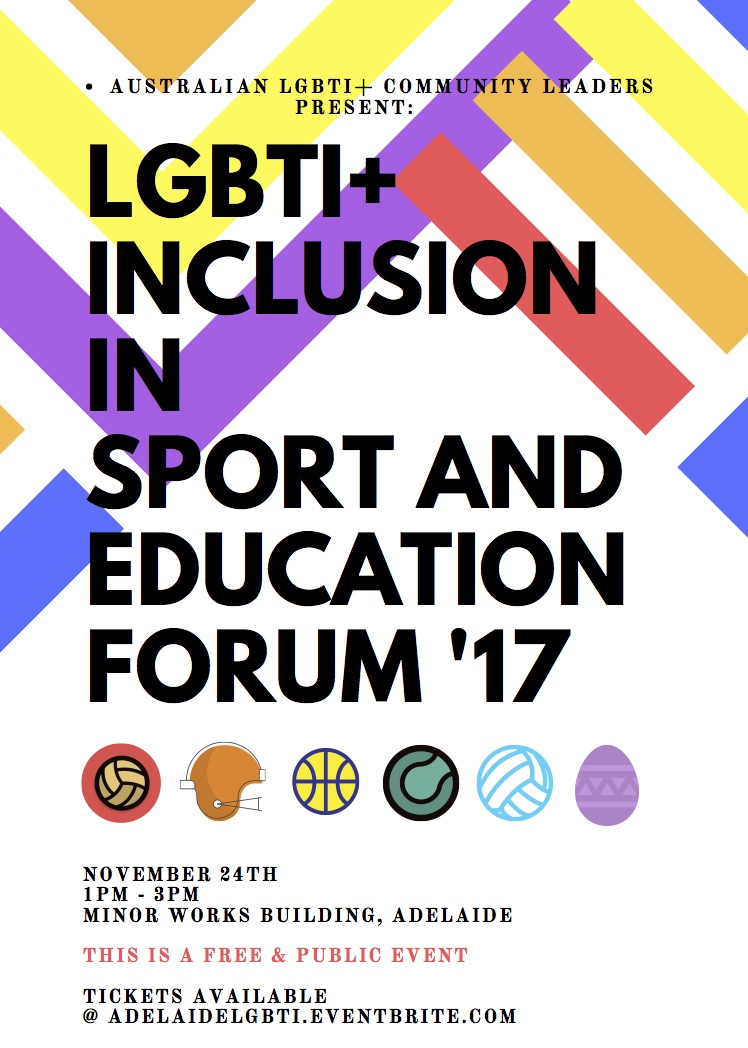 MORE INFO ON PROUD 2 PLAY:

Proud 2 Play seeks to encourage LGBTQI+ young people as well as their allies, friends and families to participate in sport and exercise, by providing structured opportunities and pathways for them to do so. This is done in a variety of ways, but central is the ability to provide safe sporting spaces free from homophobia, discrimination and hostility.
In 2017, Proud 2 Play also became the first ever LGBTI+ sport charity which had received funding from a health & government entity, showing that the charity has had an impact on mainstream sports and government, creating a need/want for programs such as Proud 2 Play. VicHealth supported Proud 2 Play by funding the Proud Cricket Program - an all inclusive cricket program built for the LGBTI+ community.