LFA SEMINAR (Central Florida) - Redefining Lupus: Putting the Pieces Together

Saturday, May 17, 2014 from 10:00 AM to 2:00 PM (EDT)
Event Details
Lupus Foundation of America, Florida Chapter
invites you to its upcoming seminar:
Redefining Lupus:
Putting the Pieces Together
Saturday, May 17, 2014
10:00am - 2:00pm
Check-in and Registration opens at 9:30am
Nova Southeastern University (Orlando Campus)
Room: 111
4850 Millenia Boulevard
Orlando, FL 32839
Registration is free but required as seating is limited.
Lunch will be provided
  Join us for the only lupus educational seminar series in Florida.   This comprehensive event will cover a variety of topics and the latest lupus advancements.
9:30          Check-In & Registration     
10:00        Welcome
10:10        Lupus Update: Becoming an Informed Patient & Advocate (Speaker: Yvonne Sherrer, MD, FACR [Rheumatologist] and Joseph Warren, MD [Nephrologist]))
11:25        Coping with Lupus (Speaker: Robert Phillips, PhD)
12:10        Lunch and Boxed Lunch Pick-Up
 12:20     Lunch with Keynote (Speaker: Cindy D. Coney, M.Ed., CAPP)
 1:10     Panel Discussion: My Life with Lupus followed by Forums A (Lupus Patient) & B (Caregivers, Friends and Family): A Guided and Open Forum for Those Living with Lupus, Caregivers, Family & Friends.        
This seminar is supported by an unrestricted grant from  GlaxoSmithKline 
When & Where

Nova Southeastern University (Orlando Campus)
4850 Millenia Boulevard
Room 111
Orlando, FL 32839


Saturday, May 17, 2014 from 10:00 AM to 2:00 PM (EDT)
Add to my calendar
Organizer
Lupus Foundation of America's Florida Chapter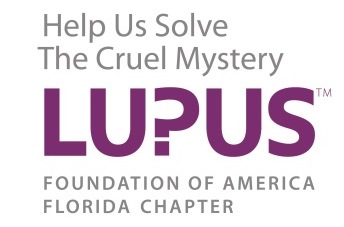 A Stronger Voice to Fight Lupus
The Lupus Foundation of America,  Florida Chapter is part of a national force devoted to solving the cruel mystery of lupus while providing caring support to those who suffer from its brutal impact.
With the help of informed volunteers, lupus medical experts, and committed and caring supporters, we:
support research and conduct education programs so everyone affected by lupus can have an improved quality of life;

provide information to ensure people with lupus and their families get answers and health professionals know about new means to diagnose and manage the disease; and,

conduct activities to increase awareness of lupus, rally public support for those who are affected by lupus, and advocate on their behalf.
Help Us Solve The Cruel Mystery! If you join the fight, we will not have to concede victory to this terrible disease. With your support and involvement, we will be able to solve the cruel mystery of lupus in our lifetime and end its devastating impact on millions of lives.
A Comprehensive Strategy Lupus is a complex disease that requires a comprehensive strategy. Our programs and services all have a common purpose: To improve the quality of life for all people affected by lupus.
Research We raise money to support research through the Lupus Foundation of America's National Research program, Bringing Down the Barriers™, which aggressively pursues an agenda to find answers to the most difficult questions and advance the science and medicine of lupus. Our national research program has a unique three-pronged strategy: lead special initiatives, fund researchers, and advocate for expanded investment.
Education & Support Services We answer questions about lupus, provide tools, resources, and referrals to doctors who treat lupus, and help guide individuals and families through the complexities of living with lupus and toward a better quality of life.
Awareness Efforts We conduct outreach efforts and share stories of those who suffer from lupus to increase awareness of lupus, bring greater attention to the disease and its devastating impact, and rally public support to join the fight to end lupus.
Advocacy Efforts We advocate on behalf of all people with lupus, their families, and the health professionals who care for them. We educate government officials and industry leaders on the urgent need to expand public and private investment in lupus research, education programs, and support services.
For more information visit www.lupusfl.org, call 1-855-90 LUPUS (1-855-905-8787) or email info@lupusfl.org.
LFA SEMINAR (Central Florida) - Redefining Lupus: Putting the Pieces Together