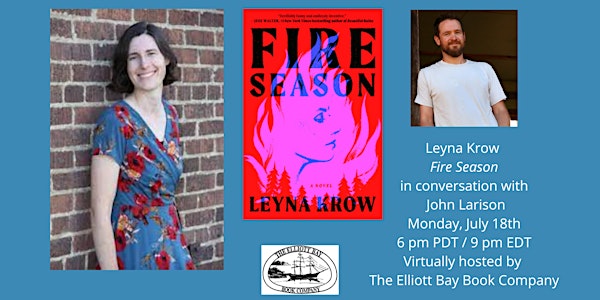 Leyna Krow, author of "Fire Season" with John Larison VIRTUAL
Leyna Krow, author of "Fire Season" in conversation with John Larison
About this event
Virtually hosted by Elliott Bay Book Company.
We help celebrate the publication of Spokane writer Leyna Krow's historically-set debut novel, Fire Season (Viking), with this virtual reading and conversation this evening. Seattle's famous 1889 fire wasn't the only one to strike aspiring Northwest metropolises - Spokane Falls was also so beset. From those ashes and embers, a story of enlivened characters arises. "Fire Season is fantastic. Here's an old Northwest so full of conmen and creeps, the best thing for it is to burn it all down. Here's a heroine only Leyna Krow could imagine—a woman whose transformation over the course of this story will also transform what we think a novel of the West can be. A powerful, absorbing, and incredibly funny book."—Kate Lebo. "Devilishly funny and endlessly inventive, Fire Season is a remarkable debut novel, a wry alternate history of Northwest schemers, dreamers and scorched earth. Leyna Krow is a wildly talented young writer." —Jess Walter. "Fire Season sparks to life on the power of Leyna Krow's masterful subversion of criminality. While at first this novel's inferno seems confined to one minor western outpost, by the final pages, it's throwing light on the unreliable narrators who perpetuate misogyny across America. Riveting, resonant and charmingly rebellious, Fire Season will leave you wanting to read anything by Leyna Krow."—John Larison. Leyna Krow is also the author of the story collection, I'm Okay But You Appear to Be Sinking.
John Larison, most known for his Northwest-set novel, Whiskey When We're Dry, will get to elaborate on those comments, as he joins Leyna Krow in conversation this evening.
Virtually hosted by Elliott Bay Book Company.