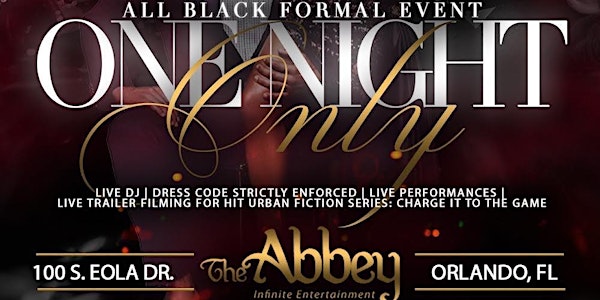 LexxiKhan Presents: ONE NIGHT ONLY
Join us for a night full of performances while we record the trailer for the hit urban fiction series Charge it to the Game
When and where
Location
The Abbey 100 South Eola Drive #UNIT 100 Orlando, FL 32801
About this event
LexxiKhan Presents: One Night Only
Join us Sunday, October 9, 2022 for a special night! We will have live performances and we will also record part of the trailer for the hit urban fiction series Charge it to the Game by Keaidy Bennett-Selmon.
This is a formal event, so make sure you come out dressed to impress. We will have:
live performances
red carpet interviews
special guests
gift bags for everyone who attends. These will include a signed copy of Charge it to the Game amongst other things!
About Charge it to the Game:
Charge it to the Game is an urban fiction series currently published under the name of Keaidy Selmon. As of 08/03/2022, it is rated 4.6 stars on Amazon with 77 reviews.
What Readers Are Saying:
"This book had me on the edge of my seat all through out anticipating what would happen next,I absolutely love it!"
"Had me hooked and couldn't put my kindle down! I love this book!"
"Great read! I promise you won't be disappointed!"
Author's Note About the book: This note is found at the beginning of each book in the series.It reads:
"This book does not glamorize selling/using drugs, committing murders/crimes, or anything else that is a part of the street life. Because all though we call it a game, no one wins. Before you make the foolish decision to 'play,' make sure you consider a very important question. How much would you risk if what you lost you had to Charge it to the Game?"
Backcover Blurb: I don't follow the original 10 crack commandments because I make my own rules. Number one, keep both heads where they belong because hoes equal drama, and after a decade of success I don't need none.
My mama named me Kyle, and my name holds just as much weight in these Pine Hills streets as the product I move. At only 22 years old, I have everything I thought I could have ever wanted - until I met her.
Tamia Santiago can move more product then most men I know. She's sexy, smart, successful, and loyal. She'll even pull out her tool to hold me down whenever I need her to, and she'll do it all without breaking a nail or a sweat.
"Just leave it alone bruh," one of my closest boys, Jason, tried to warn me. "You have a better chance winning the lotto."
While I've always been the type to holla money over broads, it's only because I've never met one that was worth more than money, knew how to make her own, and helps me get more.
I wonder what a woman like that will cost me to have?
What's Next for the Series? Presently, we are building a team to bring Charge it to the Game to life right here in Orlando. Our goal is to employ artists from actors to members of the set crew to take a book published by one of Orlando's own residents and make it even bigger and better.
With the help of our community, we plan to:
Re-launch Charge it to the Game with a new book cover published under the name of Keaidy Bennett. This will feature work from a local actress, photgrapher, and cover designer.
Raise funds to pay for permits, equipment, and every thing needed to produce the series. Funds will also cover payroll for every member of the team from the pre-production stages to the post production stage.
About Keaidy Bennett-Selmon
Keaidy is the creator behind the Charge it to the Game series. She is also a best-selling author, spoken word poet, and the owner of LexxiKhan Presents Publishing, located in Longwood, Florida.
Want to be updated about the event? Make sure to follow Keaidy Bennett on Instagram. You can also send 'Charge it to the Game' to (407) 305-2598