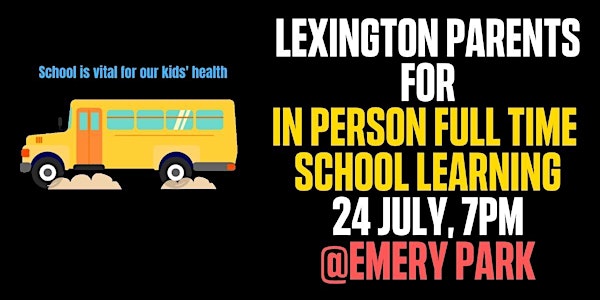 Lexington Parents for Full Time in person learning option
Peaceful protest against Lexington Public Schools decision to NOT offer full time in person learning
When and where
Location
Emery Park Massachusetts Avenue Lexington, MA 02420
About this event
*Please, do wear a mask to attend this event***
Lexington Public Schools Superintendent has announced a plan to only offer Hybrid and Fully Online options in the fall of 2020.
At least 37% of Lexington Parents prefer full time in person option, which should be prioritized as per DESE guidelines.
LPS can implement in person learning options at 3 feet minimum distancing requirement set by DESE, safely.
We, the parents of Lexington, demand:
1) Transparency about how decisions are made, proper feasibility analysis and defined criteria for switching between the 3 models state asked to put together;
2) Accountability. Spring learning experience was disastrous and traumatizing for our kids. We want to hold administration accountable for putting together a much better experience next year, by analyzing mistakes made in the spring;
3) In person learning needs to be prioritized. MA Governor, science, DESE, CDC request that in person learning is prioritized as long term affects of lack of socialization and structure will have dire consequences for entire generation of our children