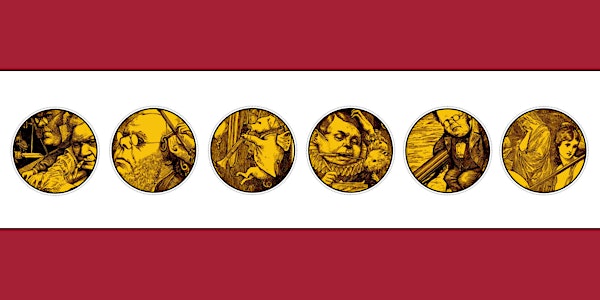 Lewis Carroll Society of North America Spring 2022 Meeting
The Lewis Carroll Society of North America Spring 2022 Meeting
About this event
Curious Ways In: Collecting, Performing, and Contacts with the Carrollian Universe
In Conjunction with the USC Libraries Wonderland Award
April 22–23, 2022
Online
The meeting is free and open to the public.
All programs will take place virtually, through Zoom and other online platforms. Upon registration, participants will receive a confirmation and more details. Registrants will receive the full program, including links for sessions, digital exhibitions, the Wonderland Award ceremony, and social activities via an additional email from USC Libraries.
The Lewis Carroll Society of North America's spring 2022 meeting—Curious Ways In: Collecting, Performing, and First Contacts with the Carrollian Universe—will explore the many and various means through which students, scholars, and enthusiasts find their ways into the worlds of Lewis Carroll.
All times are Pacific Daylight Time (PDT).
Friday, April 22, 2022
Welcome
9:30–9:45 a.m.
Catherine Quinlan, Dean of the USC Libraries
Linda Cassady, President, Lewis Carroll Society of North America
La caccia allo Squarlo: What Happened to the Broker?
9:45–10:30 a.m.
Daniela Amansi
More Than Just "An Obscure Writer on Logic": George Englebretsen's Critical Insights into Charles Dodgson's Contributions to the Field of Logic
10:30–11:15 a.m.
George Englebretsen & Mark Richards
Selwyndipity
11:15 a.m.–12:00 noon
Selwyn Goodacre
Lunch Break and Social Hour
12:00 noon–1:15 p.m.
Heather Simmons
On Beginning at the Beginning and Stopping at the End: Alice in a World of Wonderlands—the English-Language Editions, and Moving Beyond Tenniel
1:15–2:00 p.m.
Arnold Hirshon
Break
2:45–3:00
Wonderland Award: Where Are They Now?
3:00–4:30 p.m.
Styles Akira, PhD, Brand Strategist and Market Researcher
Aroussiak Gabrielian, PhD, APF, ASLA, FAAR, Assistant Professor of Landscape Architecture and Urbanism, USC
Genevieve Kaplan, PhD, Editor, Toad Press International
2022 Wonderland Award Submissions: Digital Gallery Tour and Open Exploration
4:30–5:00 p.m.
Anne-Marie Maxwell and Tyson Gaskill, USC Libraries
Wonderland Award Ceremony
5:00–6:00 p.m.
Dean Catherine Quinlan, USC Libraries
Linda Cassady, LCSNA President
Award Presenters
Social Hour
6:00–7:00 p.m.
Heather Simmons, LCSNA
Saturday, April 23, 2022
Paddy Whacked: Tenniel, Nast, and 19th Century Irish Caricature
8:30 -9:00 a.m.
Michael Dooley
General Session with the LCSNA President
9:00–9:15 a.m.
Alice in Guinnessland
9:15–10:15 a.m.
Brian Sibley, Andy Malcolm, George Walker
Ballet Shoes and Hair Ribbons
10:15–11:15 a.m.
Kiera Vaclavik
Artificial Intelligence, Generative Art, and Alice
11:15 a.m.–12:00 noon
Elea Zhong & Curtis Fletcher, USC
Lunch and Social Hour
12: 00 noon–1:00 p.m.
Heather Simmons
Alice's Adventures under Ground: A Wonderment
1:00–1:45 p.m.
Stephanie Lovett
Communities of Engagement: Jewelry, Fashion, and Identity
1:45–2:30 p.m.
Rebecca Corbett, USC; Michelle Liu Carriger, Patty Gaugan, UCLA
New Vorpal Adventures: Galumphing through the USC Libraries Cassady Collection
2:30–3:30 p.m.
Rebecca Corbett, Bo Doub, Josh Hutchinson, USC Libraries
Social Hour
3:30–4:30 p.m.
Heather Simmons