Dave Kiss Presents: Levitation Room and Evolfo at Silk City
About this event
Levitation Room
In Los Angeles, where the weight and pressure of the city's fast paced culture can make your legs feel like pillars, emerges psychedelic quartet, Levitation Room, to break the bonds of gravity with their cosmic wall of sound and thought provoking lyrics. "Just as their name suggests, Levitation Room's music instills the listeners ears with a light feeling of floating. The dreamy guitar and Lo-Fi projections of psychedelic rock and garage are reminiscent of a deep 1960's era, but still grounded in an alternative dreamgaze flavor that permeates modern indie music today." - OC Weekly. Their decidedly hallucinogenic songs whisper and hum the same gentle refrain of their summer of love influences, conjuring up the cognitive imagery of sunny days at the park, spent with friends in a euphoric haze along with lyrical and sonic meditations on life, love, society and self-awareness.
In tradition, and much like the bands and musical troubadours that inspired them, Levitation Room started out with late night jam sessions in a dimly lit garage between fellow musicians and long time friends, Julian Porte and Gabriel Fernandez. Julian, a dedicated street musician who felt he needed a broader platform, found chemistry with Gabriel, who he knew as a guitar player in various teenage punk and garage bands around town. Coming together in 2012, they bonded over a shared love of British Invasion groups (The Beatles, The Kinks, The Rolling Stones) and 1960's psychedelic outfits like The Grateful Dead, Electric Prunes, The Pretty Things and began drafting their earliest tunes. It wasn't until the late summer of 2012, that the band came to fruition when they found a rhythm section in two individuals with almost identical names; drummer, Johnathan Martin, and bassist, Jonathathan Martin. The four began writing songs, playing gigs and recording music out of a quaint studio in East LA.
After the release of their self recorded demo "Levitation Room Vol. 1", they quickly began gaining momentum and performing at local music venues throughout Southern California. 2015 saw the release of their first official debut EP "Minds Of Our Own" released on Burger Records. Later in the spring of 2016, they released their first full length album, "Ethos", with the help of their friend and new keyboardist, Glenn Brigman, who recorded and helped produce the record. Since 2014, Levitation Room has participated in various shows, tours and music festivals across the US and Europe and continues to see the growth in listeners and followers on YouTube, Soundcloud and Spotify (with nearly 2 million plays on their song "Friends"). With the promise of a potentially bright future, Levitation Room has begun to mix and finalize their second album that they hope will display their process of maturity in sound and song- writing, exploring new territories of influence in music and instrumentation, combining folk, jazz, raga, soul, pop and of course… psychedelia. Stay tuned!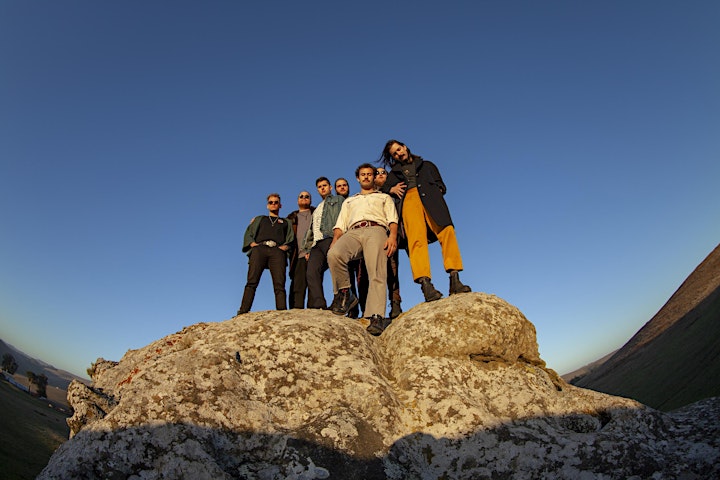 Evolfo
If the Brooklyn-based pysch rockers felt pressured to repeat the successes of their 2017 album Last of the Acid Cowboys they certainly didn't show it. One might think a band that racked up 6 million plus streams on their debut record would try to recreate this by doing more of the same. But when the 7 members of Evolfo piled into the tiny, sweltering, attic-turned-recording studio of band leader Matt Gibbs' Ditmas Park home, they intended to step confidently forward into fresh sounds and more vivid conceptual subject matter. They have flipped the world of the Acid Cowboy on its head, departing the earth bound adventures in melting landscapes, rat cities, and desert sojourns for metaphysical territory and the mountains of the mind. "We're always going to be in a state of flux," says Gibbs, who formed the group a decade ago, "I consider this to be an exciting, positive thing. We have to embrace our own change." On their brand new album Site Out of Mind, Evolfo reaches far beyond the confines of genre to create a colorful echo drenched psych rock dream all their own. Adorned with a mind bending cover by visual artist Robert Beatty, the result is a collection of songs that are unexpected, absorbing, and blissfully tripped out.
Performers
Date and time
Location
Refund policy