About this Event
Doors open at 7:30pm
Please be on time as we will be leading with Cacao Ceremony and the entire journey should be experienced as well as creating a sacred container.
Bring your own special Mug, and something Special to place on the Altar (you take it home after!)
Cacao Ceremony & Ecstatic Dance
In this sacred ceremony we will drink the plant medicine known normally as chocolate and dance our hearts out! Cacao has been used as a sacred medicine for thousands of years. Known as the food of the gods, cacao will provide a heart opening experience that will get you deeply in touch with your body and enliven your senses. Drinking a very special Mayan Cacao from Guatemala blended mindfully with a witchy blend of herbs and spices. The chocolate drink will be divine nectar for you to savor and enjoy. With the ceremonial space invoked and the cacao spirit with us: We dance!
Levi will guide you into an ecstatic dance journey. You will shape-shift your body, moving in new ways, seeing new parts of yourself and remembering parts forgotten. During the dance there will only be body language and no exact words shared, only the guidance of the facilitators and your free form movements and primal expression. You will go deep into the dance and loose the distractions of your mind. Playfully releasing any stuck energy and embracing your natural essence. Through the dance: We become more of who we truly are!
Once we have moved through the entire journey, we will come back together in circle to close the ceremonial container. We will share in community and togetherness. Leaving you with a sense of beauty and fulfillment in your heart.
Though cacao is not an aggressive plant medicine and our blend quite delicious, it's still not required for you to drink the chocolate at all. You can come just to dance and experience the ceremony!
Please come with an open mind and prepare to open your heart!
_______________________________
Levi Banner
Leading cacao ceremonies since 2011, around the same time he found Ecstatic Dance, Levi is a lover of chocolate, music and movement. Originally from Oregon he now lives in Bali as a resident teacher at The Yoga Barn in Ubud. Levi has a Master's Degree in Shamanic Intuitional Practices, A Bachelor's in Sacred Elemental Studies, and has been teaching Yoga since 2007. Since before that, he was a Break Dancer and Hip Hop Dance Instructor, teaching, competining and performing for over 13 years. He is an Ordained Shamanic Minister, Shamanic Breathwork Facilitator and Certified Shamanic Astrologer. All the best ingredients have combined to create Levi's ability to hold sacred space and inspire healing and fun through music and ceremony.
My website:
https://www.levibanner.com/
My Facbook page:
https://www.facebook.com/levibanneryogaastrologybreathwork/
My Instagram:
https://www.instagram.com/levi.banner/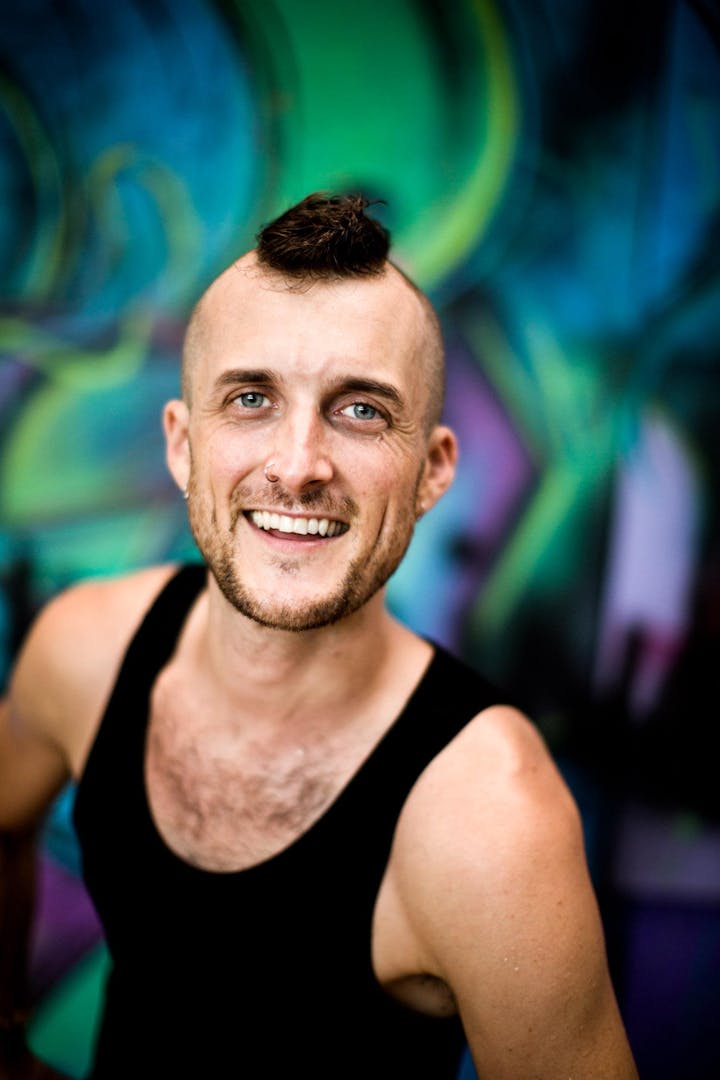 Levi Banner M.A. CSA, E-RYT 500
With a warm smile, an energetic hug, and sly sense of humor, Levi Banner draws you into his world - teaching the spiritual sciences for healing and transformation.Yoga, Breathwork and Astrology comprise his trinity of mystical knowledge. He creates a safe, peaceful classroom space where students can learn and grow to their fullest potential. Levi's specialties are a strong, consistent vinyasa yoga practice; precious yet powerful pranayama practice; relaxing and healing restorative yoga; and divining deep astrological insights through the cosmic viewpoint.
Levi is also a Master Level Shamanic Breathwork Facilitator. Mystery, transformation, and healing magically combine as he leads intensive Shamanic Breathwork journeys, helping participants reconnect to their highest selves. By gifting students with personal empowerment and self-healing, he strives to create a community of open-hearted difference makers with world changing potential.
Levi can be found teaching at The Yoga Barn in Ubud, Bali, or traveling the shamanic path as he conducts workshops and immersions around the globe. In Yoga, Levi is rated E-RYT 500, the highest level of Yoga Alliance certification. Enlightened techniques and ancient philosophies learned through his studies in India, Guatemala, Sedona, and Bali are transmitted into his practice, gracing students with an unusually well-rounded experience and profound lifetime benefits.
Credentials
● Specialties: Vinyasa, Restorative, Pranayama, Shamanic Breathwork, Astrology,
● E-RYT 500 - Highest level of Yoga Alliance Certification
● Master Level Shamanic Breathwork Facilitator and Ordained Shamanic Minister by Venus Rising Association for Transformation
● Certifications and trainings from: 7 Centers Yoga Arts (Sedona, Arizona); School YogaInstitute - Advanced Yoga + Shamanic Studies (Lake Atitlan, Guatemala)
● Certified Pranayama Teacher by Kaivalyadham Yoga Center in India by O.P. Tiwari
● Advanced student of the Ashtanga Yoga Bali Research Center
● Studied Iyengar Restorative and Pranayama in an intentional community in Portland, Oregon
● Associates Degree in Shamanic Astrology
● Bachelors Degree in Sacred Elemental Studies