Event Information
Location
Donnelley Biological Sciences Learning Center (BSLC) Room 008
924 E. 57th Street
Chicago, IL 60637
Description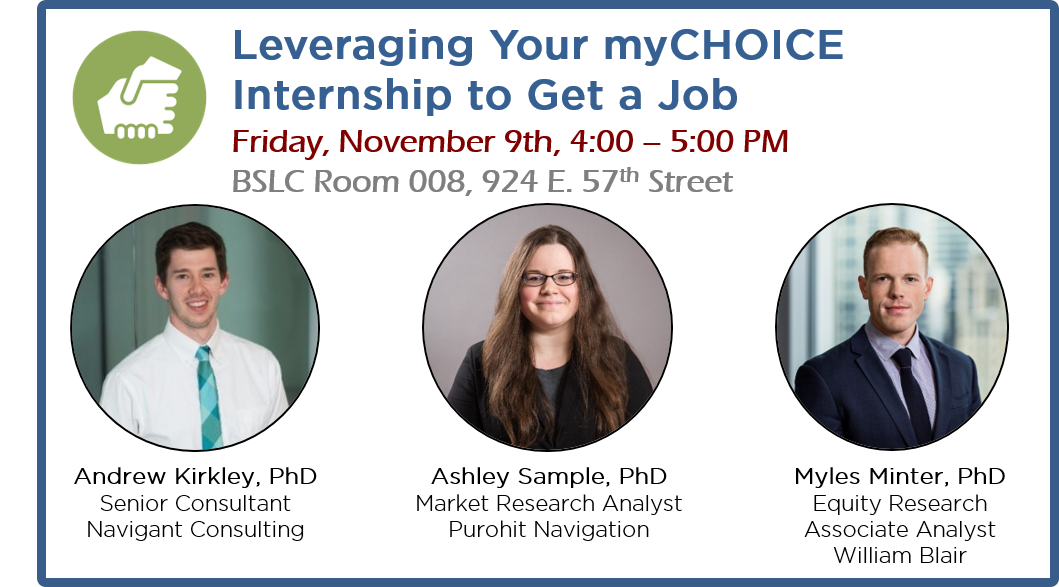 For this week's seminar, myCHOICE is pleased to partner with the Postdoc Association in welcoming back PhD and postdoc alums Andrew Kirkley, Ashley Sample, and Myles Minter for a session on how to leverage internship experience when applying for a new job. Join our panel as they discuss the internship application process, balancing lab responsibilities with internship duties, and how the skills and network they fostered through their internships helped them get to where they are today.
Andrew Kirkley, PhD is a Senior Consultant in the Life Sciences practice at Navigant Consulting. Since joining the company in 2017, he has worked on numerous strategic engagements with pharmaceutical and biotech clients across a range of therapeutic areas, including oncology, immunology, and rare diseases. His project experience includes tactical launch planning, brand strategy development, and market opportunity assessment. Andrew graduated with Honors with a B.S. in Biological Sciences from University of Rochester, and completed his Ph.D. in Pathology at the University of Chicago.
Ashley Sample, PhD was a candidate in the lab of Dr. Yu-Ying He studying the effects of UVA radiation on skin to ultimately identify targets for skin cancer prevention. While a graduate student, Ashley performed two internships. She was a Program Manager intern with myCHOICE followed by a Healthcare Analyst intern with Aspire Capital Partners. Ashley currently works with Purohit Navigation as a Market Research Analyst.
Myles Minter, PhD is a sell-side equity research associate analyst at William Blair with a passion to provide informed investment advice within the biotechnology realm. He completed his Ph.D. in Neuropharmacology at the University of Melbourne, Australia and was previously a postdoctoral researcher within the Department of Neurobiology at the University of Chicago, contributing to our knowledge of microbial regulation of immunity in Alzheimer's disease. He continues to maintain significant interest in technology transfer and intellectual property protection across broad scientific fields. In this manner he also serves as Director of AVnovum Therapuetics, Inc, a University of Chicago born startup developing novel anti-fungal therapies for prophylaxis of immunocompromised patients. His primary goal is to support scientific endeavors from discovery to market, ensuring public benefit from exciting innovations in healthcare and leverages his research, business development and finance skills to seek this.
Date and Time
Location
Donnelley Biological Sciences Learning Center (BSLC) Room 008
924 E. 57th Street
Chicago, IL 60637