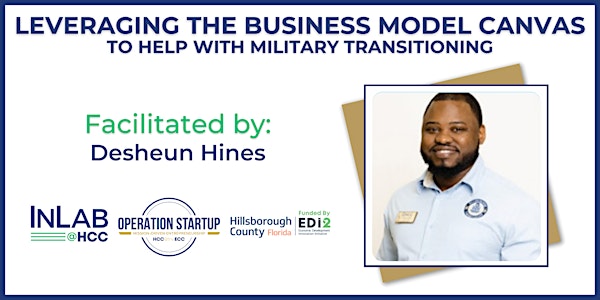 Leveraging the Business Model Canvas To Help With Military Transitioning
The workshop will cover the basics of using the BMC, the fundamentals of transitioning, & how to combine the two to successfully transition.
About this event
This workshop is geared for Veterans who are transitioning out of the military, or facing challenges transitioning to civilian life. The workshop will provide information about the fundamentals of military transition, and how the Business model Canvas can help.
About the Facilitator
DeSheun Hines is a US Marine veteran who served as a Combat Engineer from 2004 till my discharge in 2013. After his discharge as a decorated Sgt of Marines, he moved on to graduate from Hillsborough Community College (HCC) with an Associates in Arts degree (with High Honors). While there, he also completed the Entrepreneurship & Innovation Certificate program (with High Honors) and was the 2015 Business Student of the year. DeSheun became the first in his family to graduate from college, and graduated in 2017 from the University of Tampa with a B.S. in Management (Magna Cum Laude) where he was recognized as the Management student of the year. Currently, DeSheun works as the Project Manager for the HCC InLab to take the STRIVE Veterans Entrepreneurship program national. DeSheun is a proven leader who believes that the only way to be successful is to help those around him achieve success.