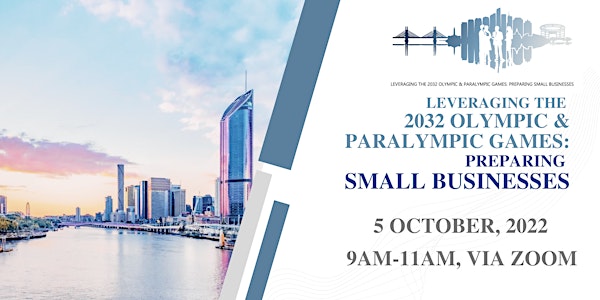 Leveraging the 2032 Olympic & Paralympic Games : Preparing Small Business
An online conference focused on preparing small businesses to leverage the 2032 Brisbane Olympic & Paralympic Games.
Date and time
Tuesday, October 4, 2022 · 4 - 6pm PDT
About this event
About our conference
The purpose of our conference is to share cutting edge research on how small businesses can leverage international events to enable businesses to maximize the outcomes of Brisbane hosting the 2032 Olympic and Paralympic Games.
About our guest speakers
Laurence Chalip: Prof. Chalip is Interim Director of the School of Sport, Recreation, and Tourism Management. Prior to joining the George Mason University Faculty, he was Head of the Department of Recreation Sport and Tourism at the University of Illinois. He is a former President of the North American Society for Sport Management, and was a founding Executive Board Member for the Sport Management Association of Australia and New Zealand. He has managed sport organizations in the United States, Australia, and New Zealand, and continues to consult throughout the world on matters of sport policy, marketing, and management. He has served as a Lecturer at the International Olympic Academy, and also served the International Olympic Committee as the International Chair of Olympism.
Danny O'Brien: Dr. Danny O'Brien is an Assoc. Professor of Sport Management in the Bond Business School at Bond University. Dr. O'Brien is a graduate of Australian Catholic University and California State University, Long Beach. In 2000, he completed a PhD in sport management from DeMontfort University, England that explored organisational change in English rugby union. Dr. O'Brien teaches sport tourism, event management, and strategic management. His research interests lie in sustainable surf tourism, event leveraging, and organisational change. Dr. O'Brien has presented at over 30 international conferences and published book chapters and articles in peer-reviewed journals such as Journal of Sport Management; Sport Management Review; European Sport Management Quarterly; Annals of Tourism Research; Journal of Sustainable Tourism; European Journal of Marketing; International Journal of Culture, Tourism and Hospitality Research; Journal of Hospitality & Tourism Research; and Journal of Leisure Research.
Donna Kelly: Dr. Kelly is currently a Clinical Associate Professor in Event Management at NYU School of Professional Studies, Jonathan M. Tisch Center of Hospitality. Donna M. Kelly is a hospitality, tourism and event professional who is concerned about the sustainable development of tourism destinations. Donna's research has focused on how host city contracts influence the ability of local businesses to leverage events, the utility of relationships in the formation of event portfolios, and how small-scale events can be leveraged. Donna's research has been published in leading tourism journals.
Mike Duignan: Dr. Duignan is a 'Reader' (Associate Professor) at the University of Surrey (UK) and former Head of Department (Department Chair) for the Department for Events. He is the Director for the Observatory for Human Rights and Major Events (HaRM), the UK's official Olympic Studies Centre supported by the International Olympic Committee and TeamGB, and is the Editor-in-Chief of Event Management, the leading peer reviewed journal for the study and analysis of events and festivals. Mike provides 1-1 strategic & impact evaluation consultancy for events and festivals of all shapes and sizes to help event owners and organisers realise the power and potential of their events for social and economic good.
For more information, please visit our official website: https://www.leveragingop2032.com