Leveraging Resources For Common Good

Thursday, April 28, 2016 from 6:00 PM to 9:00 PM (EDT)
Event Details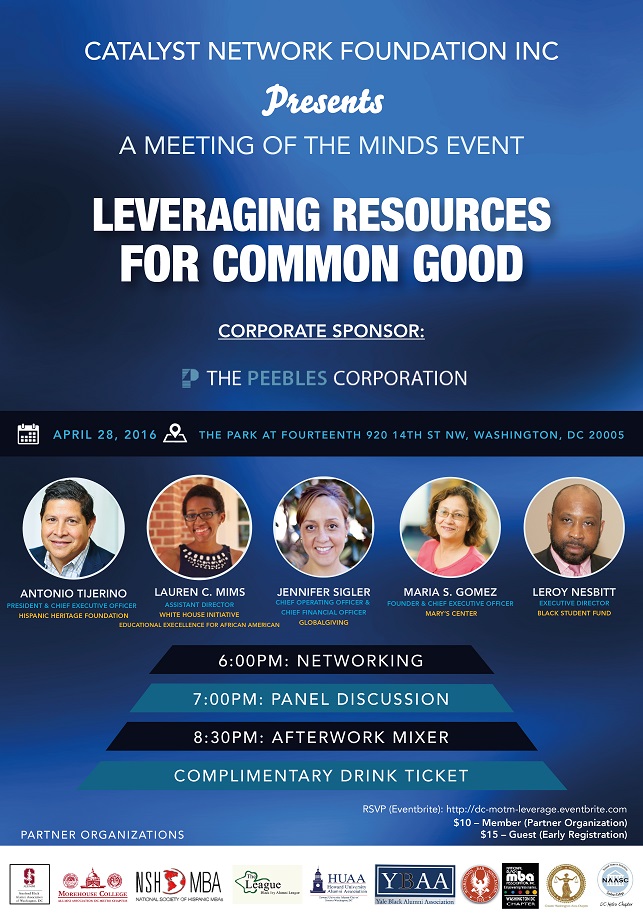 Corporate Sponsor
The Peebles Corporation
Partner Organizations
Black Ivy Alumni League
National Black MBA Association Metro Washington, DC
National Society of Hispanic MBA
Stanford Black Alumni Association – Washington, DC
Yale Black Alumni Association
Washington, DC Alumnae Association of Spelman College
Morehouse College Alumni Association DC Metro Chapter
Greater Washington Area Chapter - Women Lawyers Division
Washington Bar Association
Howard University Alumni Club of Washington, DC
Panel Discussion Topics 
How can entertainers and media personalities leverage their brand to allocate resources towards education, small business, and other social good causes?
How can corporations better leverage their assets (expertise/tangible resources) towards common good initiatives?
Tactics/Plans: How can educational organizations, NGO's, small business and non-profits situate and create infrastructures that allow them to obtain and effectively utilize resources when a common good initiative develops?
What are best ways to identify synergies in partnerships and achieving common-good goals?
Panelist
Jose Antonio Tijerino
Is the president and CEO of the Hispanic Heritage Foundation (HHF), which inspires, prepares, connects and positions Latino leaders in the classroom, community and workforce to meet America's priorities.  HHF also promotes Latino cultural pride, accomplishment and the great promise of the community through public awareness campaigns and initiatives reaching millions as well as conducts research.  Tijerino also executive produces the star-studded Hispanic Heritage Awards, which are considered among the highest honors for Latinos, and the TV broadcast currently on PBS.  Prior to HHF, Tijerino worked as public relations director at Fannie Mae Foundation, marketing/public relations manager/spokesperson for Nike, and an executive at PR firms Burson-Marsteller and Cohn & Wolfe under Young & Rubicam umbrella. 
Tijerino is active in the community by serving on various boards inlcuding Harvard's Latino Leadership Initiative at the Kennedy School, America's Promise Alliance, University of Maryland's Smith School of Business,  RISE, National Building Museum, KID Museum, and National PTA, among others.  He has been honored with the Lifetime Achievement Award by the National PTA; the prestigious Ohtli Award, which is the highest recognition by the Government of Mexico outside of Mexico; Vision Award by the Silicon Valley Latino Leadership; Brillante Award by NSHMBA; Leadership Award from Telemundo: civilian award by the US Army, and the Digital Hero Award by the Multicultural, Media and Technology Council, among others.  Tijerino was recently featured on the cover of Latino Magazine as one of 10 Who Made a Difference.  
Jennifer Sigler
Is responsible for the overall efficacy of GlobalGiving, including leadership of our finance, business intelligence, human resources, and governance functions. She also steers the organization's strategic planning process. Prior to joining GlobalGiving, Jennifer was the CFO & COO of an education and financial literacy-focused nonprofit, where she worked with the CEO and Board of Directors to expand the organization nationally. Jennifer's other professional experience includes work in the private sector as a marketing analyst/programmer at Time Warner, Inc. and a management consultant for IBM. She also holds an MBA and M.Ed from Stanford University and a B.S. from James Madison University. She is one of twelve people selected nationwide as an American Express/Independent Sector Next Generation Leadership Fellow. And in her spare time, Jennifer is designing her own women's clothing line. 
Lauren C. Mims
Is the assistant director of the White House Initiative on Educational Excellence for African Americans. The Initiative works to strengthen the Nation by improving educational outcomes for African Americans of all ages, and to help ensure that all African Americans receive an education that properly prepares them for college, productive careers, and satisfying lives. Ms. Mims focuses her efforts on strategic planning and management of projects and priorities including mobilizing youth voice, supporting interagency relationships, the development of research-based publications, creating handbooks and resources for students, and engaging with stakeholders through multi-media platforms.
Ms. Mims was previously a fellow in the office. She has extensive experience developing and implementing communication strategies, analyzing and interpreting evaluation and research findings in education and integrating research findings across programs and organizational lines, as well as developing, implementing and evaluating evidence-based interventions for African American students. Mims received a Bachelor of Arts degree in English and Psychology from the University of Virginia in 2012 and a Master of Arts degree in Child Development from Tufts University in 2014. She is also pursuing her doctorate at the University of Virginia Curry School of Education in Educational Psychology: Applied Developmental Science.
Maria S. Gomez
Is the founder of Mary's Center, a community health organization that provides health care, education and social services in the DC metropolitan region. The goal of Mary's Center is to provide healthcare early and throughout the individuals' lifecycle, support families and individuals in their own community and guide individuals to move up the economic ladder through education and training opportunities.
Under Maria's leadership, Mary's Center has grown from an initial budget of $250,000 serving 200 participants at a basement in 1988 to an annual budget of $45 million serving over 36,000 individuals at six locations and two mobile units in the District of Columbia and Maryland. Maria has been the recipient of numerous local and national important recognitions, including the 2012 Presidential Citizens Medal, the nation's second-highest civilian honor.
It was Maria's hard work and dedication that led First Ladies Michelle Obama in 2009 and Hillary Clinton in 1995 to visit the Center and learn about its model.
Originally from Colombia, South America, Maria immigrated to the United States with her mother at age 13 and attended DC Public Schools. She obtained her Bachelor of Science degree in Nursing from Georgetown University and a Master's degree in Public Health from the University of California at Berkeley.
Leroy Nesbitt Jr.
Is a graduate of Middlebury College and Howard University School Of Law. He presently serves as Executive Director of the Black Student Fund. During his more than twenty- five years in the education industry Leroy has worked as arbitrator, lawyer, professor, administrator, programmer, trustee and consultant. Under his self-appointed title of 'Social Engineer' Leroy assists students and families; schools and community organizations develop dreams, build capacity and achieve their goals. He is married to Dr. Debony Hughes and has two daughters. Leroy has a Black Memorabilia collection with more than 500 items.
Moderator
Trey Barnette



Branch Manager, Robert Half International and Director of Professional Development at Catalyst Network Foundation Inc.
When & Where

The Park at Fourteenth
920 14th Street Northwest
Washington, DC 20005


Thursday, April 28, 2016 from 6:00 PM to 9:00 PM (EDT)
Add to my calendar
Organizer
Catalyst Network Foundation Inc. (CNF)
The Catalyst Network Foundation Inc. (CNF) is a non-profit education initiative 501(c)(3) organization based in New York City and Washington, D.C. The social enterprise is fundamentally grassroots, steered by a volunteer leadership team in New York City and Washington, D.C. In July of 2012, Ranking Congressman Ed Towns awarded a proclamation to the Foundation, in recognition of the organization's achievements.

CNF was conceived after its two founding members had a conversation about the future of youth and veterans in their community. After reviewing the lack of communal resources, skill development programs, and career-field opportunities for adults – the founders developed a vision. Through their combined efforts and strategic planning, the two founders recruited additional professionals to support the formation of Catalyst Network Foundation.
Founded in 2011, the nonprofit focuses on life enrichment and professional development, with a mission to engage high-potential youth (ages 14-25) and veterans (ages 21-30) by providing the proper tools, networks, skill-building projects, and development opportunities to maximize talent.
CNF holds a Summer Intensive Program for rising high school juniors and seniors in New York City and Washington, D.C. Successful applicants are enrolled at a CNF partnership high school. Each student receives individualized attention and internships in preparation for higher education and community service. The fellowship scholars are trained from day one: they tour corporate offices, pitch business ideas, and develop professional skills. 200+ students have been admitted to the Fellowship Program and are CNF Fellows, 99% have graduated high school, and 98% enrolled in higher education institutions (including prestigious colleges and universities).
Through CNF's Mentorship Program, Fellowship scholars are paired with a mentor that is a trailblazer in the profession or career field the fellows aspire to pursue. The CNF Internship Program secures CNF Fellows with internships at startups, corporations, and medical institutions.
Since 2011, the Fellows have participated in corporate tours and create or pitched presentations about inner-city school challenges to several companies, including: Google, Goldman Sachs, NIKE, LinkedIn, Morgan Stanley, HBO, Microsoft, Covington & Burling LLP, GAP, BET, Essence Magazine, NPR, Kaye Scholer LLP, Hughes Hubbard Reed LLP, Bloomberg, Peebles Corporation, Infor, Deloitte, FOX News, and NBC Studios.
The youth initiative annually holds tech symposiums at Google,career, and college preparatory workshops throughout the school year, instructing over 1,500 high school students in the aforementioned metropolitan areas.
CNF performs screening and facilitates seamless partnership arrangements with high schools, nonprofits, and corporations. I.e., City Poly Tech High School < > Infor
The organization works with American veterans (ages 21-30), connecting them with resources and information to assist them with their career and academic ambitions.
CNF has curated 25+ professional networking events and diversity career recruiting sessions. The organization host a professional mixer and panel discussion called The Meeting of the Minds (MOTM) a gathering that is held quarterly it uniquely combines networking and thoughtful policy discussion on topics affecting minority communities. The goal is to provide a forum for critical conversation on issues often ignored by mainstream media outlets.
Leveraging Resources For Common Good