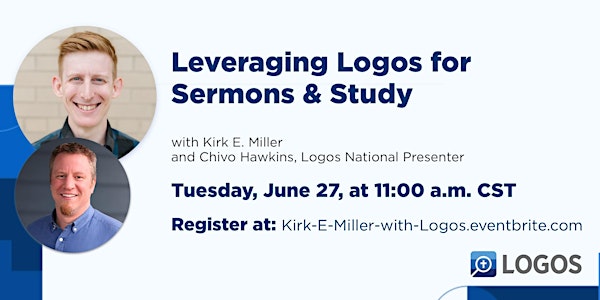 Leveraging Logos for Sermons & Study
Learn from Pastor/Author/Teacher/Father Kirk E. Miller how to leverage Logos to understand, teach and write about the Bible.
By Chivo Hawkins with Logos
Date and time
Tuesday, June 27 · 9 - 10am PDT
About this event
You want to dig deeper into Biblical theology and show the way for others, Logos is how. Far superior to Google for theological questions, Logos is accessible to all, it's not just for Pastors!
Learn how to study the cultural and historical context, how to learn from the original languages and leverage a massive theological library to do 40-50 hours of study in seconds.
See how to seamlessly integrate technology and media resources into your work, archive it, as well as publish and or share directly as you determine best.
Practice using a professionally curated counseling guide for topics including marriage, grief, and addiction to reveal what Biblical resources have to say and be guided when the need arises.
In this interactive training, learn how you can use Logos to further equip yourself and the Church to grow in the light of the Bible.
Special Logos discount will be available.