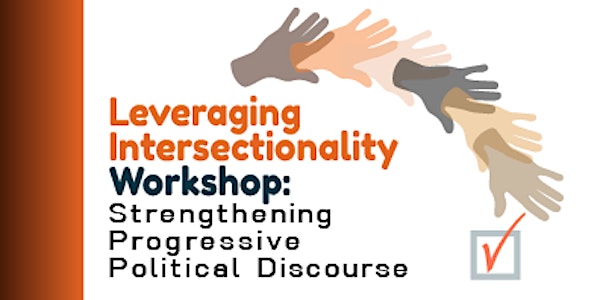 LEVERAGING INTERSECTIONALITY WORKSHOP: STRENGTHENING PROGRESSIVE POLITICAL DISCOURSE
When and where
Location
Lawrence Community Center 295 Eggert Crossing Road Lawrence Township, NJ 08648
Refund Policy
Refunds up to 1 day before event
Description
EVENT DURATION: THREE HOURS. LIGHT REFRESHMENTS SERVED. Bring a snack to share if it you like
---
Our presenters:
Shakira Abdul-Ali
Shakira is an organization development professional, trainer and coach with proven success in delivering business, organization and personal effectiveness programs. She has supported institutions in generating value through business diversity programming and development, designing and managing change and organization learning, and building high-performance teams and work systems. An MBTI® qualified facilitator, Ali also uses such instruments as the Enneagram, DiSC and FIRO BTM to assist clients in identifying strengths and challenges. She has counseled and coached both professional and non-degreed individuals seeking to jumpstart or transform careers; start or expand businesses; or improve professional performance and/or quality of life. Shakira earned a baccalaureate degree in Economics and Urban Studies from Wellesley College and a Master of Science in Organization Development from the American University/NTL Program. She is a member of the NTL Institute for Applied Behavioral Science (www.ntl.org ). She acquired coach training with New Ventures West, Inc., as well as a Certificate of Leadership for Diversity Training with the National Coalition Building Institute.
Ellen Greenberg
Ellen is the owner and Principal Consultant of Partnering For Change, LLC, an Organization Development Consulting firm working with individuals, groups and organizations to create new solutions and approaches that lead to sustainable results, greater success and healthier, higher performing organizations. Ms Greenberg is a strategic thinker with experience in generating value through leadership development, executive coaching, diversity programming, strategic planning, training, team building, managing change, organizational learning, and building high-performance work systems. She has over 20 years of experience working with nonprofit, for profit and government agencies both in management and consulting capacities. Ms Greenberg holds an M.S. in Organization Development from American University/NTL Institute (AU/NTL), and a B.A. in Journalism with a specialization in advertising from Temple University. She is qualified to administer and interpret the Myers Briggs Type Indicator (MBTI) and the Fundamentals of Interpersonal Relationships Orientation (FIRO Element B) assessment. She completed the Georgetown Leadership Coaching program and is a member of the NTL Institute for Applied Behavioral Science, Organization Development Network, Philadelphia Region Organization Development Network and the AU/NTL Alumni Association.
---
Intersectionality is an analytical framework to identify how one's different identities--like race, sex, age, ethnicity, health and other characteristics--intersect to magnify or minimize oppression or discrimination in society. This workshop is intended for activists working in progressive activist settings. Encouraged to attend are those who are having difficulties with identity, particularly men, members of the LGBTQ community, or those effected by divisive, hateful discourse.
For a diverse political coalition to succeed, to ensure that we see new faces, the coalition must reject the distorted frameworks that diseased our society: patriarchy, white privilege and fragility and instead build a foundation centered on individuals strengths.
But how to avoid frictions due to misunderstandings or ignorance of these complexities?
The objective of this workshop is to help progressives understand how to recognize and map these intersections to allow for the creation of a solid sustainable coalition built on strong allyship.
This workshop is intended for activists working in progressive activist settings.
We will look at how patriarchy, white privilege, and fragility interfere with civility, exchanging ideas and respecting perspectives.
Through conversation, exercises and breakout groups, Intersekt Alliance will lead a three-hour workshop that will provide you with the tools to gain awareness of your own foundational identity; to recognize how a group's dynamic changes with a diverse population; and steps to take to build a civil, unified and sustainable coalition.

Reference material: