About this Event
Data Science and Analytics is part of planning for multiple organizations. The importance of prediction and the role it plays in our business is self-evident.In this session, Mr. Harold Fernandes and Mr. Jayesh Srivastava, two datascience and analytics experts from Dun & Bradstreet, will share their experience in the area.
Harold Fernandes will take the participants on the journey of operationalizing analytics in daily decision making from traditional scorecards to Machine Learning analytic models. It is a discussion about the fascinating space between advanced analytics and technology. What should we consider? What are the pitfalls? What do we need to build a complete production eco-system for insights in a data driven world?
Jayesh Srivastava will talk about the use cases in different industries especially in bank, insurance and manufacturing to showcase how alternative data sources can be used to build Machine Learning solutions that can help businesses to overcome complexity and ambiguity to drive business value. The session is designed to deliver innovative approaches and offers insight on the future and all-important business impact of advanced data and analytics capabilities.
Agenda
13:30-14:00 Registration & Networking
14:00-14:10 Opening Remarks
14:10-14:50 Session 1
Topic : Operationalizing Artificial Intelligence/Machine Learning analytics solutions in day-to-day business
14:50-15:30 Session 2
Topic: Use of alternative data and Artificial Intelligence/Machine Learning techniques to meet business challenges
15:00-16:00 Q&A
Featured Speakers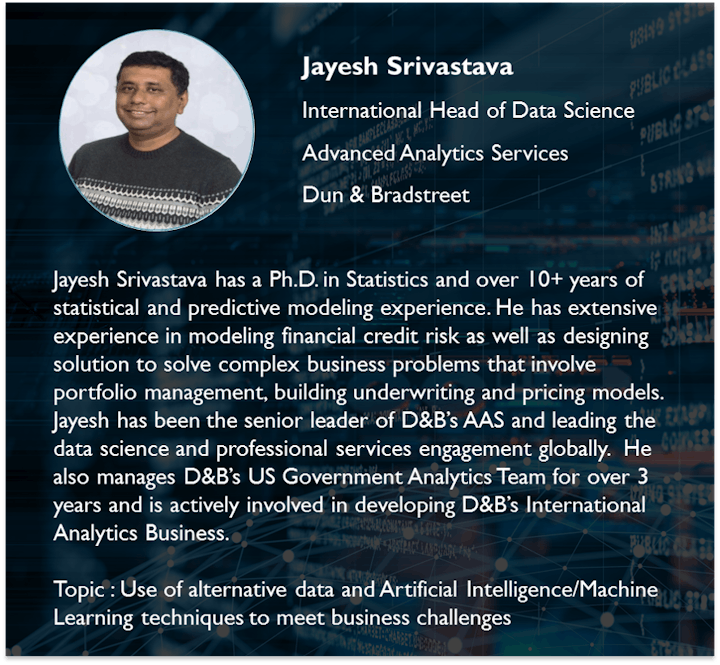 Company Introduction
For nearly 200 years, Dun & Bradstreet has helped customers and partners accelerate growth and improve their business performance through the power of data and analytics. Dun & Bradstreet data and insights, delivered through the Data Cloud and the solutions they power, help customers improve business performance by accelerating revenue, reducing cost, managing risk and transforming their business.
The Dun & Bradstreet Data Cloud delivers the world's most comprehensive business data and analytical insights: comprising over 330 million business records, curated from tens of thousands of sources, and 375 million data elements updated each day. 90% of the Fortune 500, and companies of all sizes around the world, rely on Dun & Bradstreet to help grow and protect their businesses.
In China, Huaxia Dun & Bradstreet and MicroMarketing Dun & Bradstreet, leveraging data and analytics powered by Dun & Bradstreet, respectively focus on providing risk management and sales & marketing solution, helping clients reduce cost, mitigate risk, accelerate revenue, and transform businesses.
VENUE
AmCham Shanghai Conference Center Suite 568, Shanghai Centre, 1376 Nanjing Road West Shanghai, China
Inquiry
Please contact:
Ms.Silvia Liu
Liuyus@dnb.com
+8621-2321 3765AmCham Shanghai
Ms.Zoe Zhang
zoe.zhang@amcham-shanghai.org
Note
Event Language: English
Limited seats available. An email confirmation will be sent to you once your registration is confirmed.