Level39 Fintech World Euro Summit Evolution of Blockchain Technology April...
Description
Mark your calendars for Fintech World Euro Summit London, on April 4th, 2018
Featured Covered Topics: Distributed Ledger Applications, Developing & Scaling Blockchain Applications in P2P Ecosystem, Tokenized Revenue, Smart Token & Governance, ICOs & Cryptofinance/Crowdfunding Models, Applied Cryptography, Secure Supply Chain, Cryptoeconomic Regulations & Policy for a Decentralized World.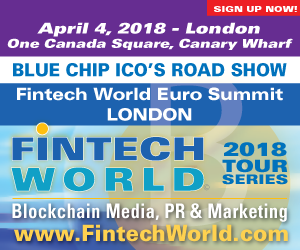 AGENDA
ICOradio / Token Intelligence
Blockchain, Bitcoin, Cryptocurrencies, ICO - What are they and what do they mean for entrepreneurs + businesses
Philip Young, Director, Gibraltar Blockchain Exchange, Gibraltar StockExchange
Rock Solid: Token Innovation - The Potential for The World
GBX Is the world's first fully, and custom regulated, Token Exchange - blazing a trail towards a vision for a more open and innovative future
ICO - A poweful Innovative Force for Startups Scaleups & Established Businesses
The Changing Face of Tokens and the ICO
Participants: Daniel Evans, Thomas Power, Stephen Castell
Crypto Going Mainstream... The Coming Revolution in Payments
Tokenisation: The potential
Howard Pager – Andy Finch
Transformation via Tokens and Decentralization - Music, Film, Sport and coming to your industry soon
Running an ICO - The process, tips tricks and pitfalls
Mike Raitsyn, Jonny Fry +1
Questions & Roundup from Chair
1600 Close followed by Drinks and VIP Networking
We will explore new methods of finance, as well as review existing and developing legal considerations and international initiatives. In bringing together industry thought-leaders, this is destined to offer unique and valuable insights to this growing industry.
Limited to 300 attendees, we are offering you the opportunity to become one of our elite sponsors for this exclusive event.
We are looking forward to your participation and much appreciate if you share this event with your social network.