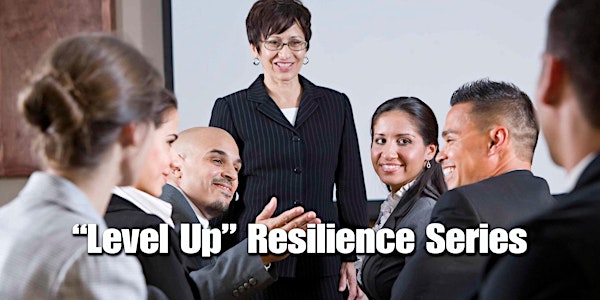 Level Up Your Resilience Series
Back by popular request… Dr. Charlene Glenn presents a new virtual workshop series: Level Up Your Resilience 2022-2023.
About this event
The Level Up Your Resilience Series is designed to strengthen an individuals' skills to thrive in a dynamic hybrid world. This series will focus on being mindful, resilient, and executing good habits to thrive on a personal and professional level. Additional topics to explore on navigating the new hybrid work model include: work-life integration strategies, having crucial conversations, understanding your digital body language, developing a creative and innovative mindset, and developing a life plan that will lead to your defined success.
This year's workshops include:
• Mindfulness as a Stress Relief Technique: September 29, 2022
• Resilience as a Survival Trait: October 27, 2022
• The Power of Good Habits: November, 17, 2022
• The Balancing Act of Work-life Integration: December 8, 2022
• Crucial Conversations about Difficult Topics: January 26, 2023
• Digital Body Language: February 16, 2023
• Developing a Creative and Innovative Mindset: March 16, 2023
• Developing Your Life Plan: April 13, 2023
These two hour workshops (6:00 p.m. to 8:00 p.m.) will be delivered via Zoom for all Peirce students and alumni during this academic year. A Zoom link, Meeting ID and Passcode will be emailed before each workshop.
About the Speaker:
Dr. Charlene Glenn is a professor in the Peirce College Business Division and a 2020-2021 Fulbright Scholarship recipient.
In the 2020-2021 year, through her Fulbright designation, she facilitated a professional development series – Developing an Agile Mindset for the Competitive Business Landscape for business and industry professionals in Barbados, facilitated a Business Continuity session for the Academy of Women Entrepreneurs in Barbados, served as a guest lecturer at Barbados Community College for a Small Business Development and Entrepreneurship course, and served as the keynote speaker for U.S. Embassy in Grenada to kick-off Global Entrepreneurship Week. The U.S. Embassy of Barbados has invited her back to facilitate the Business Continuity session for the 3rd cohort of its Academy of Women Entrepreneurs.
Last year, she facilitated the Level Up Business Etiquette Series designed to strengthen students' workplace etiquette skills. She received very positive feedback about the series and below are a few anecdotal comments from participants:
"It was great to have relatable feedback you can begin to use right away".
"I love when participants have a chance to engage in the training. It is always a benefit to hear others' viewpoints".
"The camaraderie amongst the participants was great and the session was informative".
If you have any issues accessing the webinar, please contact Dr. Charlene Glenn at cglenn@peirce.edu.