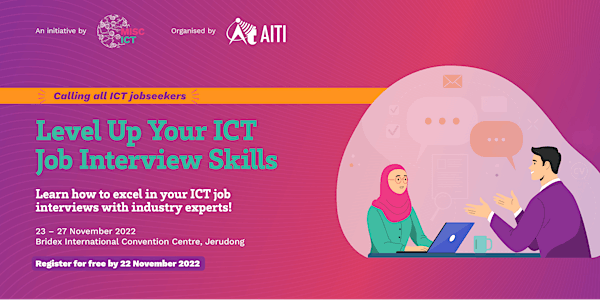 Level Up Your ICT Job Interview Skills!
Level Up Your ICT Job Interview Skills: Learn how to excel in your ICT job interviews from industry experts!
When and where
Location
BRIDEX Hall 2 Hall 2 International Convention Centre Jerudong, Brunei-Muara District BG3122 Brunei Darussalam
About this event
We are inviting all ICT jobseekers for an opportunity to enhance their interview skills with the help of experts from the ICT industry players!
In conjuction with Pesta Kerjaya 2022 organised by the Manpower Planning and Economy Council (MPEC) and JobCentre Brunei, the AITI as the secretariat for the Manpower Industry Steering Committee Working Group for ICT Sector (MISC-WG ICT) will be conducting the 3rd Interview Clinic for ICT Jobseekers from 23 until 27 November 2022 at the Bridex International Convention Centre, Jerudong.
This clinic consists of talks and one-on-one sessions with ICT industry experts to assist and train jobseekers with the skills and techniques to answer technical questions during ICT job interviews.
Slots are limited and on a first come, first served basis.