Location
Museum of the Moving Image
36-01 35th Ave
Description
LEVEL UP Teen Game Jam at Museum of the Moving Image
This is a two-day event where teens will:

Rub elbows with professional game designers

Play indie and vintage video games

Make your own games

Earn digital badges to mark the achievement of new skills
This event is being held in conjunction with IndieCade East, the premiere East Coast showcase of independently produced video games, and the 2013 STEM Video Challenge, a national competition featuring youth-made video games.

>>Participation on both days is required<<

Day One: Sunday, Feb. 17 - Noon until 5:00pm
Day Two: Monday, Feb. 18 - 11:00am until 4:30pm


Day One: Launch
Date: Sunday, Feb 17
Hours: 12:00-5:00pm
This is your day for exploration and inspiration! Check out the IndieCade East arcade and receive a free tour of the Museum of the Moving Image special exhibition, SpaceWar! Video Games Blast Off!
Day Two: Blast-Off

Date: Monday, Feb 18
Hours: 11:00-4:30pm

Here's your chance to take a deep-dive into game design principles and analog and digital game-making and player reviews! Work directly with educators and experts on activities like hackable games from Mozilla Game On, E-Line Media, Global Kids, Gamekit from Institute of Play and much more!

>>Participation on both days is required<<
>>Lunch and snacks will be provided<<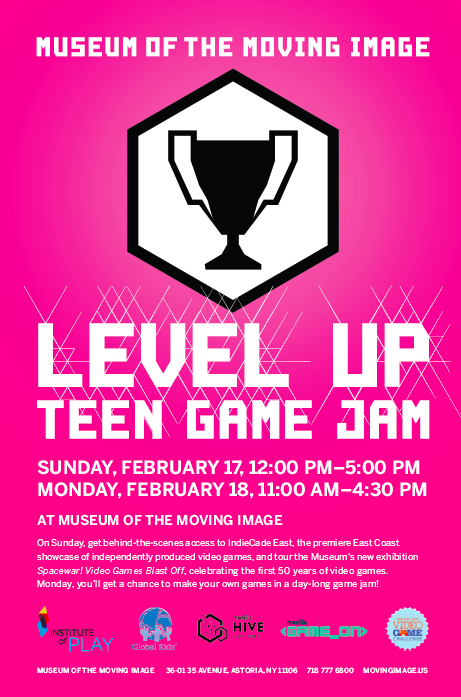 Please visit our event hosts!

Museum of the Moving Image>> http://movingimage.us

Global Kids>> http://www.globalkids.org
Hive NYC Learning Network>> http://explorecreateshare.org
STEM Video Game Challenge>> http://stemchallenge.org
Institute of Play>> http://www.instituteofplay.org