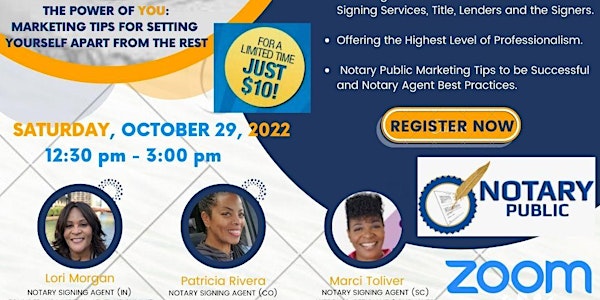 Level Up Notary Signing Agent Fall Series Summit Part 2 Oct 29, 2022
NOTARY SIGNING AGENT SUMMER SERIES SUMMIT Part 2
About this event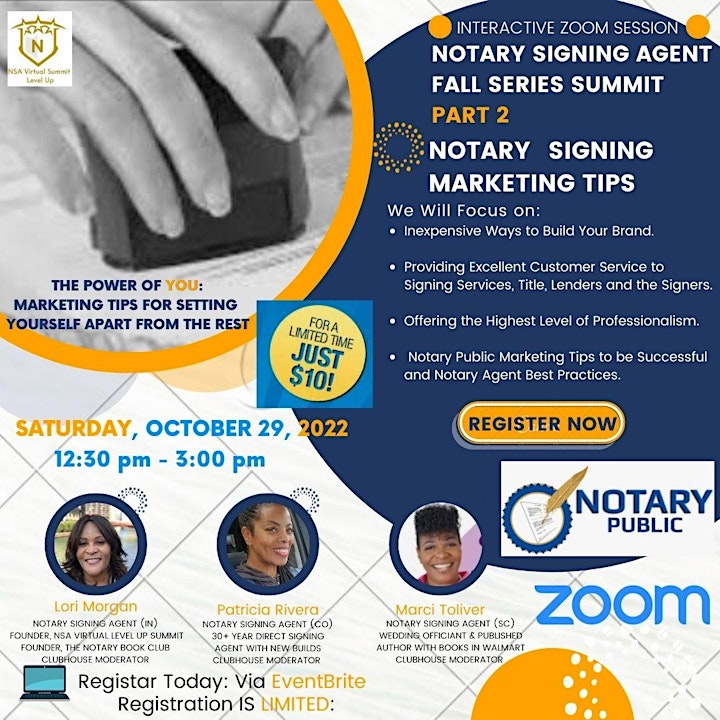 THE POWER OF YOU: MARKETING TIPS FOR SETTING YOURSELF APART FROM THE REST! Part II
NOTARY SIGNING Marketing TIPS with Notary Signing Agents Lori Morgan, Patricia and Marci Toliver.
We Will Focus on:
Inexpensive Ways to Build Your Brand.
Providing Excellent Customer Service to Signing Services, Title, Lenders and the Signers.
Offering the Highest Level of Professionalism.
Notary Public Marketing Tips to be Successful and Notary Agent Best Practices.
Steps you need to market your Notary Signing Agent and Notary Public Business to be successful!
"I am not an attorney licensed to practice law in Indiana. I am not allowed to draft legal records, give advice on legal matters, including immigration, or charge a fee for those activities."
ALL SALES ARE FINAL. NO REFUNDS.