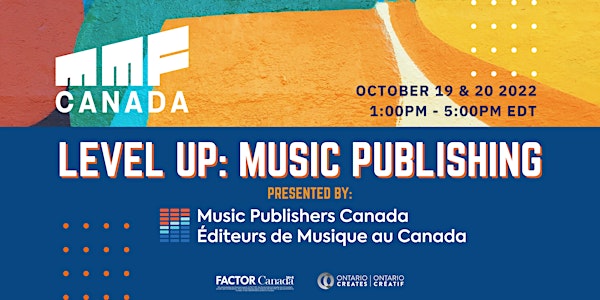 Level Up: Music Publishing
Join Music Managers Forum Canada and Music Publishers Canada for 2 day music publishing intensive!
About this event
This event is free for MMF Canada Members and $125 for non-members. Members: Access the registration link via the Member Portal - Member Discounts & Events.
October 19 + 20 2022, 1:00-5:00PM ET
Following the success of our Music Publishing 101 developed and presented by Music Publishers Canada in July 2021, we are back with an updated 2-day online series!
Understanding the role of a music publisher, publishing administration and the broader publishing ecosystem is an essential part of effective artist management. Music publishing is a keystone for the career of any artist who is also a songwriter and/or composer. Music Publishers Canada has created a new two part series which examines various aspects of the publishing industry, with subjects specifically curated for MMF Canada's community.
"Level Up: Music Publishing" will be a combination of webinar-style presentations, panels, Q+A and breakout room discussion. Sessions will be recorded and made available to registrants.
This series is suitable for music managers, self-managed artists, and other music industry professionals with beginner to intermediate knowledge of international music publishing.
Speakers will be confirmed soon! A full schedule will be provided to registrants. *Please note that there is new content on day 2 for those who attended last year.
The workshops will be delivered virtually over 2 intensive afternoons, and will include the following topics:
October 19th – Day 1: Introduction and Overview
Music Publishing in Canada (Industry Panel)
Royalties and Copyright, with Margaret McGuffin, (CEO, Music Publishers Canada)
SOCAN 101
It All Starts With a Song: Co-writing, Song Camps and Songwriter Development (Case Study)
CMRRA 101
October 20th - Day 2: The Next Level
International Insights on Publishing (Industry Panel)
Understanding the Manager/Publisher Relationship (Case Sudies)
Future of Work in Music Publishing – MPC and ADVANCE
Synch, Score and So Much More (Industry Panel)
Content curated and presented by Music Publishers Canada.
Music Publishers Canada is a membership-based organization, founded in 1949, that ensures the views of music publishers working in Canada are heard. It is our mission to create business opportunities for our members and to promote their interests and those of their songwriting partners through advocacy, communication, and education. Music Publishers Canada ensures that the value and contribution of music publishers, music publishing, and copyright management is understood by artists, the music industry, users of copyrights, governments, and the general public.
EVENT ACCESS
The event will take place via Zoom. We STRONGLY RECOMMEND you LOG IN to your Eventbrite account PRIOR TO THE SESSION to ensure you can find the event in your account and can access your Zoom link. You may be asked to download the Zoom software but will also be able to join via your browser, which may give slightly reduced functionality.
If you have any issues accessing the webinar, please email info@mmfcanada.ca prior to the session.