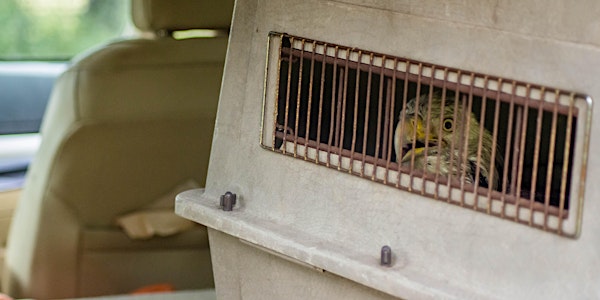 Level I and II Training Workshop for Transport Volunteers in Beaufort County
When and where
Location
Sea Pines Community Center 71 Lighthouse Road, Suite 120 Hilton Head Island, SC 29928
Description
Thank you for your interest in the Avian Conservation Center's Transport Volunteer program! We are excited to be able to offer this comprehensive training for Transport Volunteers.
For more than 25 years the Avian Conservation Center has worked to identify and address vital environmental issues through avian medicine, research, education programs, and conservation initiatives. The Center has three primary operating departments that work together to support this goal: the Center for Birds of Prey, the Avian Medical Clinic, and the South Carolina Oiled Bird Treatment Facility.
The Avian Medical Clinic operates 365 days a year and each day we receive calls about injured birds in need of help. Our patients represent a variety of birds of prey and shorebird species and their injuries can range from unknown to critical. Working with wildlife, especially when they are compromised by an injury or illness, is an advanced skill, so we rely on a network of trained volunteers located throughout South Carolina to assist with these calls. Because of the high number of calls we receive from the Beaufort County area, this training workshop is being hosted at the Sea Pines Community Center with the desired goal of increasing the number of trained Transport Volunteers in Beaufort and adjacent counties, specifically.
During this training workshop, you will have the opportunity to learn techniques for capturing and transporting injured wild birds from the field to the Avian Medical Clinic. We will provide both Level I - Transport training as well as Level II - Capture training for all those who are interested.
FAQs
Do I need to register in advance?
Yes, registration is required and we have a limited number of seats, so please register if you plan to attend. You can register via Eventbrite or by sending an email to info@thecenterforbirdsofprey.org. Important application materials will be emailed in advance of the orientation.
What are the requirements for becoming a Transport Volunteer?
You must attend the orientation and training workshop;

You must be able to donate your time and service including driving your own personal vehicle when transporting an injured bird;

You must be at least 18 years of age;

You must abide by the bird capture and transport policies and procedures as dictated by the training provided;

You must understand and abide by all federal laws regarding migratory birds;

You must agree to represent the Center in a professional manner as dictated by the training provided and as agreed to in the Transport Volunteer Agreement;

You must agree to our Social Media Policy in regards to all posts or mentions that involve the Center and/or our transport program;

You must submit a completed application, liability waiver, Transport Volunteer Agreement, and Social Media policy - these items will be emailed to you when we receive your registration.
What if I have limitations on driving such as distance or time of day?
Because we have a large network of Transport Volunteers, we are able to work within a variety of limitations. For example, we often ask Transport Volunteers to drive just a portion of the entire trip and we will never ask you to drive during times of the day when you might not be comfortable.
What if I want to help, but don't want to handle birds directly?
You will still be an important asset as a member of the Transport Network. We encourage you to join us for the Level I portion of this workshop during which you will learn about the appropriate methods for transporting captive wild birds in a safe way.