Level 4 Entertainment Presents: PSU Meets NY Brunch & Day Party
About this Event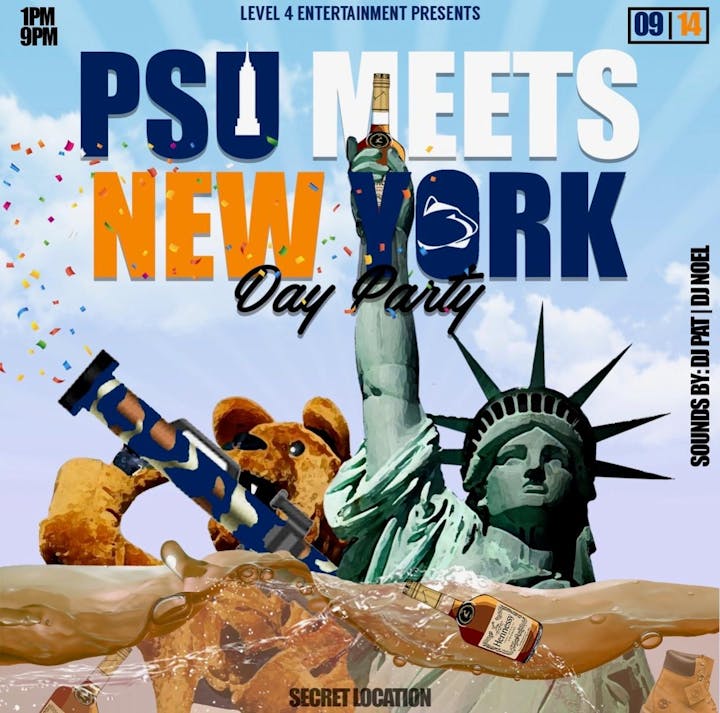 Best College Alum party approaching, bringing the college experience to New York City in a refined vibe out setting. You are not going to want to miss this. I repeat this party is for all ALUM (not restricted to PSU).
WHAT'S A DAY PARTY WITHOUT BOTTOMLESS BRUNCH? YES, THIS EVENT WILL INCLUDE BRUNCH FROM 1-4pm!
Here's The Menu Breakdown:
BRUNCH
$40 (excluding taxes & fees) ; Includes 90 MINUTES OF BRUNCH COCKTAILS
ENTREES
1. CHICKEN & WAFFLES OR "JERK" CHICKEN & WAFFLES
2. STEAK & EGGS
3. SHRIMP & GRITS
4. CLASSIC BURGER
(Lettuce, Tomato, Red Onion, Pickles, Classic Sauce, Butter Grilled Bun, Choice of Cheddar, Swiss or Provolone)
5. PENNE A LA VODKA
(Choice of Chicken or Shrimp +3)
6. 5TH&MAD SALAD
(Mixed Greens, Orange, Feta Red Onion, Candied Walnuts with Champagne Vinaigrette)
7. CHICKEN TACOS
SIDES (ADDITIONAL COST)
1. FRENCH FRIES ($6)
2. SWEET POTATO FRIES ($8)
3. MOZZARELLA STICKS ($12)
4. CHIPS & GUAC ($11)
5. CHICKEN WINGS ($12)
(Buffalo, Honey BBQ Sauce or Sweet Chili Sauce)
YES, YES, THERE WILL BE BOTTLE PACKAGES AVAILABLE FOR PURCHASE!!!
(ALL BOTTLES PACKAGES WILL BE 1 LITER & INCLUDES 6 COMP TICKETS)
1. 2 for $600 PREMIUM BOTTLES (taxes and fees already included)
(Patron, Grey Goose, Hennessey, Jameson & Don Julio)
2. 2 for $500 REGULAR BOTTLES (taxes and fees already included)
(Ciroc, Titos, Jack Daniels, Moet Nectar & Moet)
INDIVIDUAL BOTTLES WILL BE MARK AS THE FOLLOWING:
1. Chandon Champagne - $100+
2. 1 Premium Bottle (taxes and fees already included) - $300
3. 1 Regular Bottle (taxes and fees already included) - $250
IN ORDER TO SECURE YOUR SECTION FOR BOTTLE PACKAGES, $100 DEPOSIT IS NEEDED & THE REST WILL BE PAID ON ARRIVAL. PLEASE REACH OUT TO US VIA IG FOR MORE INFORMATION!
ALSO, WE GOT A SPECIAL SURPRISE FOR YOU.. FERGIE BABY WILL BE SHOOTING THE "STEVE-O" VIDEO #SHITTINME
THIS EVENT IS NOT ONLY PSU FOLKS & IS OPEN TO THE PUBLIC AS WELL. SO TELL A FRIEND & LET THEM KNOW... THIS IS A EVENT YOU DON'T WANT TO MISS! !
NO REFUNDS !!!! MUST SELL YOUR TICKET ON YOUR OWN. WE WILL NOT WORK WITH YOU ON SELLING YOUR TICKET THAT YOU PURCHASED !!!!!