Level 2 Diploma:Integral Sound Healing Working 1-2-1 with Clients - 5 Day I...
Description
Learn how to work as a professional sound healer working 1-2-1 with clients! Join us for this 5 day, Level 2 Sound Healing Retreat in the beautiful Magic Valley in Southern Idaho.
Do the work you love, creating healing sounds!
Join our next course blending an amazing 5-Day Workshop Intensive with world-class online learning!
Our Associate Teacher for this course is Barbara Zago.
Our unique Integral Sound Healing process is tried and tested as a highly effective healing modality.
Integral sound healing can support and be easily integrated into other therapeutic modalities such as massage, osteopathy, chiropractic, nursing, occupational therapy, physiotherapy, acupuncture, acupressure / shiatsu, kinesiology, reiki, reflexology, aromatherapy, emotional field therapy, hypnotherapy, etc….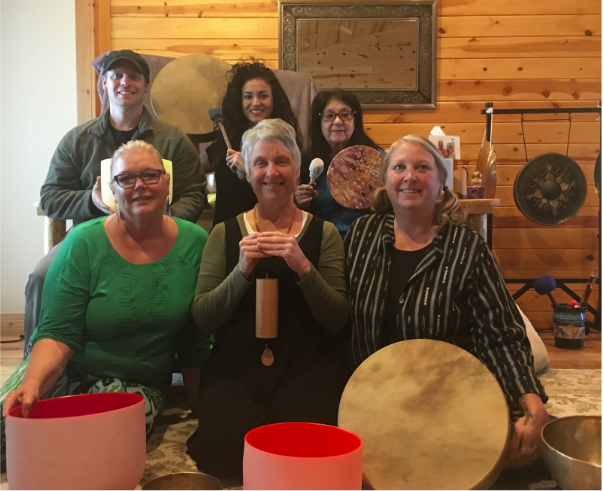 DO WHAT YOU LOVE – HELP OTHERS WITH HEALING SOUNDS!
By the end of this course you'll have the experience, confidence and resources to quickly and easily create a richly rewarding career, doing work you love, helping others with healing sounds.
The Diploma in Integral Sound Healing certifies you to practice with the general public and get full professional indemnity insurance as a Sound Healing Practitioner.
Passing assessment of our Level 1 course, (either entirely on line or with a workshop), is a prerequesite for this Level 2 course.
We are an approved training provider with the International Institute for Complementary Therapists. This means that you can get professional insurance to practice as a sound healer in most countries.
The 2 main factors that cause 80% of physical and mental health challenges are chronic stress and suppressed emotions associated with past trauma.
Integral Sound Healing deals effectively with these underlying causes of pain, dis-ease and illness.
This has been documented in thousands of written case studies carried out by the teachers, practitioners and students of our Sound Healing Academy.
THIS COURSE :-
Qualifies you to work with healing sounds with the general public doing 1-2-1 work with individual clients using a variety of instruments and your healing voice. If you also want to work professionally with groups you can take an extra course – our Level 2 Practitioner Diploma in Group Sound Healing.
Is ideal for musicians, singers, djs, music teachers, psychotherapists, medical doctors, nurses, carers, healers, holistic therapists and anyone wanting to work professionally with healing sounds…..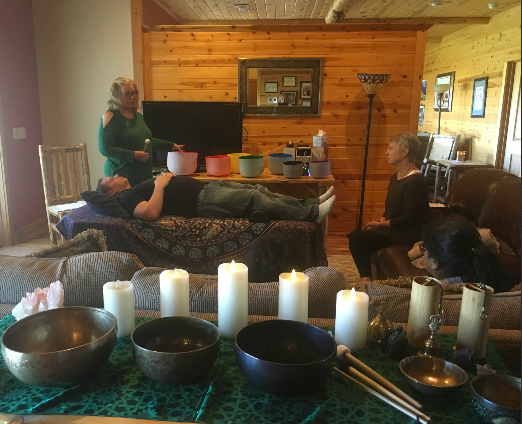 THIS COURSE INCLUDES:
5-DAY INTENSIVE : A DYNAMIC, INTERACTIVE WORKSHOP FOCUSED ON DEVELOPING YOUR PRACTICAL SOUND HEALING SKILLS & TECHNIQUES
+
ACCESS TO ON-LINE LEARNING PORTAL WITH OVER 130 VIDEO TUTORIALS, HANDBOOKS & WORKBOOKS TO GUIDE YOUR LEARNING
+
LIVE INTERACTIVE WEBINARS & GROUP COACHING SESSIONS TO KEEP YOU MOVING ALONG ON YOUR SOUND HEALING JOURNEY
+
PERSONAL COACHING SESSIONS BY PHONE OR SKYPE TO ANSWER ALL YOUR QUESTIONS & ENSURE YOU COMPLETE THE COURSE SUCCESSFULLY
total fee: $1799 if registered by 18 March/$1999 after that date)
The investment in this course is $1799 if registered by 18 March 2018 ($1999 after that date)
Book NOW and Secure your place by paying a $360.00 deposit.
The course fee does not include accommodation or meals. We are happy to provide details of local places to stay and eat.
Course venue:
Magic Valley Sound Sanctuary, Buhl, Idaho
The Magic Valley offers a retreat atmosphere with many outdoor activities. People can come to class and enjoy this peaceful and beautiful area of Idaho.
The venue is on a scenic byway near the Snake River offering hiking paths, kayaking, fishing, and views of the thousand springs gushing from the canyon.
Plus we have three hot springs 10 minutes from the Sound Sanctuary, with Miracle Hot Springs being the most spectacular one.
Base jumpers come to the area from around the world to jump off into the Snake River Canyon, so we have camping spots and hotels to accommodate them.
Twin Falls Regional airport has several daily flights from Salt Lake City and is 30 minutes away.
The Sun Valley Airport in the Sawtooth Mountain area connects from LA and SLC.
Boise airport with multiple connections is an easy freeway drive ending with a 20-30 minute drive through the Snake River area on the scenic byway.
These airports are about an hour and a half from Buhl.
There is a shuttle available if people do not want to drive.
Accommodation is available locally in Buhl or 25 minutes away in Twin Falls.
For more details, please contact us:
Email: support@thesoundhealingacademy.com
Tel: 1- 208-420-2491 (this is Barbara's phone number).
There are a limited number of places available, and this workshop is likely to sell out.
Secure your place to avoid being disappointed later.
Book now with a deposit: $360.00
Full price of course: $1799 early bird. $1999 after March 18, 2018
Thank you!
Testimonials from Barbara's previous classes:
Barbara made learning easy and fun. She was well-prepared and brought her love for sound healing into every session. Her place is warm and welcoming- and her collection of instruments is remarkable. She put us all at ease with her sunny style. After four days of study with Barbara, I feel confident and anxious to do more. Shanan
I really enjoyed this level one foundation class. Barbara did a wonderful job teaching this course. I feel much more comfortable using the many tools we learned about in this workshop. I'm excited for the level two course. Doug
I have enjoyed this class with Barbara. I have found a new me, a better understanding of life's journey. Patricia
Barbara is incredible. What a great workshop and group! The four days together were mind blowing! I thought I was comping to learn about the crystal bowls, little did I know I would be introduced to multiple instruments. I had little knowledge coming in and am taking home a ton of knowledge. I highly recommend this workshop to anyone. Jessica
Beautiful amazing class! The instruments and the surroundings were incredible. I am walking away open and well taught. Diana
Please note: Deposits are non-refundable and non-transferable
CourseCodeL1FC, CTLOneC