Location
Irish College Leuven
Janseniusstraat 1
3000 Leuven
Belgium
Are you ready to network with Leuven's brightest innovators? Enjoy our open bar and walking dinner and join the afterparty of the summer!
About this event
The Innovation landscape in Leuven is about to change for the better. 💡
Join the Leuven Innovation Awards for not only short pitches by Leuven's best innovators followed by an award ceremony, but also a delicious walking dinner, numerous networking opportunities, amazing afterparty and refreshing drinks straight from the open bar. ✨
Hosted at the prestigious and memorable premises of the Irish College Leuven on the 11th of June. 🍀🏆
Co-organised with Event and Project students of UCLL.
Programme:
5:00pm Doors Open & Registration 🖊️
6:00pm - 7:00pm Walking dinner & Networking 🍴
7:00pm - 9:30pm Pitches & Award Ceremony 🏆
9:30pm - 10:30pm Networking with Jazzband 🎷
10:30pm – 00:30am Afterparty with DJ 🌟
Awards:
We've nominated via our professional jury (more info on jury below), +20 thriving organisations in 4 categories: Best Startup Award, Best Scaleup Award, Best Agency Award and Best Non-Profit Organisation Award. Check out the nominees below. 👇
There are 2 more categories for which different organisations from Leuven will be battling: Loved By Leuven Award and Best Collaboration. Discover what we have in store at the event itself! 👀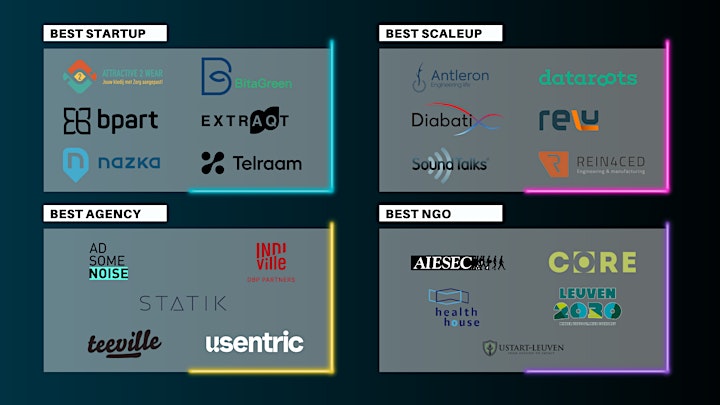 Jury board
We've invited 5 jury members that are active who have close relations with the innovation industry in Leuven. 🥇
Tuba gungor: Representing Voka, as Advisor International Entrepreneurship, and Jong Voka Vlaams-Brabant, as Coordinator, Tuba Gungor takes part at the LIA's as a jury member.
Kim Plevoets: Programme Director of the UC Leuven-Limburg Management, Kim Plevoets also present at Leuven Innovation Awards as one of our jury members
Lalynn Wadera: A true citizen of Leuven and as alderman of economy and much more in stad Leuven, she makes sure Leuven is a thriving city.
Dirk Lievens: He mentors young, driven entrepreneurs, helping them develop and scale up their startups at Start it @KBC. Innovation Manager at Start it X, Dirk Lievens will join at the LIA's as a jury member
Stefan Croimans: From Cronos Leuven, we welcome Stefan Croimans, managing director, as member of our jury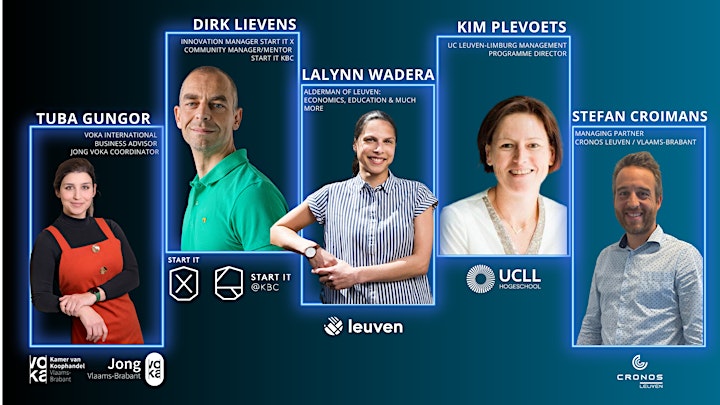 Special guests
We welcome back Tine Van Lommel (Coordinator KICK & Innovation Manager KUL R&D) to one of our events, who will be leading the Award Ceremony. 🎤
Lalynn Wadera (Alderman of Leuven; Economics, Education & much more..) will be part of the jury.
Nicola De Michelis (Director for Smart and Sustainable Growth and Programma Implementation IV - European Commission) will share his valuable insights into the world of innovation. 🦾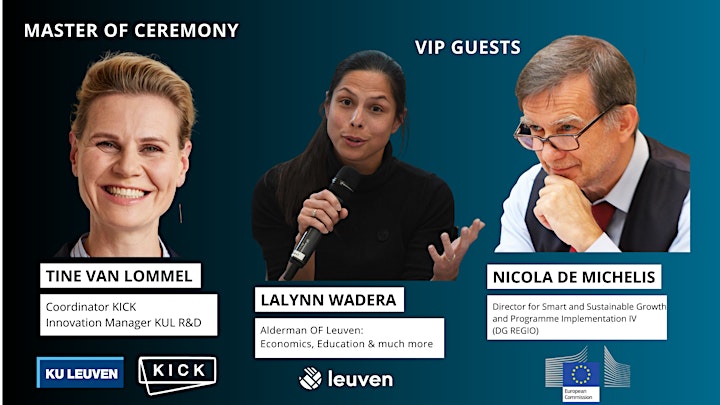 Save the Date :📅
Saturday, 11th of June 2022
Location : 🏛
Irish College Leuven
Janseniusstraat 1, 3000 Leuven
Supported by
ᒪ ᐯ ᑎ in collaboration with UCLL, Leuven MindGate, Cronos Leuven, Raccoons , Comate, Broadkastr, VOKA, Jong VOKA Vlaams-Brabant and Start It @KBC will be awarding innovators in Leuven for their work and initiatives for the past year(s).
https://www.ucll.be/nl, https://www.leuvenmindgate.be, https://cronosleuven.be, https://www.raccoons.be, https://www.comate.be, https://www.broadkastr.be, https://www.voka.be/vlaams-brabant, https://www.voka.be/vlaams-brabant, https://startit.be
FAQ
https://docs.google.com/document/d/1fVGWxQTBvWZs0dN1j9Io1qcnkDEa0KZz9XJBTx23BjM/edit?usp=sharing