Description
Join us: Save the date -The Tech CFO meetup
We are glad to invite you to our 6th annual Tech CFO meetup.
The event is for CFO's only and will discuss different aspects of the transition to a growth company. The challenges and how to prepare for them – both the company and the CFO.
Entrance is free but space is limited.
Light breakfast will be served
We would love to see you!
For further inquiries, contact: Smadar.Shenhav@bankleumi.co.il


Tuesday, June 12, 8:30 – 11:30


- How do we manage growth?
- How do we drive company's strategy?
- Should secondary come first?
- What's the biggest financial challenge to overcome?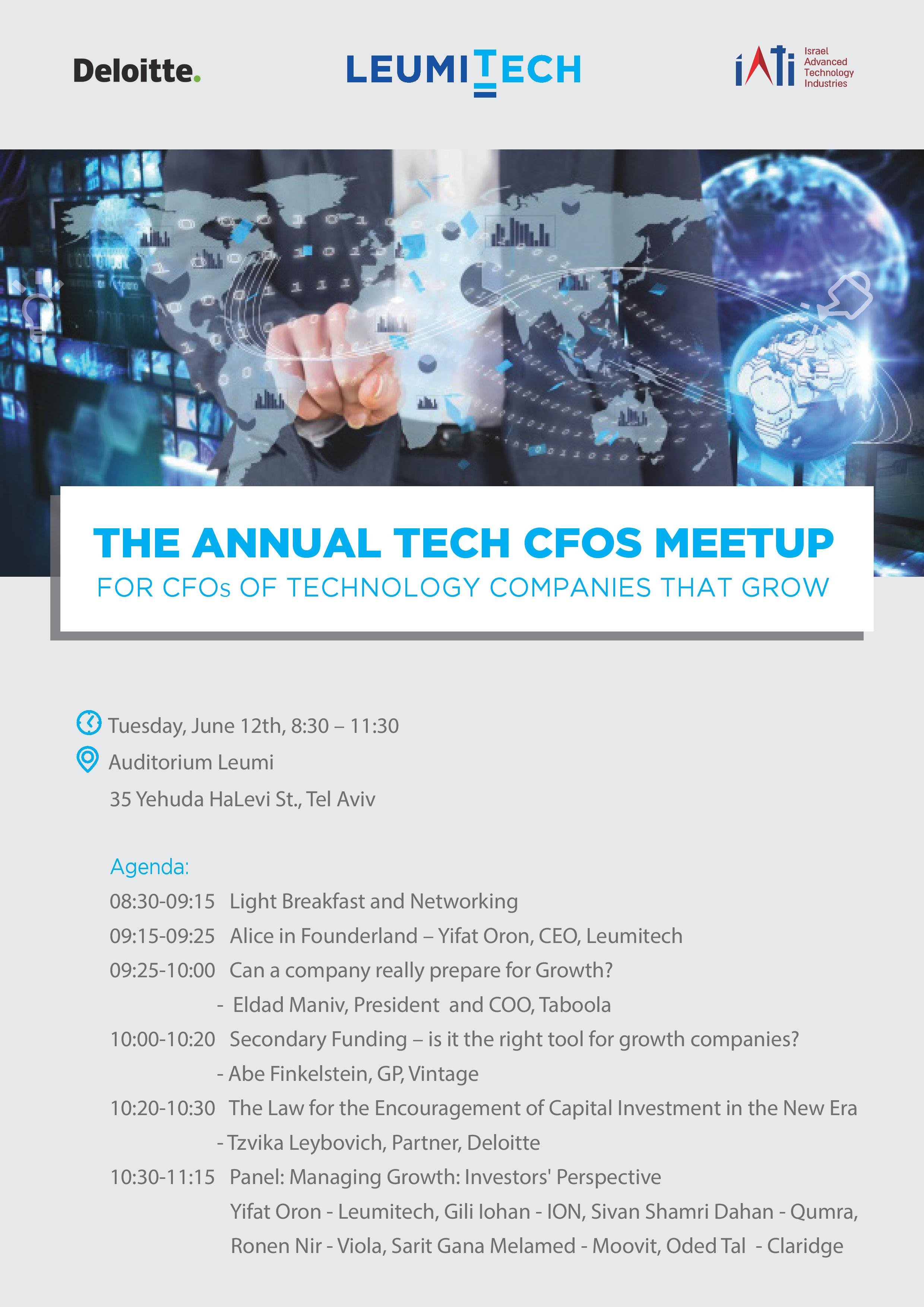 Speaker's Bio:
Yifat Oron, LeumiTech
Yifat Oron is the CEO of LeumiTech and is in charge of leveraging Leumi Group's global capabilities to support technology companies' financing needs.
Yifat has approximately twenty years of experience working with technology companies, in venture capital, banking, and consulting. She spent most of her career as a Partner at Vertex Venture Capital .
Prior to joining Vertex, Yifat was a technology investment banking associate at JPMorgan Chase & Co. in New York, during which she analyzed mergers and acquisitions, equity offerings, fixed income and syndicated financings. Previously, she spent three years at the Directorate of R&D of the Israeli Ministry of Defense where she achieved the rank of Lieutenant in the Economics, Budget & Control Department.
Yifat holds an M.B.A. from Tel-Aviv University and a B.Sc. in Economics and Management from the Technion.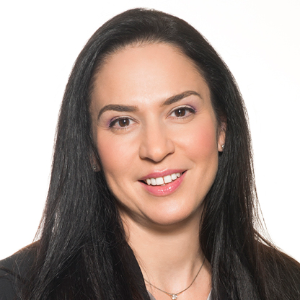 Abe Finkelstein / General Partner
Before joining Vintage Investment Partners in 2003, Abe was an equity analyst with Goldman Sachs covering Israel-based technology companies in a wide variety of sectors, including software, telecom equipment, networking, semiconductor and satellite communications. While at Goldman Sachs, Abe and the Israel team were highly ranked by both Thomson Extel and Institutional Investor. Prior to Goldman Sachs, Abe was Vice-President at US Bancorp Piper Jaffray, where he helped start and headed its Israel technology shares institutional sales effort. Before joining Piper, he was an Associate at Brown Brothers Harriman covering the enterprise software and Internet sectors. Abe began his career at Josephthal, Lyon and Ross, joining one of the first research teams focused exclusively on Israel-based companies.
Abe graduated Magna Cum Laude from The Wharton School at the University of Pennsylvania with a BS in Economics and concentration in Finance.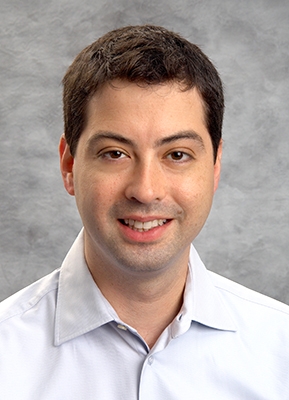 Eldad Maniv, President & COO, Taboola
Eldad heads up Taboola's worldwide operations including the Sales and R&D organizations of over 800 employees. Since joining Taboola in 2012, Eldad has played a key role in driving the company's growth from initial sales to close to $1B in annual revenue, and establishing Taboola as the largest discovery platform in the open web.
Prior to joining Taboola, Eldad held senior executive positions at diverse technology companies - from early stage startups to large public companies, across different industries - aerospace, medical devices, enterprise software and Internet - in the US and Israel. Some of these companies are BMC Software, Zend Technologies (acquired by Rogue Wave Software) and Identify Software (acquired by BMC Software).
Eldad also founded e-Commerce monitoring startup Shoppimon, and NextNine, a provider of remote support automation solutions, acquired by Honeywell. He is a member of several boards of directors and advisory boards.
Eldad is a graduate of the prestigious Talpiot program at the Hebrew University in Jerusalem and spent five years in Israeli intelligence.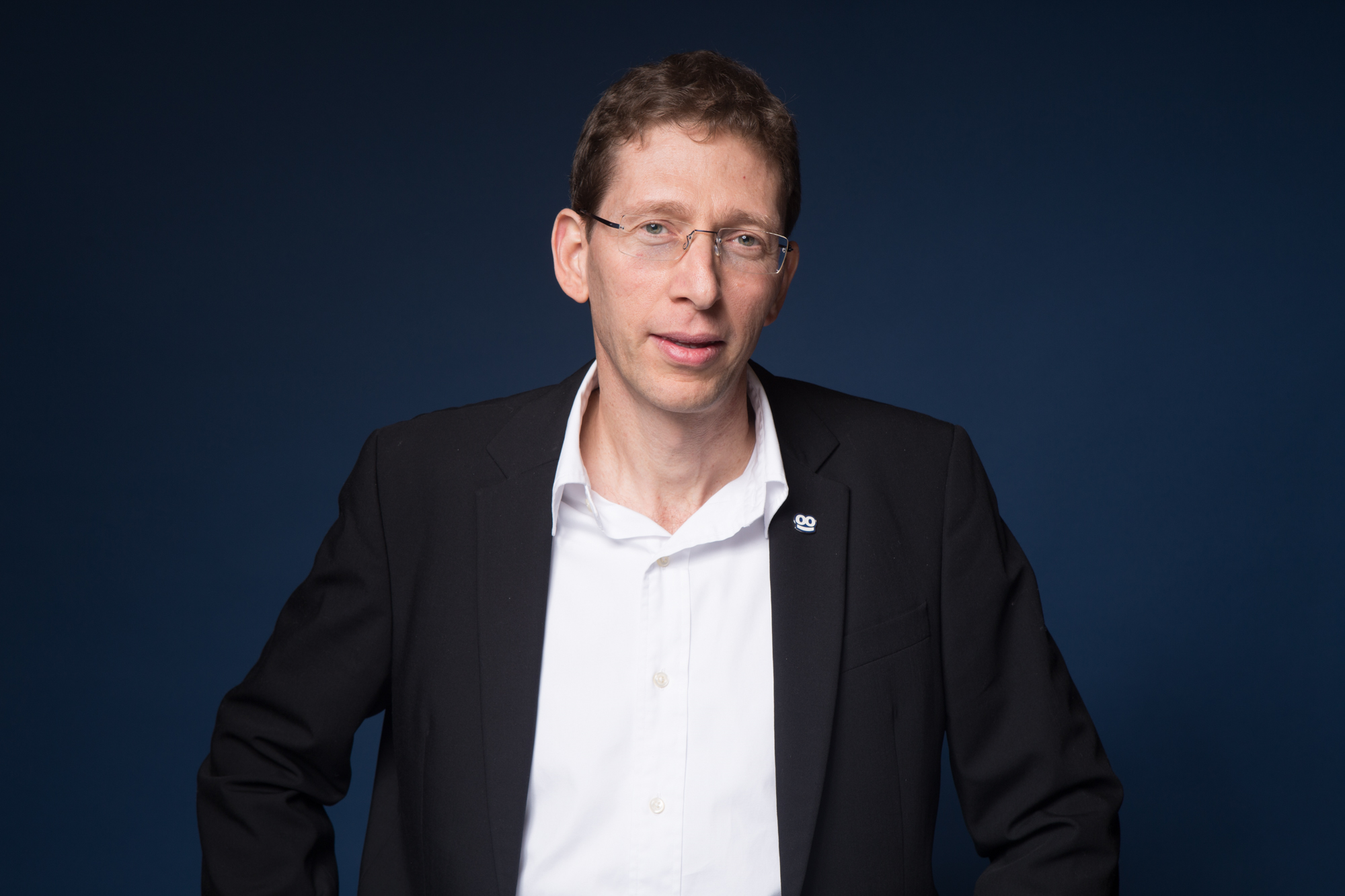 Ronen Nir - General Partner- Viola Ventures
Ronen Joined Viola Ventures in February 2008 and currently serves as a General Partner. His investment areas of focus include SaaS, big data, cyber security and internet.
He is a board member in Samanage, ironSource, Perfecto Mobile, enSilo, Redis Labs, and CodeFresh. He also served as a board member at Shunra (acquired by HP), Amadesa (acquired by Live Person), Kampyle (acquired by Medallia) and Cloudyn (acquired by Microsoft).
Before joining Viola Ventures, Ronen was VP of Product Management at Verint Systems, and Director of Project Management at ECtel (NASDAQ:ECTX), where he led the delivery of large scale, multi-million dollar projects in North and Latin America.
Ronen served for 13 years in an elite Israeli Defense Forces Intelligence Unit where he still holds a rank of Lieutenant Colonel (Res.). He holds a B.A. (Com Laude) in Economics and Middle-East History from Tel Aviv University, and an M.Sc in Technology Management from the University of Maryland University College (UMUC).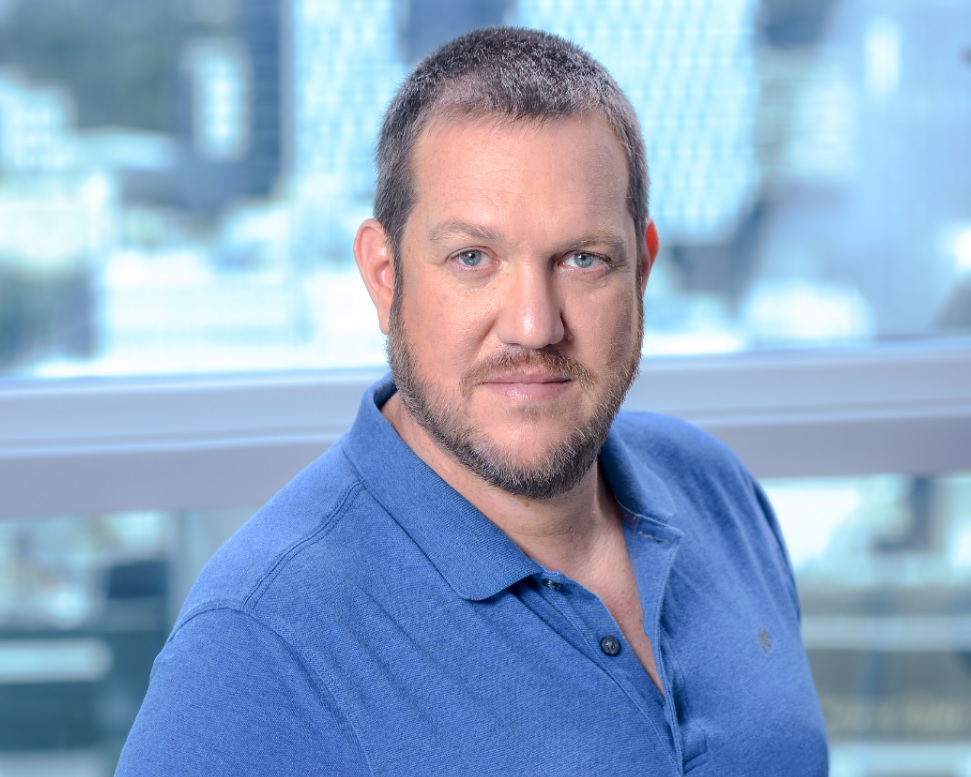 Sivan Shamri Dahan
Sivan is a Partner at Qumra Capital, late stage fund focused on growth investments. Sivan's career spans venture capital investing as well as operational sales and marketing experience gained at startups and global high-tech companies. She was a principal in Evergreen Venture Partners for 8 years, where she focused on Communications, Software and Internet investments. Before that she led acquisition of FTSE 500 key accounts in O2 Telefonica UK as BD Manager. Previously, Sivan was Sales & Marketing Manager at Starhome, a Comverse appiliate, where she was responsible for building the sales & marketing infrastructure in Europe.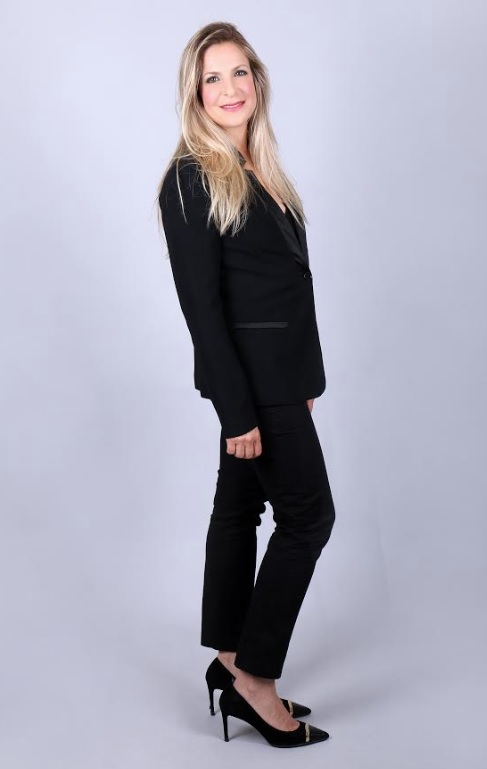 Tzvika Leybovich, Partner, Deloitte
Tzvika Leybovich is a partner at Grants and Incentives Department at Deloitte Israel. Tzvika is a certified accountant and has a LL.B degree in law studies.
Tzvika has 16 years experience it the Israeli Tax Authority, where he held senior positions. At is last position he was head of Encouragement Laws Department at the professional department.