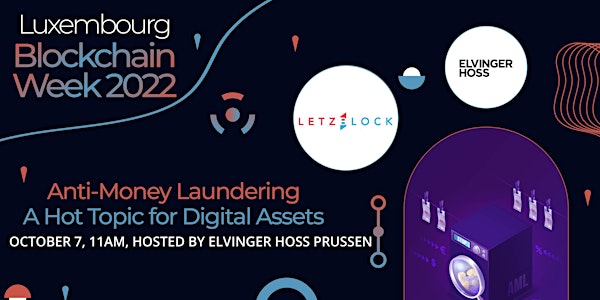 Lëtzblock - AML A hot topic for Digital Assets
This event is organised by Lëtzblock and hosted by Elvinger Hoss Prussen at the occasion of the Luxembourg Blockchain Week 2022
When and where
Location
Elvinger Hoss Prussen 2 Place Winston Churchill 1340 Luxembourg Luxembourg
About this event
The Luxembourg Blockchain Week is organised by the Luxembourg Blockchain Lab and is willing to bring you a variety of information and use cases using Blockchain/DLT technology.
This event will discuss Anti-Money Laundering, a hot topic for digital assets and will foster discussion as well as presentation of solutions.
We look forward to welcome you!
Limited seats available, registration is required even for week pass holder.
Agenda:
11.00 – 11.10: open key note from Gary Cywie
11.10 – 11.30 : panel discussion on AML in crypto
11:30- 11.40 questions from the audience
11:40 – 12.00: tool's demonstration from Scorechain
Panel discussion will cover the following points:
1. Does the AML framework for TradFi apply for VASP and DeFi
2. Travel Rule: where do we stand?
3. What are the key points of attention for an effective AML Framework?
Speakers:
• Gary Cywie, Partner EHP
• Sophie Dupin, Partner EHP
• Ira Gorbach, Compliance & Investigations Manager
• Ajinkya Tulpule, Chief Compliance Officer, bitFlyer
• Biba Homsy, Founder Homsy Legal and President LëtzBlock (moderator)
• Scorechain demo by Edouardo Bedolla, AML specialist, Scorechain