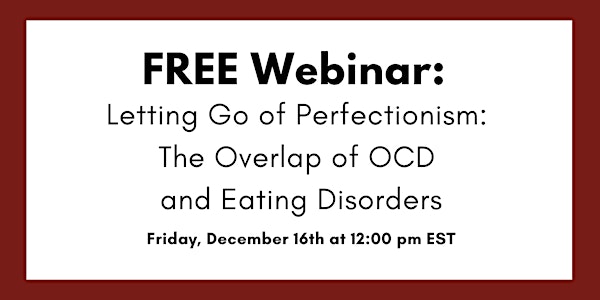 Letting Go of Perfectionism The Overlap of OCD and Eating Disorders
Register for our FREE Letting Go of Perfectionism: The Overlap of OCD and Eating Disorders Webinar on Friday, December 16th at 12:00 pm EST.
About this event
BALANCE eating disorder treatment center™ & Allyson Ford, MA, LPCC, and Founder of Eating Disorder and OCD Therapy, is pleased to host this webinar.
RSVP to...
Learn why holidays and the anticipation of a new year can aggravate perfectionism.
Identify how holiday stress can impact eating disorders and OCD recovery.
Understand the relationship between eating disorders, intrusive thoughts, and compulsive behaviors.
Gain practical tools for your recovery to manage intrusive thoughts and find more peace this holiday season.
Secure your spot and join us FRIDAY, DECEMBER 16th at 12:00 PM EST
Register Here: https://balancedtx.lpages.co/letting-go-of-perfectionism/