Description
Join Internationally Renowned Teacher and Buddhist monk, Gen-la Kelsang Khyenrab, for an extraordinary public talk on how to let go of your anxiety through mindfulness and meditation.
If we wish to lead the happy life we long for, we must learn how to transform our mind. Modern Buddhism presents the meditation and positive thinking techniques we need to achieve this. In this evening talk, Gen-la Khyenrab will explore mindfulness methods, meditation and ways of thinking derived from Buddha teachings that will help us let go of anxiety and deal with our negative emotions more confidently and effectively. Start leading a fearless, joyful life in 2018.
Everyone is welcome.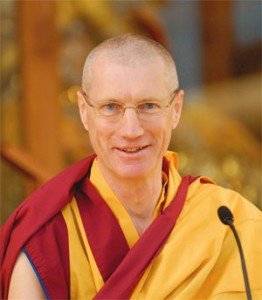 Gen-la Kelsang Khyenrab, International Meditation Teacher and retired General Spiritual Director of the NKT-IKBU, is a modern Buddhist monk dedicated to helping people from all walks of life attain lasting happiness through developing inner peace, compassion, and wisdom. Gen-la is deeply respected throughout the world for his powerful teachings and experience of unifying Buddha's teachings with his busy daily life.
Paid parking is available in The Empress parking lot under the Conference Centre. There is also free parking available after 6pm on the streets in the area.
FAQs
- You can bring a paper ticket with you to the event, or bring an electronic copy on your phone.
- Please plan to arrive no later than 6:45pm.
- Should your plans change, refunds are available up to 24 hours prior to the event for the full amount less a $5 processing fee per order. You will need to initiate your cancellation through Eventbrite.
- The $15 discounted price is only for those purchasing prior to Feb 27 and only if you are purchasing directly from this site. If you choose to pay by in person at our Centre (cash, cheque or credit card) or after Feb 27 (1 week prior to the event), then the standard price of $20 applies. All online tickets sales will end no later than 24 hours before the event. We advise, that if you are waiting to buy tickets at the door, please check this site before you come to see how many, if any, tickets remain.
If you have any questions, don't hesitate to email us at events@meditatevancouverisland.org, call us at 250-800-2022 or use the "contact" link (which is below on the main page and to the right on the ticket purchase page which will send us an email with your query.