Description
Self DISCOVERY WORKSHOPS
Learn more about the most amazing person in your world... you!
In this workshop you can discover;

Best ways and helpful tips to overcome stress and anxiety
Exercises for introspection and reflection
How projection is used and why we use it
Letting go techniques
If stress and anxiety play a big part in your life? Try the Letting go and entering the Grace Stream Workshop. This workshop is great for those who have a tendency to get caught up in over-thinking, worry and feeling like a victim. Do you want to feel whole, loved and supported?

The experience of being whole and complete is available to you always, right now. If you do not feel complete then you have simply forgotten how to 'see' your whole self. Nothing in the world outside of you will ever complete you.

When you're not a victim of the world, you are a hero. By claiming responsibility for creating your world and accepting the world as it is, you get to enjoy the journey! Which makes you an even bigger hero. Choosing to accept life 'as it is' moves you into a naturally flowing Grace stream. This is because instead of being in 'resistance' to the changes of life (stressed), you choose instead to allow it all and be supported.
Are you ready to explore letting go? Little WIngs deeply insightful 1 hour immersive workshops will give you exercises for allowing, and a variety of great methods for letting go.


LITTLE WINGS WORKSHOPS

Times
1 hour sessions (via phone, skype or zoom)
The Letting go and entering the Grace Stream Workshop
Minimum of 4 Sessions
Select a date for your first session above

Price
INTRODUCTION OFFER
$71.25 per session (Normally $95 Aud)
Add Code 'IntroSpecial' at checkout
Limited tickets!

How to register
Select a date for your first Course session (can be changed at checkout) then purchase a ticket to secure your booking. Remember to use the Code if this is your first session!

Who can register
Must be over 16 yrs
Request a Group Workshop
Contact us to request a group workshop
Need another date or time?
If a date or time you need is not available please contact +61 423 214 844.

Do you have a Promotional Code?
Little Wings subscribers and readers may receive Promotional Codes from time to time. If you have a code first choose a date then enter your code when purchasing a ticket.

---
---
Meet your Self DISCOVERY TOUR GUIDE

Sonja is a meditation teacher, creative fantasy artist and writer of personal development, self-publishing the Little Wings Book of Guidance and Oracle Cards. The Guidance Set features hand drawn images with insights and reminders about Real Love and intuitive Guidance.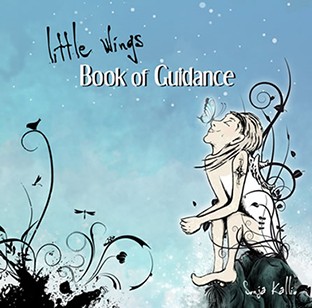 "Writing the Book of Guidance helped me embark on an inward journey of inquisitive self observation in relation to 52 distinct human morals. Throughout the journey I broke it all down and disected many things to pieces realising conclusively from my own experience that only one thing is real, Love. Sharing the reality of Love, as opposed to its many labels and distortions is by far the most fundamental of things to share." - Sonja Kallio author / illustrator Little Wings Book of Guidance

Select a date above and dive into 'Letting go and entering the Grace Stream' Workshop ♥