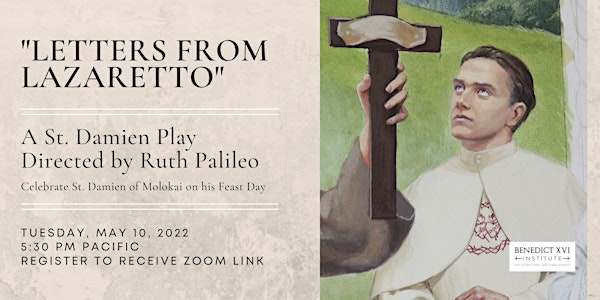 "Letters from Lazaretto" a St. Damien play directed by Ruth Palileo
On the Feast of St. Damien of Molokai, A Play Produced and Directed by Ruth Palileo
About this event
The Year for St. Junipero Serra and the American Saints Continues with A New Play about St. Damien of Molokai on his Feast Day.
Don't miss this. Join Archbishop Cordileone and the Benedict XVI Institute team including playwright/director Ruth Palileo via Zoom May 10 at 5:30 pm Pacific for a wonderful reflection on holiness: three fine artists give us their views on the famous Molokai leper colony that St. Damien gave his life serving. Politicians may decry his statue in the U.S. Capitol as white supremacy. Hawaiians treasure his memory.
Come. Learn. Be inspired. Create. Serve. Love. With fellow Catholic artists and art-lovers this May 10. As always we ask for a gift of $25 or more in lieu of a ticket price, but only if you can reasonably afford it and want to help us create more content like this, free for all who can benefit.
What will this evening be like? Archbishop Cordileone will open us with prayer and say a few words about St. Damian, whose bones are underneath the altar at the Cathedral of St. Mary of the Assumption. Then a professional actor will perform this one-man show, produced by Ruth Palileo both of whom will join us for a vigorous discussion afterwards.
Read a Note from Director and Creator Ruth Palileo:
Letters from the Lazaretto of Molokai: A Celebration of St. Damien of Molokai on his feast day.
"This play consists of excerpts from three texts on Molokai: "The Lepers of Molokai" by the novelists Jack London, "An Open Letter to the Reverend Dr. Hyde of Honolulu" by novelist Robert Louis Stevenson and "Damien" a play by Aldyth Morris.
Lazaretto is a lovely sounding term for a lonely concept--'quarantine colony' or hospital.
In this performance, which is our celebration of the life of St. Damien of Molokai, we will journey back in time towards the loving heart of the Saint, first examining how his beloved lazaretto appeared in 1908 to adventure writer Jack London, less than 40 years after St. Damien had instituted many reforms. Michael Finnegan will read Jack London's dispatch to various newspapers from Molokai, which eventually was published as part of the book, The Cruise of the Snark.
From 1908, we will journey back to a scathing letter published in 1890 by novelist Robert Louis Stevenson in response to a letter written about St. Damien in 1889 by Dr. Hyde, a Board of Health official in Hawaii. Lest we contribute to misinformation about Dr. Hyde, I should clarify that Stevenson had already penned the Dr. Jekyll and Mr. Hyde story three years before writing this letter. Sean Doak will read the letter by Stevenson.
Finally, we meet the Saint himself at the hour of his death during Holy Week 1889 as he fondly recalls daily life among his people, beginning with a letter to his parents from 1873. This letter will be read by James Murphy and is part of a full-length play by Aldyth Morris, a playwright who spent 30 years of her life writing about Hawaii. James and I are planning to bring the full piece to the stage in 2023.
I look forward to meeting St. Damien with you and discussing art, grace, sacrifice, beauty and memory."
Ruth Palileo
Excerpts from Letters from Lazaretto.
Jack London, THE LEPERS OF MOLOKAI. 1908
When the Snark sailed along the windward coast of Molokai, on her way to Honolulu, I looked at the chart, then pointed to a low-lying peninsula backed by a tremendous cliff varying from two to four thousand feet in height, and said: "The pit of hell, the most cursed place on earth." I should have been shocked, if, at that moment, I could have caught a vision of myself a month later, ashore in the most cursed place on earth and having a disgracefully good time along with eight hundred of the lepers who were likewise having a good time. Their good time was not disgraceful; but mine was, for in the midst of so much misery it was not meet for me to have a good time. That is the way I felt about it, and my only excuse is that I couldn't help having a good time.
For instance, in the afternoon of the Fourth of July all the lepers gathered at the racetrack for the sports.
All the lepers were passionate lovers of horseflesh...Nearer, nearer, inch by inch, the Portuguese boy crept up, and passed, yes, passed, winning by a head from the Chinese. I came to myself in a group of lepers. They were yelling, tossing their hats, and dancing around like fiends. So was I. When I came to, I was waving my hat and murmuring ecstatically: "By golly, the boy wins! The boy wins!"
I tried to check myself. I assured myself that I was witnessing one of the horrors of Molokai, and that it was shameful for me, under such circumstances, to be so light-hearted and light-headed. But it was no use. The next event was a donkey-race, and it was just starting; so was the fun. "
Robert Louis Stevenson, SEAN: AN OPEN LETTER TO THE REVEREND DR. HYDE OF HONOLULU. FEBRUARY 25, 1890.
Your Church and Damien's were in Hawaii upon a rivalry to do well: to help, to edify, to set divine examples. You having (in one huge instance) failed, and Damien succeeded, I marvel it should not have occurred to you that you were doomed to silence; that when you had been outstripped in that high rivalry, and sat inglorious in the midst of your well- being, in your pleasant room - and Damien, crowned with glories and horrors, toiled and rotted in that pigsty of his under the cliffs of Kalawao - you, the elect who would not, were the last man on earth to collect and propagate gossip on the volunteer who would and did.
I think I see you - for I try to see you in the flesh as I write these sentences - I think I see you leap at the word pigsty, a hyperbolical expression at the best. "He had no hand in the reforms," he was "a course, dirty man"; these were your own words... For, if that world at all remembers you, on the day when Damien of Molokai shall be named a Saint, it will be in virtue of one work: your letter.
Aldryth Morris, DAMIEN (a play): 1976
The Catholic lepers are gathered round the Bishop, begging him to send a priest-not four on a rotating basis as His Excellency proposes-but one to live among them, to call them by their names, to be a father to them. And he is telling them he cannot ask that sacrifice of anyone. And still they beg.
They are right, Your Excellency. They must have one priest who belongs to them. To prove to them that God has not forgotten them. l suffer if 1 go a week without confession. They must go months-years-without confession and the Mass. They must face death without the sacraments. You don' t have to ask, Your Excellency. l want to be their priest . l beg to stay.
(Calling out to the lepers) You have your priest ! Do you hear? I am to be your priest. My name is Kamiano. Confessions this afternoon, all night if necessary. And Easter Mass at sunrise !
(To the audience) Next morning, while it is still dark, the little church starts filling up with-God forgive me-creatures from a nightmare, limping, shuffling, coughing, spitting, touching with the fingers they have left the rosaries hung round their necks. They keep on coming till the church is filled, up to the railing. They crowd the windowsills, the doorways ; they fill the church to overflowing, not only with their corrupting bodies, not only with the stench, but with a sadness so unbearable l stand there dumb. The vomit rises in my throat. I choke it back. They kneel and wait, and finally, in a voice I have never heard before, I say the words: In nomine Patris, et Filii, et Spiritus Sancti. Amen.
"He became one of us" A short biopic to learn more about a great saint. His bones are beneath the altar at the Cathedral of St. Mary of the Assumption in San Francisco.