Description
APPOINTMENT DEADLINES:
Friday appointments must be made by 8am on Thursdays
Sunday appointments must be made by 8am on Fridays
Immediately after scheduling your appointment through Eventbrite
Please e-mail Monique at mortman@uco.edu, specify your NAME, PHONE NUMBER, APPOINTMENT TIME/DATE, PROJECT and SERVICE you wish to use.
A maximum of two people can purchase tickets for the same time, but two people cannot use the same piece of equipment at the same time (one can laser one can letterpress etc.) this is why students must email Monique directly after making a reservation. Eventbrite does not have a way to specify the equipment needed for each ticket.
****Your appointment will be canceled if you have not completed the above*****


Make an Appointment!
For UCO Design students ONLY. Class projects and personal projects welcome (prices vary).

Make an appointment to *screenprint, **letterpress, or ***laser cut/engrave your project at our Letterpress & Prototyping Lab. Appointments must be made at least 24 business hours ahead of time – walk-ins are not guaranteed.Please try to show up a little early for your appointment (you may be able to start early, if so!)

How to purchase a ticket: First select date, then register to select a time.


*Screenprint:
Come prepared with an .ai file of your design (separate files ahead of time if more than 1 color, up to 4 colors only) and the product you would like to screen print on.
*See pricing below
**Letterpress:
If you wish to use the letterpress machine, you must already have your plate when you show up to print at the lab.
Number of prints will only be limited to the amount of paper you provide.
*See pricing below


***Laser:
Please come prepared with an .ai file of your design (make sure that your laser CUT lines are a different color than your laser ENGRAVE lines) AND the material (bring extra for tests!!!) you would like to cut or engrave. Please cut your material to size ahead of time. In order to fit in the machine, material may be no larger than 15" x 29"
Be aware that the Letterpress Lab monitor will not be building your file in Adobe Illustrator for you (he is only there to help you run the machine) – you will need to do this yourself before you show up for your appointment. If this is not done, you will have to quickly do it during your appointment which means you risk running out of your appointment time and not having enough time to actually use the laser.
*See pricing below
Don't forget a flashdrive so you can give us your file(s)!
Pricing: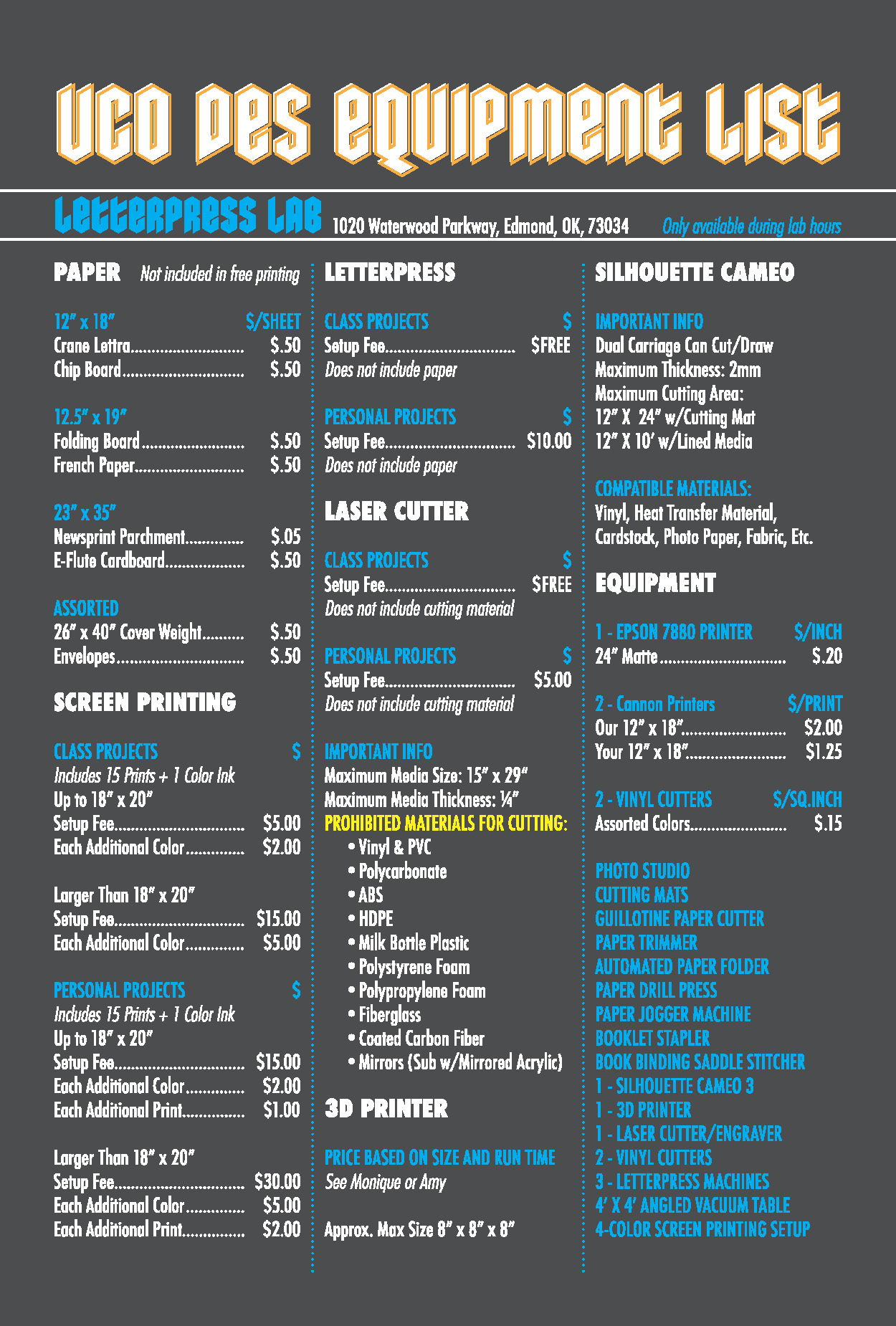 If you have questions, please contact:
Monique Ortman, mortman@uco.edu
or
Amy Johnson, ajohnson54@uco.edu