| | |
| --- | --- |
| Letter of Intent - The Critical Determinant of Success (Recorded Version) US Edition | |
Event Details
Seeking money from Foundations?
You have two pages to make your case.
The Letter of Intent (LOI) is the standard two-page query that foundations request in order to decide whether they wish to see your proposal.
The LOI (aka Letter of Inquiry) is your key document to open doors to funding but only those that stand out and capture attention will get a response. 
For both seasoned fundraisers and those new to the field. Grant Development Services has developed a "Write-by-Numbers" program to create powerful and persuasive LOIs that will motivate funders. The key components of which are:
| | |
| --- | --- |
| Relevant Alignment to Givers Criteria | |
|   |   |
For the past ten years, our presenters, Bill Barratt and Dr. Craig Brod, have read and written thousands of LOIs. They know what works and what doesn't.
From this presentation you will take tools that will enable you to write a highly effective LOI. The new skills you acquire in this webinar can be easily used for online LOIs as well.
Highlights and Outcomes
Bill and Dr. Brod will help webinar attendees:

To write an effective LOI that increases the probabiity of obtaining foundation funding


To spell out the critical elements that distinguish ordinary boiler plate LOI's from exceptional ones that capture attention and funding

To provide guidelines to ensure strong alignment of interests and objectives with the prospective donor

To develop specific skills to write an impactful LOI that combines brevity with relevance

Tool Box
Master skills through use of our proprietary tools. All participants will receive a GDS:
Letter of Inquiry Map

that indicates and locates key content that is critical to a successful LOI


Letter of Inquiry Evaluator

which contains 9 essential categories and components that allow the user to evaluate and improve their LOI
Full participation in "Letter of Intent - The Critical Determinat of Success" is applicable for 1.25 credits in Category 1.B-Education of the CFRE International application for initial certification and/or recertification.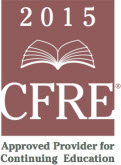 Audio Options
Participants can either choose to listen to the webinar through their computer speakers or call a toll dial-in number. For details click here. 
About GDS Webinars
GDS webinars promote deeper, quicker and longer lasting learning, from problem awareness to acquisition of skills to solving identified problems. Our webinars are cognitively-based: from the way we design our slides to the involvement of our webinar participants to useable outcomes, the goal is to help you convert what you hear, see and record to lasting skills that make a positive difference to your organizational development and your foundation fundraising efforts.

About BILL BARRATT
With decades of experience in the non-profit industry, Bill Barratt has a significant understanding of the inherent responsibilities and challenges associated with the 'giving' side of the fundraising equation - including considerable expertise in all aspects of fiscal and governance management.
After graduating from the London School of Economics, Bill worked in increasingly senior positions within the financial services industry in Canada, the US and Europe including assignments with the head offices of the Bank of Canada, the Royal Trust Company, Wood Gundy (Canada), and with Kleinwort Benson (London).

As a consultant, Bill spent 25 years as Senior Manager and Advisor to a broad range of private, public, aboriginal and non-profit organizations in North America and Southeast Asia. For six of these years, he was Senior Advisor and Board Member of Nanawa Trust, a private investment trust and international philanthropic foundation with assets in excess of $400 million.
About DR. CRAIG BROD

Trained as a Psychologist, Dr. Brod has twenty five years experience in business development, marketing and innovation for both profit and non-profit organizations in the U.S. and Asia. He assisted many non-profit organizations with strategic planning and fund raising. As founder of Imaginarium, a national chain of educational stores, Dr. Brod was responsible for writing the business plan, hiring the team and raising $3.5 million in venture capital. Imaginarium was sold o Toys R Us and had peak brand sales of approximately $650 million.
Dr. Brod is the author of three books in the field of psychology, including Technostres, which was translated into 7 languages and awarded best of business books by Xerox Publications. Dr. Brod applies his business and organizational skills to help non-profits successfully obtain Foundation grant funding they need to effectively accomplish their missions.
Please note a link to download the recorded session will be provided once order has been completed. If you have any questions, please do not hesitate to contact us at fly@foundationsearch.com.
Organizer
Grant Development Services
Grant Development Services (GDS) is Metasoft's team of professional fundraising consultants devoted to helping you maximize your fundraising results. GDS has helped 100's of NPO's develop the materials they need to obtain funding from foundations. Click here for more information on GDS.