Letter from Santa 2018

Friday, December 7, 2018 at 3:30 PM

-

Wednesday, December 19, 2018 at 12:00 AM (EST)
Event Details
Letter from Santa- $7
Give your child a letter from Santa Claus to open this holiday. Send me the details requested and I'll mail or deliver a personalized letter with a wax "S" stamped envelope (see example below). An email proof can be sent for your approval.
Deadline to order is midnight on Tuesday, December 18th 
 ~~~~~~~~~~~~~~~~~~~~~~~~~~~~~~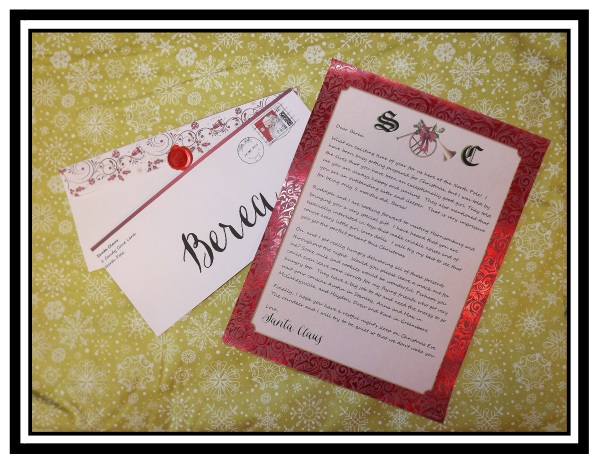 ~~~~~~~~~~~
LETTER EXAMPLE:
Dear [name],
I know you have been really looking forward to Christmas and I am sure that, just like me, you have been counting down the days until I visit you in [state]!  All year long, I have heard good things about you. I know that you have [good deeds or accomplishments]. That is wonderful to hear, [name]!
The elves are working at full speed to get everything ready for the big day. Even the reindeer have been preparing and practicing for the flight. We are looking forward to visiting you in [hometown] and your [friends/cousins/etc.] [names] in [their hometown]. 
We have very special gifts planned for everyone and I was recently reading over your wish list to see that you are most interested in receiving a [desired gift]. Wow! This sounds like a wonderful present and I will do my very best to make sure you receive the perfect one. 
My last request is that set out some milk and cookies before you go to bed. Get to sleep early and the reindeers and I will try not to wake you.  Merry Christmas!
Love,
Santa Claus
When & Where

Harrisonburg, VA 22801


Friday, December 7, 2018 at 3:30 PM

-

Wednesday, December 19, 2018 at 12:00 AM (EST)
Add to my calendar